Come on,from the moment Teresa Guidice volunteered  to be project manager  against Mount Lisa Lampanelli  you knew she was road kill.
Perhaps she should have turned over a few cameras.  From the onset Mt Lisa toyed with the Housewife of New Jersey.
The task, was to create a four page campaign for the CHI Touch Digital Touchscreen hair dryer which would appear in Elle magazine.
Sugah Pie Honey Bunch-She Couldn't Help Herself !
The project managers had to choose models for the campaign.  Easy breezy "Cover Girl" right?   Should have been, but Teresa showed her hand early( wanting the redhead model) and Lisa couldn't help herself.  Mt Lisa, played Teresa backward, upside down and beyond, leaving the  bewildered housewife  squawking "that's not fair"  forcing Teresa to take two male models.  One of the male models had short hair…..  It  was priceless….
At the end of the day, they didn't used the coveted model, who was pissed after showing up and being told never mind.    The redhead they used was god's to all people Aubrey O' Day.
Trumpets blare…… Lisa's team consisting of herself and  Clay Aiken won.  Sending  the housewife back to the great state of  New Jersey.
The Final Four?
Before, Clay Aiken, Aubrey O' Day, Arsenio Hall and Lisa Lampenelli  could sing in the sunshine.  Da Trumpster called them back to the board room .  Where he announced two more celebrities would be fired.
Last year's winner John Rich and runner  up Marlee Matlin would interview all the celebrities and recommend who should be fired.    The interviews were tough and personal.   The first celebrity fired was………………….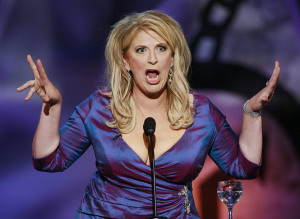 Lisa Lampanelli
You could have knocked me over with a reduced fat cheeze it
The interviewers  felt Lisa's inability to control her emotions didn't make her a proper Celebrity Apprentice .
We'll have to wait until next week to learn who's next……
Arsenio  seemed to do well(seemed) in the interviews. Both interviewers saw through Aubrey and the jury is out on Clay.
 The final decision is da Trumpsters.
Will it be good and evil  (Arsenio  vs Aubrey) good, good and evil ( Clay vs Aubrey) or good good and good (Clay vs Arsenio)
Your thoughts………(Don't B Shy, who do you think will be the final two)
Cityfella