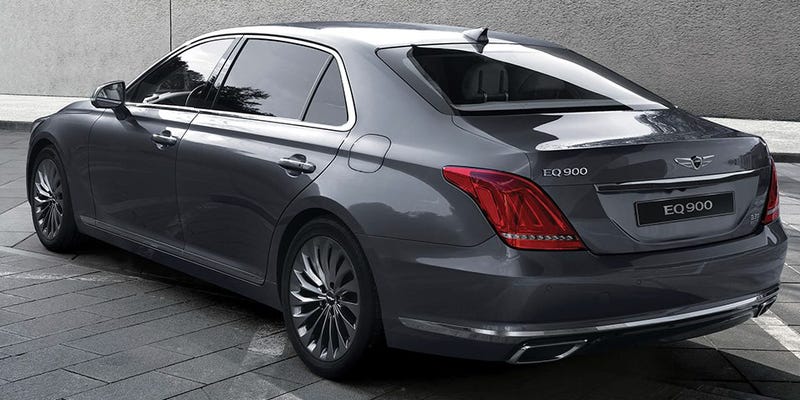 Twenty Seven years ago a Japanese Company Toyota, entered the Luxury Car market to compete with the likes of BMW, Mercedes Benz and Cadillac . Their first model the Lexus LS400 was an instant hit and immediately established Lexus as a player. Within months Nissan and Honda entered the market. Today, Lexus and Acura are solid premium players.
1989 Lexus LS400
Hyundai entered the US market in 1985 offering ultra low priced cars the Excel. Americans quickly snapped them up. The quality of these cars was sup par, but that was so 1985.
Today, the worlds fifth largest automaker quality ranks in the top 10.
In 2009, Hyundai introduced the Genesis, it was Hyundai's Flagship vehicle. It was the 2009 North American Car of the Year as well as the 2009 Canadian Car of the Year. Like the Lexus, many automotive journalist called the Genesis a solid effort and few thought it competed with the Mercedes and BMW, few.
For some time there has been talk about Hyundai starting a Luxury Division. Last November Hyundai officially introduced Genesis Motors to the world. The Hyundai Genesis was renamed the G80 and is currently sold at Hyundai dealerships. The flagship g90 is sold at select Hyundai dealerships. As of this writing the nearest g90 is in Antioch California.
Plans for Genesis is very ambitious. Hyundai plans to have six Genesis models by 2020. A smaller (think BMW 3 series) sedan ,a sports coupe, and two SUVs . In the next few years there will be Genesis Stores nationwide. Currently the Genesis is being marketed in Korea, China, the Middle East and the United States.
G90 was one of the few Hits at the Sacramento Auto Show
Everything !
G90 buyers have a choice of a turbo charged six cylinder or an eight cylinder with either real wheel drive or all wheel drive. Everything else is standard.
The rear seats recline heat,cool and massage you.
For the first three years of ownership, all maintenance is included. Genesis will simply pick up your car and leave you with a loaner. Roadside Assistance is included as well as monthly health reports of your vehicle. Owners can make appointments via a smartphone and the warranty is 10 years or 100,000 miles.
Playing for Keeps
Manfred Fitzgerald, former director of brand and design at Lamborghini, is senior vice president. Luc Donckerwolke, former design director of Volkswagen Groups (Bentley, Lamborghini and Audi divisions) led the design brand since early 2016, and works alongside Hyundai-Kia's chief designer Peter Schreyer (who is also from Audi) . Albert Biermann, former head of BMW's M performance division, oversees tuning and performance. (source Wiki)
I have driven the G80 and look forward to an extensive test the G90 with its massive interior room.
(Call me Hyundai call me!)
The G90 starts at 69K and tops off at 73K. It competes with Lexus LS 460, BMW 7 series and Mercedes S class at thousands less and a much stronger warranty.
Looks and Value. Hyundai looks like they're planning to shake up the Luxury Segment. Smart shoppers for a luxuty car should look beyond the pedigree and take the Genesis for a test drive.
CityFella