Eating nice food for a living sounds great, but there are downsides: from being unmasked to finding out, after you've published a glowing review, that there were rodents in the kitchen. The UK's top critics spill the beans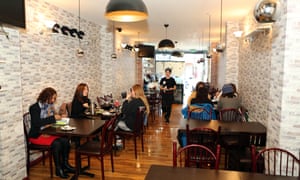 'The rat droppings were exquisitely cooked' … CheeMc restaurant, which didn't quite live up to Jay Rayner's billing. Photograph: Richard Saker for the Observer
By: Alexi Duggins/UK Guardian
Being paid to eat is a pretty good gig, but it isn't without problems. There are restaurants that try to hoodwink you, angry chefs to contend with and, as the Observer's Jay Rayner found out recently, always the possibility that a place you have raved about may have kitchens that are not entirely rodent-free. (A south London Korean restaurant he loved was temporarily closed after rat droppings were found among the ingredients.) We spoke to some of Britain's top restaurant critics to find out about the trickier parts of the trade.
Restaurateurs can get very angry
Fay Maschler, Evening Standard
In the 40-odd years I have been reviewing, I've had a few angry reactions from restaurants – more so when I started. Back then, it was unusual to be critical, as a lot of restaurant reviews were linked to the advertisements – someone eating for free and then saying things such as: "My companion plumped for the pâté, washing it down with the eminently quaffable house wine …" So when I didn't have to satisfy advertisers, my reviews could upset people used to the old system. There was this guy who was running a pretentious, bogus French restaurant who just couldn't believe I would come to his restaurant and criticise anything. I had to go back with the features editor, where in an empty dining room we ate another deeply mediocre meal, this time accompanied by a string trio. I had a death threat once, a note scribbled in pencil that said: "I am going to come round and stab you." Now so many people review restaurants that I tend to get fewer hostile responses. Tom Sellers recently wrote a public letter criticising me and my review of his restaurant Ours. I didn't pay it much attention. I got some nice messages of solidarity from others in the business – and I wasn't alone in not liking it. For the most part it is a lovely job being a restaurant critic. To complain would be churlish."
The inscrutability of food hygiene
"I have form for recommending restaurants that are then shut down for health and safety reasons. CheeMc on Walworth Road, south London, is the latest (although it has now reopened), but it's the third time it has happened in my memory – the other two being Sichuanese places. I love those scuzzy, down-at-heel restaurants because they tend to get by on trade from a specific ethnic group, which means that their food can be very uncompromising. It's cooking with hobnailed boots on – this is food that leaves its mark on you. But there really is no way to know what the hygiene is like in the kitchen. It's not my job to check their health and safety, so I work on the basis that if a restaurant is trading then it's already passed all those rules. Admittedly, health and safety is a function of price. When you pay for your expensive linguine dish at the Ivy, you're also paying for the eight kitchen porters whose entire job is to keep the kitchens clean. When you pay buttons for fried chicken at a small establishment, you're not. But plenty of places are fine and reports of hygiene problems in the odd one don't make me think that I'm an idiot for ever having gone there. Personally, I think it's worth taking a risk occasionally."
Restaurants can be unpredictable
Tania Ballantine, Time Out
Sometimes there's just nothing you can do as a critic. Occasionally you have restaurants who will get in fantastic chefs for the first six months, because they know that that's the period during which all the reviews are written. We had this Greek place once that we reviewed well, but then started to get bad reports about – it turned out that they had flown in this superstar chef from Greece for a few months just to get it good reviews. Other times, the restaurant can't help it. They will hire an ambitious, talented young chef (such as when Pidgin hired Elizabeth Allen, or Pachamama hired Adam Rawson) and, just when the place really starts to get a name for itself, that chef moves on to pursue a brighter future. You can't blame the chefs, it's human nature. But it's bad news for the reader, because most professional reviews will be based on when there was a different person running the kitchen – and, as a critic, it's frustrating because you just couldn't have foreseen that happening.
Maintaining your cover can be tricky
"I've got a radar now as to the rare occasions that I think I've been clocked. But not always: I met a famous restaurateur while out on the lash. My way more famous restaurant critic friend introduced me as Maureen from Glasgow then staggered off to the loo, leaving me alone with the restaurateur. At first I sat in horrified silence: of course, I knew who he was. Eventually, drink got the better of me and I confessed: "R, it's me – Marina." He looked at me, amused, and said: "I know." Obviously, I blame the drink. Another time, a well-known chef was in the same restaurant as me and approached my table with a triumphant: "Hello, Marina!" But it was, bizarrely, addressed to my pal. I've no idea how or why this happened.
Restaurant staff aren't always kind to critics
Tim Hayward, Financial Times
Restaurants have pictures of well-known critics on the back of their kitchen doors so that the staff know who to watch out for. When I first started reviewing restaurants, no one knew who I was. I just wasn't a big enough name to have my photograph up there yet. Then one day I got a phonecall from a friend, who had been scouting for locations for a TV programme, saying: "I've just seen seen your face on the back of a kitchen door." My reaction was: "Yes! That's fantastic! I"ve arrived!" I was very happy about it. Then she said: "Yes, but underneath it says, 'He looks like a fat, bald Corbyn.'"