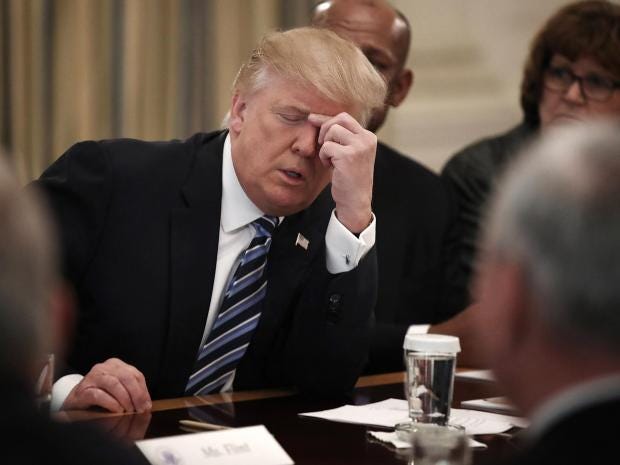 As  cable news pundits are shaking their collective groomed HD heads.  An anxiety ridden Trump is reportedly attacking his own, undermining his own programs through a series of tweets.    The Commander and Chief finds comfort in tweeting, however there is Huge difference when your tweeting as a private citizen.  As the Commander and Chief those insomniac words could cause an international incident.
Anxiety is the key word ,as the nation awaits to hear Former FBI Director James Comey testimony on Thursday.  Not since John Dean testified at Watergate in hearings has their been so much attention focused on one individual.  The testimony from the hearings has Trump off center.
President Trump's daughter Ivanka and son in law Jared Kushner have long been said to be a calming influence on him.   Where are they?  Kushner is under fire for reportedly asking for a back channel to speak to the Russians.  The issue may be related to real estate.  A 27 year old Kushner took a bath on 666 Fifth Avenue paying a record 1.8 billion dollars for a troubled property that reportedly has a balloon payment due in a couple years.   Kushner has sought Chinese and Russian investors. There are some who believe without a proper suitor the Kushner Empire may crash.  Jared and Ivanka supported the Paris Climate Accord. Ivana Trump and Jared Kushner, were not present during the Rose Garden ceremony.
The Republican Party is at a loss. How do the navigate around the President who was elected because he was outsider?  The insiders could face voter backlash for criticizing the outsider.   The outsider who have abandoned the insiders with a proposed budget and change to the health care plan that will undoubtedly damage them in he election cycles.      Meanwhile the Democrats, are the Democrats a fractured bunch.   Mavericks who are screaming impeachment before the facts are revealed.  Meanwhile, seasoned Democrats are calmly asking for patience know they are powerless to the shell shocked Republican dominated House and Senate.   However, the mavericks make good TV!
Our allies don't trust our Commander and Chief.  In short order, he has shared classified information with our mutual enemies.  He has leaked intelligence and failed to reassure Nato countries that America has their support.
The hearings could go on for months or longer.
The president's approval rating dipped from nearly 42 percent to just 36 percent over the weekend, according to a Gallup daily tracking poll published Monday. Trump's declining popularity is inching closer toward his all-time low of 35 percent as president in March, when Gallup had the president's approval at just 35 percent. What's more, nearly 43 percent of American voters support the idea of beginning the official impeachment process for Trump, according to a Politico/Morning Consult poll published Wednesday.
How to Impeach a Republican President, with an Republican House and Senate?
(An Idea in Progress)
The Beginning
Actively court the nearly 40% of Republicans who have grown uneasy with the President in their districts . The focus must be limited to areas where all sides agree.  Paris Climate Accord, Russia, Relationship with Allies, Credibility etc
Reject Democratic Involvement, No leaders or Speakers from Democratic Party!
All  meetings, Demonstrations should be focused in Republican Districts.
To be continued
CityFella