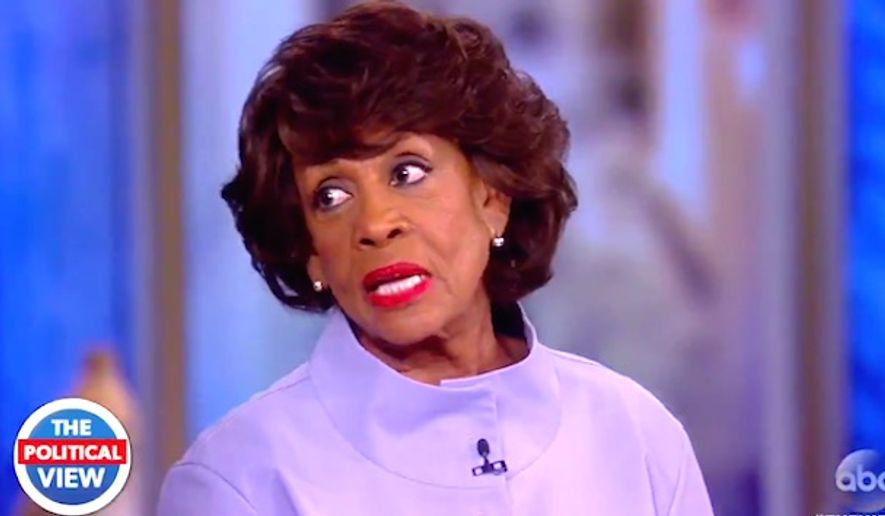 Maxine Moore Waters is a political icon in California.  The fiery  Democrat  has represented Southern California for more than forty years.  The Congress woman's resume is filled with accomplishments, including chairing the Congressional Black Caucus.
Today she is a social media star, riding a wave national popularity. Her tweets in response to President Trump has gone global.
In a hearing, last week in a meeting the Congresswoman asked Treasury Secretary Steven Mnuchin why he hadn't responded to a letter she'd sent him in May requesting information about Trump's financial ties to Russia.  Instead of responding to her question, the secretary complimented her for her service to California.  Avoiding her question, Ms Waters  responded, "Reclaiming my time." She repeated the phrase — "Reclaiming my time. Reclaiming my time. Reclaiming my time."
Within hours, " Reclaiming my time" went viral.  Tee shirts. songs, Reclaiming time.  The Congresswoman is hot commodity, sought by news and talk shows.
Last Friday on "The View"  Paula Faris brought up The Washington Post publishing transcripts of the president's phone conversations with Mexican President Enrique Pena Nieto and Australian Prime Minister Malcolm Turnbull on Friday, asking the California congresswoman if she was "disturbed" by the leaks.
"No, not at all. I am so glad they're telling us what's going on," Waters responded, despite Faris saying the leaks "threaten our national security." "I need to hear these conversations," "This is his problem. He is in a White House where he's got people working for him that don't like him, don't believe in what he's doing and they're trying to tell the american public."
Paula Faris continued her argument. "America loses here though, he can not have a candid conversation with the leader of another country," she added, "countries are not going to want to get on the phone with the leader of the free world."   The View's Jedediah Bila said "If this leak can happen for this president, that means it can happen for any president and other countries will look at us and say the United States of America, as a whole, is not a secure place.
Maxine Waters: "Let me tell you, the leadership starts at the top and it is this president that his own people have no confidence in," she responded. "They're undermining him because they want to see him stopped, they want us to do something, not every president will be treated this way." 
"This man has no values, he lies, they know it and he's the danger and they want us to do something about it," Waters added.   Bila: "I hear you but it's a scary thing to try to undermine the president because you don't like his policy or don't trust him and risk undermining the entire country in the process,"
"He is undermining the country," Waters said, before the show went to commercial.
Maxine Waters position is similar to many of her Democratic Colleagues .
Impeach Trump
While Donald Trump polls numbers are falling . There is no collective data that suggests overwhelming success for the Democratic party 2018  In a resent ABC/Washington Post poll the news isn't very positive for the Democrats.
While the Obama administration was responsible for turning the economy around.  The current president will reap the benefits of  current numbers.   By a very small margin, most Americans approve how Trump is handling the economy.   Last month, more than 220 thousand new jobs were added. The National unemployment rate is 4.4%
 52% of Americans say the Democratic message is they're against Trump,
Democrats aren't stirred, while like many Americans they are overwhelmed by the daily  barrage of Trump shockers and like Americans Democrats many are slowly becoming numb by the daily news.  With each news report the Democrats attack the Trump administration.  However, they have not offered alternatives to the American public.
While Americans overwhelmingly support the Affordable Care Act , the GOP owns the messaging.   Is the Democrat's silence by design?     If the GOP were successful in completely dismantling the ACA, the Democrats might be swept into office. might!  Meanwhile caught in the middle are the millions of Americans who depend on the coverage.
Maxine Waters and the Demo's represent a party without new ideas and direction.
 August 2016, 47% of Americans polled had a negative view of the party.  Last month

48% have a negative view.
The polls indicate,Independents disapprove of Trump. While there are cracks within his base, Trump has a firm grip on his supporters.  That base, unlike the Democrats and Independents are likely to support any candidate he endorses. 
The infighting could result in a split in the party much like the Tea Party in 2010.
_______________________________________________________
 From The Washington Post
 On Sunday, The Democratic Socialist of America got a chance to break away from the Democratic Party.  A resolution laid out all of the reasons, from the reported 57 percent of voters who want a third party, to the rapid success of the 2016 presidential bid by Sen. Bernie Sanders (I-Vt.), to the laughable unelectability of the Democrats.
"Rep. Tim Ryan (D-Ohio) said the Democratic Party has become a toxic brand and a failed party," the resolution read. "The D next to a socialist or progressive's name places them at a major disadvantage on Election Day. Why tie our strategy to a sinking ship?"
The resolution failed — easily so. While the judgment of 697 delegates to a socialist convention might not seen like a major Democratic Party development, it was telling of something that frequently gets lost. Democrats, for whom self-flagellation starts at birth and continues after death, have been moving as steadily left as Republicans moved right in 2009, when they last lost power.
That story can get lost in the more easily told narrative of Democrats in disarray. Last week provided plenty of material for that narrative, with the third major intraparty brawl of 2017 over abortion rights, and the decision of Gov. Jim Justice (R-W.Va.), who'd become a Democrat to seek his first-ever political office, literally embracing Donald Trump as he switched back to the GOP. A Quinnipiac poll, otherwise larded with good news for Democrats, found that just 40 percent of Democrats had heard of their freshly announced platform, called "The Better Deal."
Click the Link Below for the Full Washington Post Story
https://www.washingtonpost.com/news/powerpost/paloma/daily-202/2017/08/07/daily-202-democrats-are-moving-left-and-that-won-t-necessarily-hurt-them-in-2018/5987ab1e30fb045fdaef114d/?utm_term=.d392220e1ae9
____________________________________________________
 "The Millennials"  
While the Democrats had a slight edge with Millennials in the 2016 election.  Many voted by default.  The Millennials aren't happy with either group.   A third party candidate could easily capture a large percentage of the vote which would benefit the GOP.
The fragmented Democratic party needs a message that resonates within the party. The current and limited message of Impeaching Trump is an indication of the fragmentation. You often have to be careful of what you ask for.   Its very possible in the next year or so, President Trump may be impeached or leave office.   Waiting in the wings is Mike Pence. The former Governor of Indiana has a very conservative agenda.  Unlike Trump, he has experience in government and is respected in his party.  The Democratic Party hasn't found away to capitalize in the current disarray of Trumps administration.  However, President Pence does not have Trumps baggage.  He has the ability to push through legislation.
Reclaiming Their Power
Who is leading the party?  Nancy Pelosi like Maxine Waters are shouting Impeachment from the comfort of  their Leather Chairs.  Elizabeth Warren criticizes Trump as she hawks her newest book.   Bernie Sanders is an island and Hillary is bitter.
Waiting for an Impeachment is very short sided and premature.   Its time to move on from talks of Impeachment, and to shore up its base.  Both parties could benefit from a major renovation bringing in fresh (younger faces and ideas) that would appeal to a fading demographic and to an emerging one. Or maybe its time for Americans to jump ship to other political parties that have their interests.
 CityFella