With the exception of CNN's  Ana Navarro there was shock, tears and awe on cable news yesterday.   Donald Trump is A racist?
Let's step into the Wayback Machine
Not that far…..
June 16, 2015, Trump Tower New York City.  "When Mexico sends its people, they're not sending their best. They're not sending you. They're not sending you. They're sending people that have lots of problems, and they're bringing those problems with us. They're bringing drugs. They're bringing crime. They're rapists. And some, I assume, are good people."
 Nov. 21, 2015, Birmingham Alabama: I watched when the World Trade Center came tumbling down. And I watched in Jersey City, New Jersey, where thousands and thousands of people were cheering as that building was coming down. Thousands of Muslims were cheering."   (The story was a bit of Trumps fake news)
Dec. 7, 2015, aboard the USS Yorktown aircraft carrier in Mount Pleasant South Carolina.   "Donald J. Trump is calling for a total and complete shutdown of Muslims entering the United States until our country's representatives can figure out what is going on. According to Pew Research, among others, there is great hatred towards Americans by large segments of the Muslim population." (More fake Statistics)
2016 Primary: A  white supremacist super PAC called the American National Super PAC made robocalls in Minnesota and Vermont.
"The white race is dying out in America and Europe because we are afraid to be called 'racist,' says William Johnson, the leader of the white nationalist American Freedom Party. He goes on to bemoan "gradual genocide against the white race," and how few "schools anymore have beautiful white children as the majority." He signs off by telling recipients, "Don't vote for a Cuban. Vote for Donald Trump."
David Duke, the white nationalist and former Ku Klux Klan Grand Wizard, encouraged his radio show listeners to volunteer for Trump's campaign. "Call Donald Trump's headquarters [and] volunteer," he said on the "David Duke Radio Program." At Trump campaign offices, he said, "you're gonna meet people who are going to have the same kind of mindset that you have."
One the news shows ,Trump denied knowing David Duke but he kept getting tripped up on those pesky vintage tapes of him talking about David Duke in detail.   For weeks candidate Trump would not condemn or disavow Dukes endorsement.
Are you still
shocked

for just forgot?
It sucks being this guy (the man looking down)
General John Kelly The President's Chief of Staff, General John Kelly looks defeated as his boss goes off script and too the far left.  Kelly role was to keep 45 on the straight and narrow!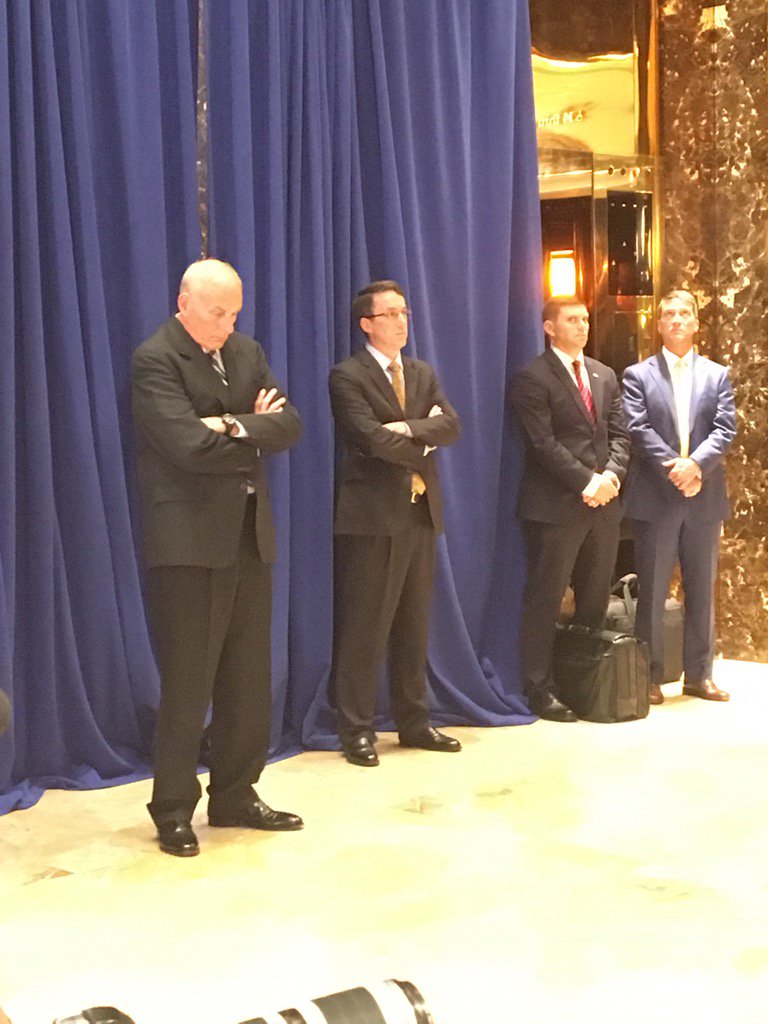 Home General Didn't Need This!
Kelly has a distinguished career before signing up  for the Trump-O-Coaster
A Marine Corps General the former commander of  United States  Southern Command. Responsible for American military operations in Central America, South America, and the Caribbean.
Home General was appointed Secretary of Homeland Security on January 20, 2017, by President Trump. On July 28, 2017, he was appointed to replace Reince Priebus.
____________________________________________________
Tuesday, August 15, 2017  Trump Tower New York City 
"The Plan"
Our golden prez would  descend the golden elevators of Trump Tower and step to his golden lobby and there,flanked by his Treasury Secretary, his Transportation Secretary and his top economic adviser. He would highlight the infrastructure executive order he had just signed, and then he'd leave — head back upstairs and deploy his aides to handle any inquiries  slow fade.  Cable News Highlights.
Everything in the Box to the Left
I have a theory.  The Prez was reluctant to criticizes some members of his base.  Under mounting pressure, he was forced to name names.  "White Supremacists" "Klu Klux Klan"  "Nazi's "   "Sarah Palin and Kelly Ann Conway"  (Sorry got carried away, not Kelly Ann. )
It's too late baby now it's too late! 
After caving in ,the press and members of his own party of went into hypedrive. He was soundly attacked for the timing of his revised speech.   Our Prez has a history of holding a grudge and is unable or unwilling to control his emotions.  What we saw yesterday was an angry Prez who basically said FuckIt !   Dammed if I do Dammed if I don't.
REPORTER: Why did you wait so long ?
TRUMP: I didn't wait long. I didn't wait long. I wanted to make sure, unlike most politicians, that what I said was correct, not make a quick statement. The statement I made on Saturday, the first statement, was a fine statement but you don't make statements that direct unless you know the facts. It takes a little while to get the facts. You still don't know the facts. It is a very, very important process to me. It is a very important statement. So I don't want to go quickly and just make a statement for the sake of making a political statement. I want to know the facts. If you go back to my statement, I brought it. I brought it
While the Prez, concludes the  driver of the car was  a murderer, he's not ready to call it a terrorist act. Now if it took place in Europe……………
He believe race relations are better or the same since he has taken office.
There is one areas where I actually agree with the Prez.  There was trouble on both sides.   I'm a veteran of sorts.   Not every White Supremacist and those of the extreme right were violent.  However, their are anarchist on either side. I've participated in peaceful marches that turned violent after  someone from our side broke a  large window of a business or threw a rock at a police officer.   Individual's who are looking for a fight  to cause Chaos.  The right was heavenly armed in Chancellorsville, last weekend.  No one was shot.
The difference between to two sides, one side has historically killed people of color, and called for extreme acts of violence against Gays and other Cultures.  They would like to limit the freedoms of people who don't look or believe as they do.
While President Trump and the truth are in different parts of the world, never to meet.
There was one thing he has never lied about.  His Racism!
 CityFella