Yes, your next NEXT car will be electric.   A report from research firm,Bloomberg New Energy Finance says by 2022," the report says, the cost of ownership of battery electric vehicles will fall below that of an internal combustion engine vehicle.  Bloomberg projects by 2040 25% of the cars globally will be electric.
In 2016, nearly 160,000 electric vehicles was sold in the US . Last year Toyota sold nearly 390,000 Toyota Camry's
Electric vehicles have fewer moving parts than an internal combustion vehicle.
The current challenge for electric car production is the availability of batteries which currently accounts for one third of the cost of the vehicle.
California Clears The Air
Automobiles are responsible for more than 40% of air pollution.
Air pollution exposure can trigger new cases of asthma, exacerbate (worsen) a previously-existing respiratory illness, and provoke development or progression of chronic illnesses including lung cancer, chronic obstructive pulmonary disease, and emphysema.
1.2 million die each year in India to diseases related to Air Pollution.  In China over 2 million people die annually.
In 1967, The State of California established the Air Resources Board(CARB).  One of the goals of CARB is maintaining air quality.  One of CARB's responsibilities is to define vehicle emissions standards.  California is the only state permitted to issue emission standards.  Other states can choose to follow CARB standards   There was a time when Automakers  built two engines, one designed for California and the other for the other 49 states.
A few years ago CARB set a mandate for cars sold in the state. By 2025,15% of all cars sold in California must be zero polluting vehicles.  These would include, Electric, fuel cell vehicles powered by hydrogen.
Naturally there was resistance by auto manufacturers.  How committed was the state to implement this programs in 2006 there were a few charging stations and no hydrogen stations.
To build an electric vehicle from the ground up would cost the industry billions without a guarantee of acceptance by the public.
To meet this mandate, Auto manufactures modified existing vehicles adding an electric motor.  The problem is these cars had a very limited range(most were less than 100 miles) and to completely charge the cars took 8 hours or more.  The electric vehicles were based on a compact or subcompact platform, the average cost for these electric cars was $40,000 (before state and federal incentives) The manufactures lose money on each electric sold.   As for styling ,automakers seems to be dragging their feet, building something to meet the requirements.
BMW I-3
The worlds best selling electric vehicle in the Nissan Leaf.   The Leaf was introduced in 2011 and more than 250,000 Leafs has been sold worldwide.   The current Leaf has a range of 107 miles.
 Tesla Brings Sexy
Founded in 2003 The Palo Alto, California based Tesla started building electric vehicles in 2008.,  A two seat Roadster with a range of 200 miles.  It was the first production automobile to use the lithium-ion battery.
In 2012, Tesla introduced the model S.
  Unlike the other automakers,the S was built from the ground up as an electric vehicle.  The batteries are larger and is a part of the cars structure. thus having a considerable longer range (265 to 351) than other electric vehicles .
The S was an instant hit.  With a price range from $80,000 to $100,000 its style attracted buyers who would normally purchase premium luxury cars from Mercedes Benz, BMW and Jaguar.
In 2015, Tesla introduced the model X, SUV.
Tesla has a network of high-powered Supercharges located across North America, Europe and Asia for Tesla vehicles.  Software within the vehicles navigation directs Tesla to charging stations.  The company also operates a Destination Charging program, under where shops, restaurants and other venues are offered fast chargers for their customers. As of  December 2016, Tesla has nearly 1000 stations globally, and 6,400 and charging locations. 
Tesla Supercharing Center, Rocklin, Ca
Earlier this year, Tesla briefly surpassed Ford and General Motors in market capitalization for a couple of months, making it the most valuable American automaker.
An Electric World?
The Government of Norway intends to ban internal combustion engine cars fueled by gasoline or diesel by 2025.
  Sweden, Japan and the Netherlands do not have an official mandate, however,their governments are  looking at 2025.  Implementation in Japan and the Netherlands would not be difficult. In the Netherlands 6% of the cars sold are electric.  In Japan 14%
China, home to some of the world's most polluted cities has a mandate similar to California requiring manufacturers to sell a minimum of 8% "new energy vehicles" by next year.  Virtually every car company argued the time table was too aggressive. Even though sales of the low or zero emissions vehicles are higher than in most other countries, except Norway, they still account for less than 3% of the Chinese new car market.
There are now strict limits on the number of new vehicles that can be registered in major cities such as Beijing and Shanghai, but qualified NEV models are exempt, encouraging buyers to shift. With some of the world's most polluted cities, some observers believe China could call for an outright ban on internal combustion technology in the not-too-distant future.                                                                                                                                                                                                                                       India wants all its cars to be battery powered by 2030 — and that means it not only wants to end the sale of internal combustion vehicles but convert or replace all other vehicles already on the road by the end of the next decade, a goal few see possible.
France and Germany, the ban is expected to be far more contentious. Auto manufacturers in both countries have condemned the moves by their respective governments to ban the internal combustion engine, saying that it would make the economy less competitive. European automakers have lagged behind Japanese and American ones in both hybrid and all-electric car technology, as conventional
European gasoline based and diesel cars already have high fuel economy. In response to so-called range anxiety, in which an electric car's limited range may leave the driver stranded on the motorway, the Holland administration is expected to pair the proposed phaseout with national investment into charging stations as well as additional investment into TGV lines, to make it easier to travel long distances in France without a car.
Germany may also push to end sales of gas and diesel cars by 2030, but there is strong opposition, especially since half of its electricity comes from coal. Yet German automakers are launching major drives to electrify and that could help build momentum for a switch.
Volvo Leads the Way
In July, Volvo told the world ,all the models it introduces starting in 2019 will be either hybrids or powered solely by batteries.
Volvo headquartered in Sweden, is owned by Geely Automobile Holdings of China, which already produces battery-powered cars for the Chinese market. The decision by Volvo to focus on electric vehicles could ultimately give it and Geely a head start if, as many analysts expect, sales of battery powered cars begin to take off. China is already the largest market for electric vehicles.
Next!
With the American automakers focus on the very profitable SUV's  will they have the billions necessary to build electric vehicles?  Currently every electric vehicle sold in America loses money.
Last year General Motors introduced the Chevy Bolt, the first car built from the ground up as an electric vehicle.   The car has been well received by the press.  Car and Driver says the Chevy Bolt " is so cutting edge that it makes all other affordable electric vehicles seem irrelevant."  At 238, it has more electric range than any car on the market with one exception, Tesla. It actually has a greater range than the highly anticipated Model 3
______________________________________________
Nissan just announced their next generation Leaf will have a range of 150 . Hiroto Saikawa CEO of Nissan says a Leaf with a range of 300 miles is possible within 3 years.
________________________________________________
Unlike Tesla, this car is affordable. its very quick and roomy AND it starts at $38,000 (before incentives) $40,000 less than the current Tesla model S.   If there is one problem with the car, its the styling.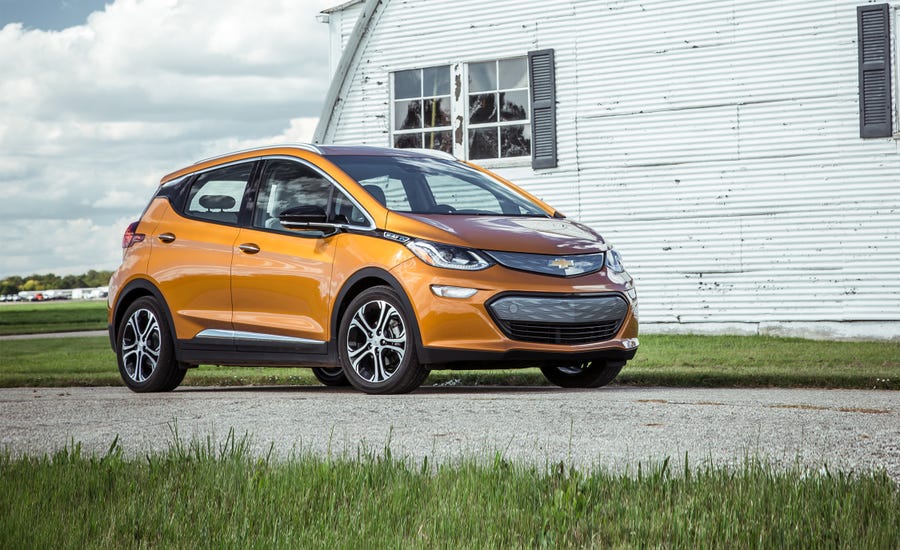 It not ugly or Toyota Prius Quirky.   Tesla gave buyers a reason to trade in their BMW's and Mercedes . One would expect more from the General.
Waiting in the wings is Tesla's people's car the  Model"3". Tesla began building the car in its Fremont, California plant in July.    Pricing for the "3" begins at $35,000(before incentives), if its the "3′ you want, you'll have to get in a very long line as 450,000 people have placed deposits on the "3".  Based on Tesla's track record the 400 thousandant should receive his "3" by 2020   Tesla has an Apple like, cult following and those people are willing to wait.
Game Changer?
With all the luxury manufacturers taking aim at Tesla. Jaguar, a company known for its stately vehicles, is introducing a compact luxury electric SUV called the I-Pace( Est arrival is first quarter 2018).  Its engineering comes from Tesla's play book.  The batteries anchor the car with two electric motors, one at each axle.  Jaguar says the range of the I-pace is estimated at 220 miles.
The SUV, will be built in Austria and the platform will be used on other Jaguars as the company says half of its vehicles  will be electric by 2025  The cost for I-Pace begins a tick under $100.000.
If $100,000 seems hefty.  Tesla sells to variations of the Model S for $100,000 and the Model X SUV sells for over $100,000.    If Jaguar is remotely successful, expect the automakers to quickly follow suit.
Perhaps with the assistance of Tesla'   Tesla build a Gigafactory, outside of Reno Nevada.  Panasonic is currently building car batteries in a section of the uncompleted building and Tesla will eventually build cars there.
  Cummins, known for diesel trucks recently introduced its first application for inthe first electric commercial truck
The truck has a range of 100 miles and is capable of hauling a 22-ton trailer.  Cummins electric power train is being targeted at urban delivery vehicles (like a beer truck or food delivery truck) as well as for short haul trips in and around ports and other terminals. It can be recharged in about an hour at a 140 kWh charging station, and Cummins' goal is to get that down to 20 minutes by 2020, reducing down time for its business customers. Production begins in 2019.
There are challenges ahead for the industry.  There isn't a standard for charging. In Most charging stations uses Level 2 J1772 charger.these will work on all electric cars. Those charging stations are fairly slow, often requiring hours to fully charge your vehicle.  If you own a Tesla you can drive from coast to coast due to their network of superchargers where owners can charge their cars in as little as 30 minutes. Those charger are exclusive to Tesla vehicles.
The other challenge is much greater.  Is  our national electrical (grid) prepared for an  increase of electric usage?  As a result of individual scharging their vehicles at home?
Your next-next new car is likely to be an electric car.  With ranges considerable more than the cars of today.
Like your cell phone, charge it and drive.
CityFella