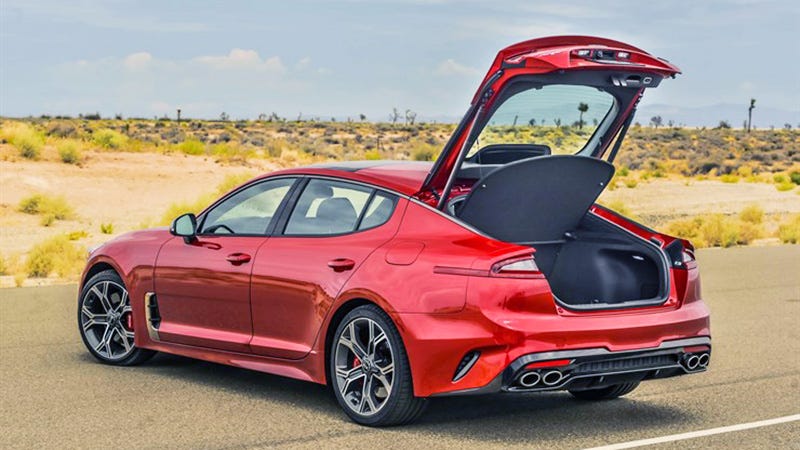 Kia sports car?  A legitimate sports sedan by Kia?  Kia, say what?   Kia? 
Car and Driver says: Back in 1964, the great Muhammad Ali famously taunted heavyweight-title opponent Sonny Liston, saying he'd "float like a butterfly, sting like a bee" in their upcoming match.  Our track testing revealed that the hottest Kia does indeed sting like a bee: 60 mph comes up in 4.6 seconds, it circulates the skidpad at 0.91 g, and it stops from 70 mph in 164 feet. Kia claims that the car's top speed is governed at 167 mph. Those numbers match up well with larger, much more expensive performance sedans like some that competed in a recent comparison test , including the Audi A6 3.0T Competition and the Cadillac CTS V-Sport.
Road and Track (Sept 2017)  If you're in the market for a 4-series Gran Coupe, you should check your brand prejudice and take this car seriously. BMW and Audi will, if they have any sense.
The Drive.com (Dec 2017): Human Drivers, Lend Me Your Votes: The Kia Stinger Should Be the 2018 North American Car of the Year.    As an automotive writer who's blessed (or cursed) with strong opinions on cars , my vote for the North American Car of the Year award is usually a slam dunk. Not this year.  The 2018 Kia Stinger and equally-new Honda Accord have had me straddling the fence and engaging in Socratic arguments with myself. But decision time is at hand, so here goes: The Kia Stinger is my 2018 North American Car of the Year. And my esteemed fellow jurors, if they're not idiots, should agree with me.   LAWRENCE ULRICH
Just 11 minutes of your time 
"For Krazy Car Nuts Only"
"Cred" 
 the GT
Engine: 3.3-liter twin-turbocharged V-6
Horsepower: 365 hp
Torque: 376 lb-ft
0–60 mph Acceleration: 4.4 s
Top Speed: 167 mph
70–0 mph Braking Distance: 158 ft
Roadholding on 300-ft-dia skidpad: 0.93 g
(Stats from Road and Track)
Designed by Peter Schreyer (Former Designer at Audi) and  Gregory Guillaume (Former  Chief Designer for Volkswagen Group
Engineered by Albert Biermann (Former Vice President engineering of BMW's famed "M" division).
2018 Stinger GT $39K
Random Stuff
In 2016 Hyundai Motor Group (Hyundai, Kia, Genesis) became the third largest automaker in the world behind Toyota and Volkswagen.
The Hyundai Motor Group isn't just interested in making good basic cars, they are making a statement.  They are assembling some of the best names in the industry. I  Luc Donckerwolke who once was the Design Director for Vw's  Bentley, Lamborghini and Audi is now heading the new Genesis brand.
The challenge for Kia is to convince someone who is in the market for a sports sedan, to drop 39K for a Kia.  .
The automotive writers say, in the last few years Cadillac has been building some of the best cars on the market.  American cars,,that will out handle and in many cases out run the best from Europe.   But the public isn't buying.   So it may be a tough sell for Kia.
For some its the pedigree,  if it isn't a Lexus or from Europe, it wont do ?
But I'm that guy in the Charger Hellcat, in outrageous Red . I'd be sipping on my Slurpee at some traffic light in the Napa Valley.   Smoking the best from Germany and even keeping up with a few $400k Supercars.
Grey Poupon? No Frenches Dammit! 
If the pedigree isn't important to you. Test drive the Stinger GT .  It does have one thing the other don't.  A 10 year 100,000 mile warranty.
CityFella