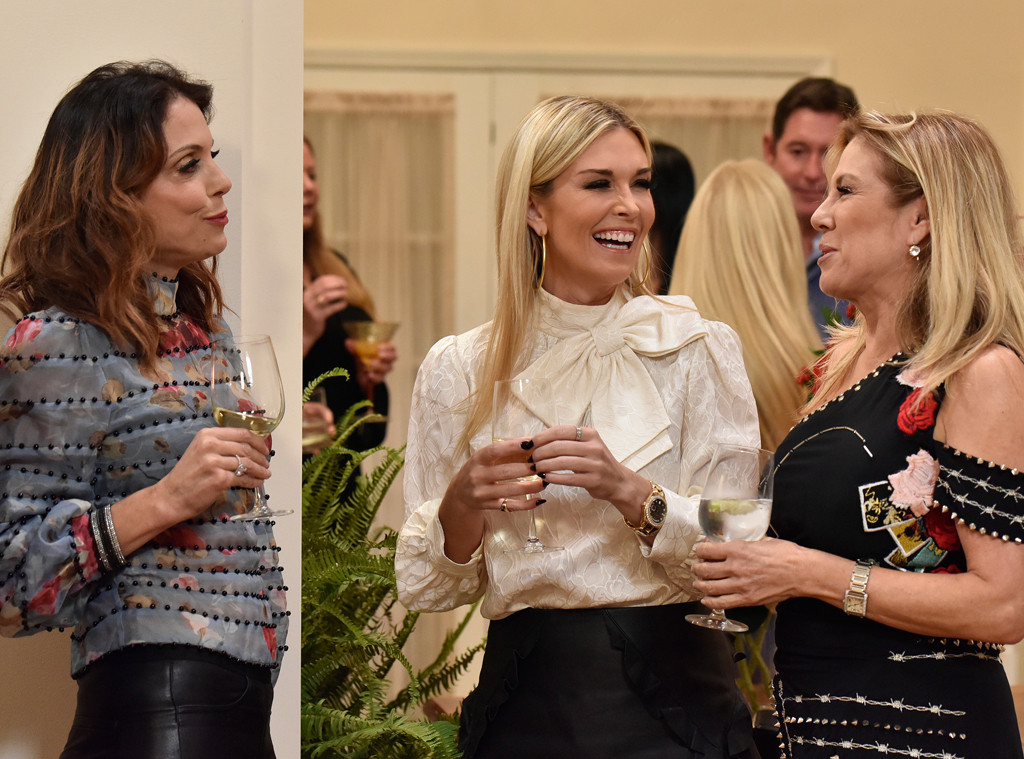 The ladies were on fiya last night.   Dorinda (Lady M) gave us another catch phrase.  And the rookie shocked us!    It was an Epic Night!
 Last night's Episode of The Real Housewives of New York, brought it home last night.
The NY franchise isn't the highest rated , but on these shores it is clearly the best! .
While there are fights, many fights, no one is being punched, slapped, the new cast member who has to fit in, the sort of drama you'll find on most reality shows and perhaps that's the problem.
In New York, all of these ladies are connected, most have known each other for ten or more years.  Some are actual friends.  Friendships are complex, there are resentments, deep issues that are just below the surface.  Most of us can relate to the anger and the triggers and that' what took place last night.   Like most of us, because there is history between the housewives most of these fights are short lived and they move on, to other disagreements. Last night, the fights were about
Last night, is a continuation the Hampton weekend.  Some of the ladies are still heated from the night before.   Dorinda is still pissed at Sonja for comparing Sonja's divorced to Dorinda's being a widow.       Sonja's bestie, Ramona want's Sonja to apologize. "Say you're sorry. Say you're sorry because I want her to come to my party," a.  Sonja's not feeling it and she feels that her bestie didn't didn't have her back.    Dorinda complains about Sonja's continuing to remind us of the life she had before her divorce.   However, Dorinda often talks about her dead husband.
Its all going down at Ramona's place in the Hampton's.  Ramona told Carole, she was throwing a dinner party to celebrate Carole's run in the New York City Marathon.   Ramona just want's everyone to get along at her dinner party.   That was only 10% true, with Ramona buying a Cake for Carole.
At the party, there isn't any fashion cohesion only Tinsley is Hampton fashion chic.  The former Countess comes in with tight braided hair, she looked like  she was a gang member carrying  Vaseline and hot sauce in her purse.   Carole is wearing an ugly tattoo printed body stocking with a black slip dress over it, yikes!!   Bethenny is wearing a floral printed top, her boyfriend came in wearing some BRIGHT sweater with the would Love on it.  Ramona is also wearing a floral print dress with some strange ass cutouts on it.  There is another man and I'm not sure if he is Ramona boyfriend or the cook.  He seems into Ramona, but Ramona has a way of using men for her needs and dropping them off at the curb.
At the table, Bethenny and Dennis are having a lively chat. with Luann sitting across the table. Making small talk    Luann asked how they met and how long they've known each other?   WAYBACK MOMENT  Bethenny come back with . "You know how we met, or at least you think you do."   (At a reunion a few years back )  Luann, said  that Bethenny was having an  affair with her former best friend's husband.  Bethenny tells Luann, This is him"  "This is the guy."   Lets say it together OOPS!   Someone embarrassed, very embarrassed. Bethenny ask's Luann to apologize to Dennis and she does and all is good with the world.
Enter M's Tinsely Mortimer who gave us the best line of the night!  
This is left over shit from last season when she stayed at Sonja's Townhouse.  Sonja said Tinsely was a bad house guest and may have leaked news about the former New York Socialight, before she beat up her boyfriend and went to jail in Florida.
Before Tinsley moved out of the Townhouse, she threw Sonja a party and gave her a five grand gift card.   She has trashed her former roommate to the other housewives and others , saying how she lives off people including her boyfriend and she doesnt believe Tinsely paid for the gift card!
It Ramona's party and she wants a piece of Sonja too. At one point Sonja say's she doesn't lie.  (Wait 4 It!)  Oh yeah? You do lie!" Tinsley yells. ( Just another dinner with the housewives)  When Tinsley's asked her about the gift card.  Sonja says she didn't believe Tinsley paid for the card.     Tinsley wasn't done!
"Well, then let me just write you a check for staying at your house," Tinsley says, and pulls out an actual check.   Da gurl was pissed!     She writes the check gets up and shouts
 "Shut your fucking  mouth and close your legs!"
In the confessional, a hysterical Dorinda said.  I said to speak up, I didn't tell you to lose your shit!  
The check goes back and forth. Bethenny takes charge ,by picking up the check and setting the check on fire, problem solved.
Bravo Says There Will Be a Morning After 
After that disastrous dinner at Ramona.  There is a brunch in the morning.  
Carole is hosting a brunch.   Knowing the hot spots in the room.  She separates the ladies, putting them next to allies.   How so nevah, during the night, Sonja sent a text to Ramona, saying Ramona didn't have her back and called Ramona a POS. After learning POS meant "Piece of Shit" Sonja had one less friend at the table.   There is something about the relationship between Dorinda and Sonja.  Only Sonja can bring out the gangsta in Dorinda.
Even with Sonja banished to Siberia to the far end of the table, Dorinda is listening to every word she says.   When Sonja bring up dating Rocco ,a famous restaurateur. Dorinda says, she not dating Rocco!    There are conversations to the right and left on Dorinda, but she is hanging on to every word Sonja is saying.  Ramona tries to get Dorinda to chill, but Dorinda's not having it!  For the record, Sonja sometimes live in a world Disney hasn't constructed, but the ladies mostly tolerate her. But she and Rocco were dating last season.  It doesn't really matter, Sonja has unleashed the gangsta (Lady M) and as Sonja continues to talk about Rocco,  Lady M yells  "Liar, liar, ho on fire,"
 I like Sonja, yes she is delusional, but there is something really likable about her.  While I would like to give her a break, the truth is she, her gums are flapping in overtime.   The ladies like her, but her shade is covered in a sweet glaze and the aftertaste is bitter.
Sonja took some direct hits from Tinsely and Dorinda, but its was Ramona, her bestie who disappointed her the most.   They know each others secrets and idiosyncrasies  tolerating the worst and celebrating the best of each other for more than twenty years. A friendship hanging on by a thread.
CityFella