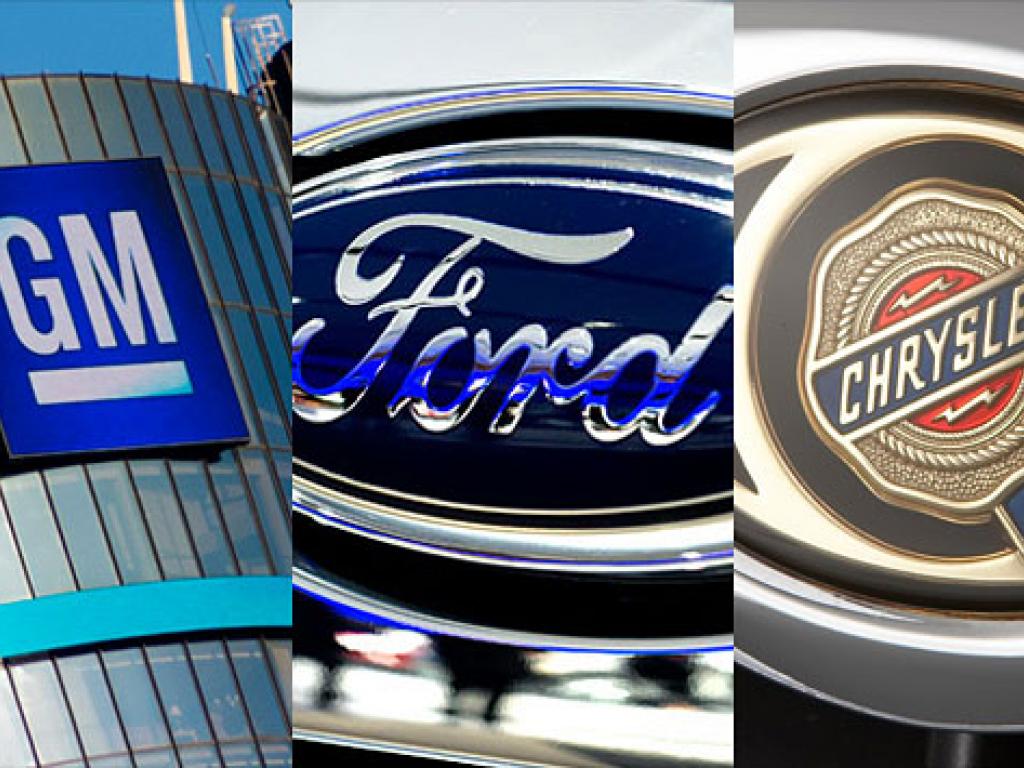 A few years ago, familiar American nameplates started to disappear, Plymouth, Mercury, Oldsmobile, Pontiac victims of overcapacity.    These models share most components with other corporate models.   Plymouth shared engines, suspensions with Chrysler and Dodge. Mercury with Ford and Lincoln.   Chevrolet, Buick shared parts with Oldsmobile and Pontiac.
American manufactures have long struggled building fuel efficient cars. This was evident in the 70's when fuel charges increased and in low supply.   Toyota, Nissan and other Japanese automakers flourished and established a sizable foothold on the American market.  While then the big four ,General Motors, Chrysler, Ford and American Motors struggled.
Where American dominate, is trucks. The Ford F-150, has been the best selling vehicle in the United States for more the 30 years.  At GM and Chrysler its the same, trucks.  While they sold more cars,  profit was in the truck business.
Today, trucks and SUV's are the best selling vehicles. In 2016, Chrysler announced they were discontinuing the Dodge Dart and the Chrysler 200 to focus on Suv's and trucks.   Chrysler currently sells three car models, Chrysler 300, Dodge Challenger and Dodge Charger all three model share the same platform that dates back to 2005.   Chrysler sells 8 Suv models.
Last month the Ford Motor Company announced in the next few years they plan to discontinue every car except the Focus Hatchback which will be assembled in China and the Mustang.   They cite profitability.
General Motors, said they may discontinue the Chevy Sonic and the slow selling Impala.
Every Automaker is experiencing slower auto sales .  However, none of the Japanese and  Korean auto makers plan to discontinue car.   For 2018, GM released an all new Buick Regal sportback and wagon.  Toyota introduced an all new Camry and Avalon.  Honda, an all new Accord.   Nissan a new Altima.  Volkswagen and Subaru have introduced all new models.
Could History Repeat Itself ?
A lot of capitol is needed to build  fuel efficient vehicles.   The industry has spent hundreds of millions to develop and build new fuel efficient, engines and transmissions in addition to being fuel efficient the vehicles are laden with mandated safety equipment.
Ford was one of first american automaker to equip most of their car and truck fleet with turbo charged engines and aluminum it its truck and Suv's.  While GM and Chrysler truck fleet have the old school V8 engines, Ford uses smaller displacement 4 and 6 cylinder turbo engines.  The investment has paid huge dividends for Ford.  Demand is up for the F-150 pickup.  The full size Ford  Expedition and one hundred thousand dollar Black Label Lincoln Navigators are flying off dealer lots.
American automakers have historically resisted building fuel efficient cars.  The fuel crises in the seventies took a toll an American automakers as car buyers bought smaller more fuel efficient cars.    Toyota, Datsun (Nissan) flourished and gained a major foothold in the North American Market. Chrysler went bankrupt.  (A loan from the Government saved Chrysler)
American automakers hasn't successfully found the secret sauce in building a small car.  But they were coming close.  Instead of starting with a fresh piece a paper, they imported existing models from their foreign subsidiaries.   The Ford Focus and the Chevy Cruze are built on a global platform.  What they aren't, is profitable.
Low gas prices has driven the market. The hot segment is the compact SUV and the large SUV's,  Toyota's Rav's 4 and Nissan's Rogue are on fire.  With gasoline prices on the rise, will history repeat itself?     Ford unlike Toyota ,has not expanded their hybrid technology.  Toyota has three hybrid passenger cars, and two Suv's .   Ford currently has two hybrid passengers cars .  Ford says future  F-150, Mustang, Explorer, Escape and returning Bronco with have hybrid options.  However there is no specific date to when these vehicles will come to market.   Gasoline prices nations wide as of this date is $2.92 a gallon (a three year high) by late summer, based on current projections we may see $3.60.  (California $4.20) .  History:  Should fuel prices remain high, it will have an impact on sales.
Who will Survive? 
Of the domestic automakers. Chrysler is by far, the most vulnerable to high fuel prices, the only fuel efficient car option is the slow selling Fiat 500.    Ford can weather the storm for 2018 and they have the option of extending the execution date of its Fusions and Fiesta's currently piled high on dealers lots.   General Motors has the best mix of cars and trucks.   It currently offers a diesel option on a few of its Suv's, it has the successful electric Chevy Bolt and can quickly adapt that technology to future models.
The Competition?
If fuel prices continue to increase, the Japanese and Korean automakers are in the best position. Toyota and Nissan has the largest selections.  Nissan is the only foreign automakers to offer compact to full size trucks and full size cargo/passenger vans.
Volkswagen wants to be a serious player in the North American Market, its has a well rounded fleet with vehicles achieving 40mpg.    In the last few years VW has  introduced an astounding, 6 new models with a new luxury midsize due this fall. For 2018, the company now has a new 6 year 72,000 mile, bumper to bumper warranty in the US.  Unlike Hyundai/Kia the warranty is completely transferable.
The Hyundai Group, which saw a dramatic drop in sales of its mid size Sonata and Optima mid size sedans.  Is committed to sedan . Despite slow sales, Hyundai  has introduced 3 new hybrids and four subcompact and compact cars.  Hyundai is planning to bring an all electric Suv, the Hyundai Kona to market this fall with a range of 250 miles.
Ford was the only American automaker that survived the last economic downturn.  Will their plans for the North American market hurt them in the long run?   FCA has had several lives in North America, will their reliance on an Suv's and trucks finally seal their fate?   Will General Motors follow suit?
News at 11
Cityfella