I've said it a billion times, and this is a billion and one.  The Real Housewives of New York is the best franchise in the states.   Its Platinum Class.  If you haven't seen an episode you need to watch.   These aren't not 20,30,40 something women fighting over a tweet, a look or a smirk, no one is throwing a punch or glass.    There are 40, 50, 60 year old women living their lives to the fullest, something rarely seen on television.   Last night there were disagreements , laughter, sex and poop talk.  There were  So many things happening on last night this could have been two hours.
The fight between Bethenny and Carole continued.  A disagreement that may have worked itself out if they were alone was contaminated by the other women.   Most of whom was happy to see someone take the mighty Bethenny down.   When the Carole brought up Adam.   Luann who has a seething hate for Adam, chimed in.  " He left my niece to get with you (Carole)and you wouldn't have met him without me."  "He's just a boy from the Midwest"  Luann tells Sonja.   Sonja says under her breath.   "Luann is nothing but a nurse for Connecticut, so what does' that even mean.? " 
 Carole who was initially in control,  turned nasty,  telling secrets. She told the group, Bethenny called Luann a loser.  Luann comes back "If I'm a loser than the rest of the world is fucked"    When Bethenny tries to respond, Luann dances out the room Singing Loser, Loser.   The fight has deteriorated to mean spirited gabs with Carole and Bethenny talking to any housewife who would listen.
Luann tells the group she is going to the Palm Beach (West Palm) for Christmas to visit her brother.  The ladies pause, because Tom and down there cavorting with various ladies .
The ladies were over the fight, most disappearing downstairs where there was a fun atmosphere.  Where there was  laughter, dancing and lady humping.
Hostess Dorinda, keep the mood going by smashing her own face with her birthday cake.  Did I mention the candles were lit at the time? .   I love the ladies, especially Bethenny but Dorinda is the one I'd want to hang out with.   Some of the ladies are licking the frosting from her face.  The combination of late night fun and booze, the ladies woke up in strange rooms.  My favorite was the room with the shark and Christmas lights on its snout.
Its time to leave, both Ramona and Sonja have Dorinda inspect their rooms.  They know "Lady M ain't the one and this year nothing was damaged, so this year she WONT have to cut a bitch!
Happier Times
Bethenny asks the women if Carole seemed sad after she left?   Bethenny is still not going to the source.  Not sure how this is going to end.  Everyone is hoping for best.
A brief Moment with Sonja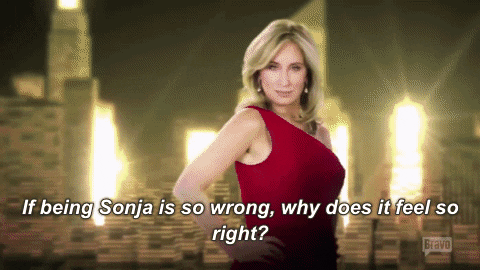 You'll have to bear with me.  I'm still processing last week's sperm/vjj war.
Last night, she meets with her contractor an tells him (full disclosure) she had sex on a broken sink back in 2008.  Now why the contractor needs to know? is any ones guess, its just how our Sonja's mind works.    She went on to tell him that it was back when she had some hedge fund over ,and she got up on the sink and it came off the wall. She did glue the towel holder back on and wanted to know if the sink could be glued on the wall.
Luann, participates in blood drive and hopes the other ladies will donate their blood.  One problem they are all recently in Mexico and was told they cannot give blood. (Zika virus)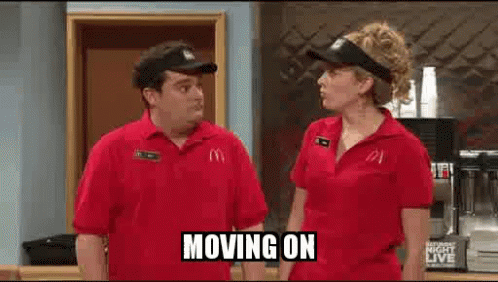 Next stop on the housewives trail in Bethenny's place.    Bethenny is no Dorinda. The vibe isn't the same.   Dorinda remembered that Bethenny like nutcrackers.  Through her holiday decorator, she finds Bethenny the last FAO Schwartz life size nutcracker.  Bethenny freaks!  and she immediately finds a place for it.  When her daughter sees it she will freak!  Dorinda wants a bigger thank you.
Next up is Bethenny and Ramona
At the party there was an un-organized gift exchange.   When Ramona opens her gift and
see's its a skin care product, she tells every one she is working on a skin care line.  When
she tells Luann about it. Bethenny says Ramona is turning it into a infomercial .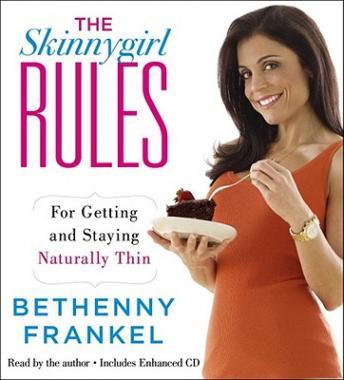 Were not Done!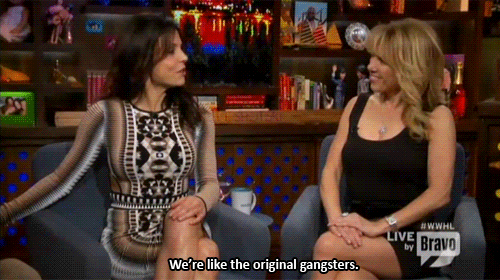 Someone is still pissed (no names)
Bethenny calls Ramona to talk about getting into the mix with Carole. Ramona minces no words and yells at Bethenny telling her its rich Bethenny accused her of having an infomercial , when the WORLD (and housewives fans) have to listen to her hawk all her products on national television. 

AND……..hung up on her!
We end the episode with this………
Damm it Bravo!   NYC survived the ten year curse.  Its the best reality show period.
I get a lot of e-mails from fans of the show.   I am responding sooner so If you could leave your messages in the comment section  I promise to respond.
Remember, if you life what you see.  Share it with a friend…
See you next week in jail with the Countess
CityFella