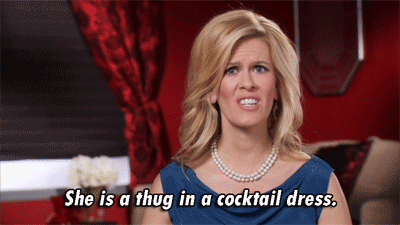 Imagine turning on the Telly and seeing your friend telling a Police Officer " I'm going to kill you" and pulling a move that would make Houdini applaud- by slipping out of handcuffs.   This is the same friend who authored a book called "  Class with the Countess: How to Live with Elegance and had a semi hit song called "Money can't buy you Class"  (elegance is learned) . 
Our Luann was charged with  disorderly intoxication, resisting arrest, battery of an officer, and making threats against a public servant. She was later released on her own recognizance but was charged with a third-degree felony on January 25, 2018.  Before she could return home she ha spent a little time in rehab. 
Like the housewives, her friends and legions of fans, we were shocked!
"Lu?"
When Luann announced she was going to Palm Beach, Dorinda hesitated.
After she was arrested,Dorinda later told Ramona. "Sometimes, God stops what you're not recognizing you need to stop. And I don't think she(Lu) was in a good place before Christmas." 
Palm Beach,is Tom's her ex getaway.  The town is the place they were married.  The place where he is likely meeting other women.
After her arrest ,Luann was the talk of the town, well get back to the Thugess later.
Meanwhile back on Manhattan, Dorinda went to the emergency room after a large deluxe salt shaker jumped off the shelf on to her foot.  Now she's limping with a stylish (fresh from CVS) pink cane.
At Behenny's Skinny Girl Jeans party ( is it me or didn't the jeans look Wal-Mart cheap or maybe they're being sold at Wal -Mart, they didn't look polished)  Tinsley said that Luann went back to Palm Beach to show everyone that she was fine and over Tom,but she wasn't.   Tinsley says Luann is facing a bunch of felonies cause she hit a cop.  Tinsley knows, she has a Palm Beach mug shot too.  In this weird wonderful world. Who would have guessed that the Countess and New York's former socialite would have Florida's Palm Beach jail in common?
"Sonja is Vegan"
Sonja has moments of 'Grey Garden's as her thought process is a little different from the norm (what ever that is) .  She arrives at Bethenny's party as a newly vegan asking the bartender for a quick Olive.   Because her house has no food and "I'm  she's only eating vegetables right now"?   When she sees the shellfish platter she says  "I'm vegan now but I eat shellfish because they're raw"?  "SonjaSense"    Sonja, the super flirt gave me the line of the night when asked the Bartender " You wanna pet my poodle?"
Sonja's Townhouse is being prepared for rental and she is staying with Tinsley at her hotel for a few days.  When she arrives Tinsley has a robe, slippers and a Louis Vuitton bag and her room is the penthouse suite.
Dorinda and Bethenny meet. Bethenny hears Dorinda was steamed at the lack of acknowledgment of Dorinda finding that one of a kind life sized Nutcracker.  But this time Dorinda's over it and she makes that clear. But Bethenny brings up Dorinda's behavior in Puerto Rico, perhaps you know how they're related?
 Bethenny and Carole (The Sadness Continues)
Everyone is rooting for this friendship to mend.  At a restaurant, Bethenny said she texted Carole a picture of them along with the caption "I miss us, Why are you being so cold?"  She said,Carole said "Wow that's a lot"
Carole's version of the story,  Bethenny sent the message and then went on some rant about Ramona and how she's a bad person and kept going on and on about Ramona.  Carole said she responded "This is too big of a conversation for a text, let's talk when I get back from L.A"   But Bethenny kept texting anyway.
Carole is very articulate, she ask a direct question and she answers directly.    Like her conversation with Dorinda, Bethenny answers the question and then goes left.  Attaching other scenarios that are unrelated to the topic at hand.
Like Christmas Nutcrackers and Puerto Rico
Carole doesn't allow Bethenny to overwhelm, her and forces Bethenny to stay on point, which is very frustrating to Bethenny.  Carole is becoming frustrated with Bethenny, she simply wants to mend whatever's wrong and move on.   Bethenny thinks she's cold.     The more they contaminate the waters by sharing their issues with the other housewives and less likely this friendship can heal.  The ladies hug it out but this is simply a gesture.
The Thugess is embarrassed, the world saw her at her lowest. She said what bothered her the most was diasapointing her mother 😳😳. She admitted, going back to Palm Beach wasn't a good idea.
  We love the Countess, and she has turned Lemon to Lemonade.   Her Cabaret show "The Countess and Friends" is a hot ticket and she wants to take it on a national tour.
CityFella