Just another day on Florida's I-95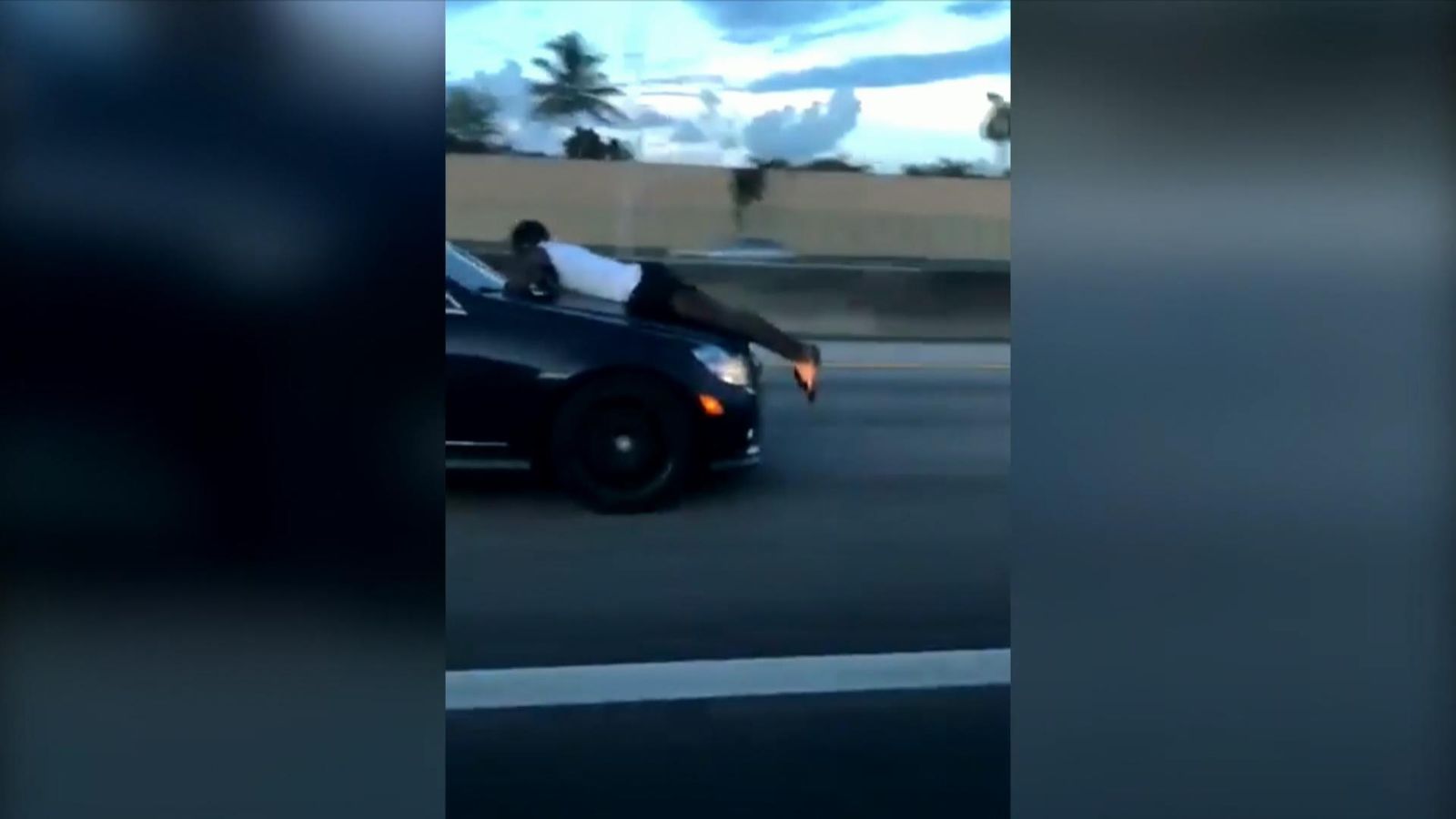 Love is 4 EVA, until it isn't! 
When Junior Francis and Patresha Isidore bought their C class, they knew their love was forever, after all they share a daughter.   Forever meant a joint title.
On Sunday, forever wasn't home.  Patresha message was simple  my car, MY car, MY CAR, talkin bout MY CARR.
Men are very attached to their wheels and Junior Francis attached himself to the hood of the Mercedes.
With his former Boo inside the car and him outside the car,there wasn't much  of a real meeting of the minds.
Petresha wasn't feeling a chat anyway as she drove through the streets of Lauderhill Florida with her Boo on the hood their car.
She couldn't shake Junior on the streets, so she headed to Interstate 95.  With Junior on the hood, Petresha qualified for the Express Lane, where baby girl was going to see how aerodynamic Junior was.
Junior
was some kinda man. As his baby mama was trying to knock him off the car. Home cheese was holding on with one hand and calling 911 with the other,telling the police operator that his baby mama was "swerving the car and he was on top of the car." I really need help." 
His nineteen mile terror ride ended at an intersection, where they intercepted by Broward County Sheriff's Office deputies.
The Sheriffs department said Patresha Isidore 
  had "multiple opportunities" to stop the car and call 911 and willfully put her baby daddy in danger.
Francis, didn't want to prosecute his ex , because they have a five-year-old daughter. and refused to provide a sworn recorded statement.  But she was arrested and charged with negligence (risk injury or death) .    Patresha,bonded out of custody on the misdemeanor charge.
The Mercedes is now, his car, His car, His CARR ! They talking about his carr.
It's clear, they haven't watched Judge Judy.   Never, evah, evah, EVAH, share a bank account, co-sign, or buy a car with someone until your married.   The future of the Mercedes is in question.  Someone will have to buy someone out.
*This was a dramatization for my pleasure.  I'm in Sacramento and they are in South Florida.
CityFella