Dear, Canada, Britain, France, Mexico, Australia, Germany, Sweden, Italy, Nigeria, Argentina,Japan, New Zealand and the rest of the world,
Despite what you read and see on television. America and Americans haven't lost our minds or our way.  We realize you are bombarded with negative sounds and images emanating from our great nation, leaving the impression we aren't the welcoming nation we once were.
These aren't the best of times for the United States
Our current President, businessman with no experience on the world stage    Who in short time, has become the President his competitors warned us about during our presidential primary.
He is easily played.   Compliment him and you're in.  In his mind, he is always successful.
Like you, most Americans are in a constant state of shock .  Many Americans are overwhelmed by the amount of negative and often destructive news emanating from the White House.
Just when we think our President has reached bottom, he finds a way to go even lower.  He has insulted our neighbors ,Canada and Mexico.  Damaging long-term relationships with our Allies and forging relationships with enemies of our nations.    He is impulsive, and often acts without council and doesn't fully understand protocol.
Most Americans (not all) are frankly embarrassed.
Its seems, by the hour he is dismantling, environmental laws in favor of business.  Relaxing and reversing laws that benefit the poor, laws that once protected women, members of the gay communities and people or color.
 Two America's
This picture taken last Thursday in Montana,  gives the impression that Americans  overwhelmingly support the President and his policies.   The reality is far from the truth.  Look at the participants in this photo.  They are good Americans, however they do not represent the majority of Americans.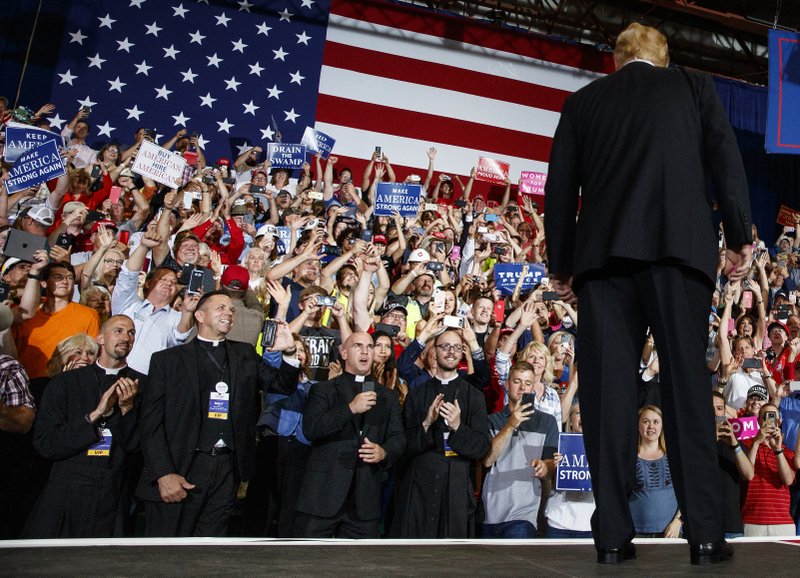 Compare this picture to the one above.  The participants represent the real landscape of America.
Donald Trump rarely travels beyond his fan base.  Our great cities  with their diverse populations, New York, Chicago, Houston, Los Angeles, San Francisco,or Honolulu are not on his itinerary.
At these rallies, the Real Estate business man and Reality Television personality  is energized by his fan base.  Where he seems more comedian than politician, here in a friendly enviroment is where he is the happiest, places where he feels loved.
 His words and global intentions, are often designed to keep this narrow base happy.   Our Commander-in-Chief, goes his own way, he doesn't like to be told what to do.  He oftens ignores the advice of those with decades of experience in global affairs, to spout conclusions that is loosely based on facts.   Which often confuses and angers our allies and friends around the world
He has often said, he and he alone have the answers to the worlds issues.  The Tariffs he is levying on our friends and neighbors and China, does not have the support from most Americans.   Politicians in both parties and the business community and yet he continues.
In Montana, he made fun of the #MeToo movement.  He insulted our war hero's, Senator John McCain and former President Herbert Walker Bush, who are highly regarded members of his political party.  Both of these men are ill, one is terminally .
In the United States, he has always been a bit of a social media bully, who often acts differently when in the presence of the people he's attacked.
While he insists upon loyalty, he hasn't demonstrated any loyalties to anyone including those he appointed and placed in positions of power.
I have lived in the United States  my entire life.  When one group is attack , we react!    Many Americans are currently outraged by the treatment of children, who were stripped from their parents.  Simply to intimidate those who want to immigrate to the United States.  This has never been a policy of America to separate families.  Again, this was done to appeal to some of the  Presidents supporters, many of whom have long wanted to limited the number of  individuals immigrating from south of our Border.
Many of family members and friends who live outside the United States often asked ,how was he elected?   I believe the fault lies with our leaders. 
The day Donald Trump announced he was running for President and then went on to insult Mexican American and citizens of Mexico.  There was no major outrage from either party.
In 1968, George Wallace the former Governor of Alabama ran for President.   Wallace supported segregation and was outraged by the Passing of the Civil Rights Legislation.  The Governor stood at the entrance of the University of Alabama to prevent a black student from enrolling .
Forty eight years later, both parties were relatively silent.  Presidential candidate and former Governor of Florida, (Father George HW, and his brother George W,  were both Presidents of the United States)  Jeb Bush, whose wife is Mexican American, and has three bi-racial children and other bi-racial family members  wasn't outraged enough to speak against Trump.    Not one candidate from either party, went in from of the Cameras and screamed "The statement made by Donald Trump goes against everything that America is!  They were all playing politics.   There was an assumption, Donald Trump would never be elected president.
Today, most members of the Republican party remains silent.  Unlike most of the world, the United States, has primary elections then ,General Election in November.   In the majority of the states.  Members of a party can only vote for members of their party in the primary election.  Only in the General Election can citizens vote for any candidate.
Because of our electoral system, and Donald Trump's current popularity in his party. members of his party is choosing him over party and country.   To criticize him could mean losing in the primary.    While his actions go against many tenets of the Republican party and against many conservative views of the party.   Most Republican bite their teeth and support the President even though his views and actions are not only damaging to the Republican Party and the United States, it's having a negative effect on our friends and allies.
His insistence in meeting in Vladimir Putin is a slap in the face to Prime minister May  after several Russian based poisonings in the United Kingdom.
If the Russians intent was to destabilize the Western Alliance by meddling in the US election then they were successful.  Our friends very concerned.  Nothing would make Putin happier than a dismantled Nato.
The majority of his party are afraid to speak out against him  because they need to survive the primary .  Even though his practices conflicts with the party and is damaging to the country.  The few member of his party who are critical of him and his policies are not running for re-election.
There is a bright high!     After the initial shock and disappointment,followed by proposed ban on Muslim immigrants.   Americans are angry!   People are all walks of live are getting involved , in numbers we haven't seen since the 1960's
The challenge, unlike the 60's, it's not just the Vietnam war,  it's not just civil rights.   There are so many issues,created by this president we are overwhelmed.    We are less confident.  Conventional wisdom says ,with all of this outrage by the American public, there will be a change after this fall's midterm elections.    However, conventional wisdom said, Donald Trump could never get elected.
To our all of our friends in:  Canada, Britain, France, Mexico, Australia, Germany, Sweden, Italy, Nigeria, Argentina,Japan, New Zealand and the rest of the world. .  America is still America, the land of immigrants and the place where dreams can come true.   America is at a crossroads, many American are disappointed with our government.
For nearly 10 years, there has been a civil war within our government.  A war of a zillion words which has been damaging to Americans as our needs have been ignored.   Many frustrated Americans wanted something different, something new, as the old guard had placed their political ambitions and party over the needs of its citizens.
Something you maybe currently experiencing in your country.  In America, we basically have a two-party system, this was deliberate.   The Republicans and the Democrats have made it difficult for other parties to participate in the system.  There are many political parties in the United States.   However, Americans are unlikely.  to hear from them.  They are not allowed to participate in public media debates.
 As a result, we have limited choices in this great nation.   Some, angry americans chose, a business man whose "business" reputation is so poor, he cannot get a loan from an american bank,   A man who had well known credibility problem, a man whose family has a legal history of not renting to people of color,and a man who has little respect for women, over the status quo.  Despite all the money in world, spent to prevent him from being elected,  Donald Trump became President of the United States.
I do not represent all Americans in my views.  But I am sorry.
I hope you learn from our mistake.  I believe in choosing a leader, demand experience, and integrity, empathy and heart.   Avoid, shiny objects, with promise, but doesnt have a history of performance or you may just elect a Donald Trump
Better days to come
CityFella