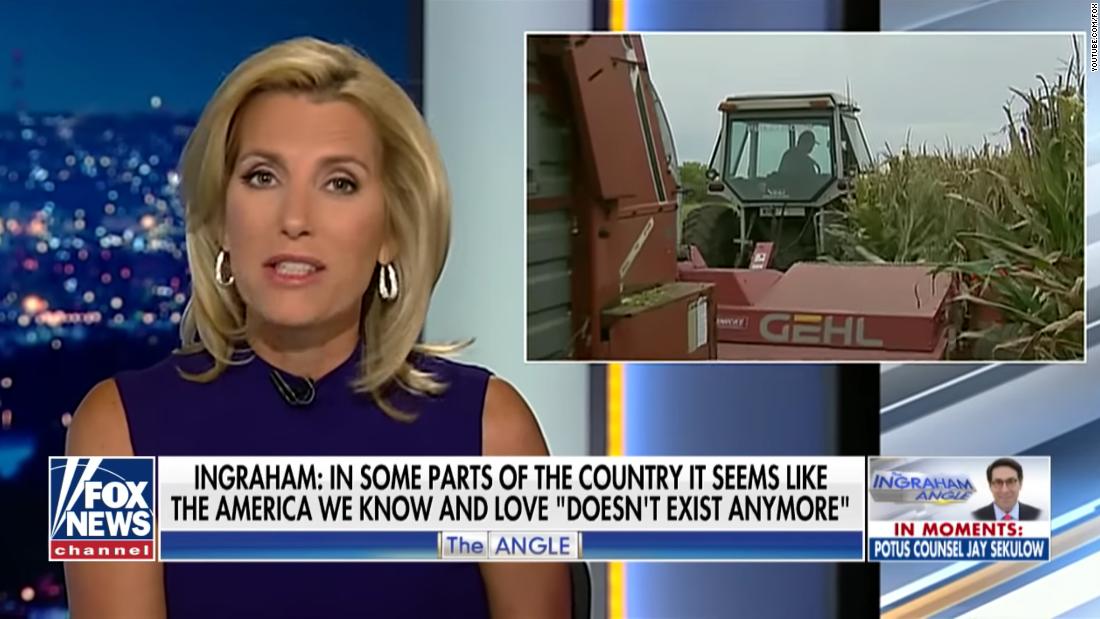 Fox's Laura Ingraham, longs for the old days. When nearly every street was filled with people who looks like her.  And the rest of us lived in approved neighborhoods.
 Laura Ingraham de Fox, anhela los viejos tiempos. Cuando casi todas las calles estaban llenas de personas que se parecen a ella. Y el resto de nosotros vivía en vecindarios aprobados.
Excerpts from her Wednesday Monologue on Fox
Extractos de su Monólogo de los miércoles sobre Fox
In some parts of the country, it does seem like the America we know and love doesn't exist anymore. Massive demographic changes have been foisted upon the American people. And they're changes that none of us ever voted for and most of us don't like. From Virginia to California, we see stark examples of how radically in some ways the country has changed. Now much of this is related to both illegal, and in some cases, legal immigration that, of course, progressives love.
En algunas partes del país, parece que la América que conocemos y amamos ya no existe. Se han impuesto cambios demográficos masivos al pueblo estadounidense. Y son cambios por los que ninguno de nosotros votó y a la mayoría de nosotros no nos gusta. Desde Virginia hasta California, vemos ejemplos claros de cuán radicalmente, de alguna manera, el país ha cambiado. Ahora, gran parte de esto se relaciona con la inmigración ilegal y, en algunos casos, legal que, por supuesto, los progresistas aman.
"This is a national emergency and he must demand that Congress act now," she said. "There is something slipping away in this country and it's not about race or ethnicity. It's what was once a common understanding by both parties that American citizenship is a privilege, and one that at a minimum requires respect for the rule of law and loyalty to our Constitution."
"Esta es una emergencia nacional y debe exigir que el Congreso actúe ahora", dijo. "Se está escapando algo en este país y no se trata de raza o etnia. Es lo que una vez fue un entendimiento común entre ambas partes que la ciudadanía estadounidense es un privilegio, y que, como mínimo, requiere respeto por el estado de derecho y la lealtad a nuestra Constitución ".