Spotted on the streets of Sacramento 
A vintage 1955 Buick Century Cailfornia Highway Patrol Car 
These cars were specificly built for the CHP.
They had the Special 48 coupe body, Century engines and Roadmaster brakes  (This was back in the day when GM built different engines and parts for each divison) They were among the first cars (Code name: Century 68) built specifically for police use. The half of cars were equipped with a three speed column shift manual transmission.  The other half was built with a less reliable Dynaflow automatic transmisson.
Like all, 1955 Buicks, the (Century 68) featured updated styling with "tower" tailights and a large "widescreen" front grile.  Century models carried, like the top-of-the-line Roadmaster, four portholes alongside their front fenders to denote the high-output of their V-8s.  The Century series was Buick's performer, combining the Special's lightweight bodies with the Roadmaster's 322-cubic-inch OHV V-8.   The 9.0:1-compression-ratio engine inhaled through a Carter four-barrel carburetor and produced a gross-rated 236 horsepower at 4600 rpm.
"A Beast"
According to the April 1955 issue of Highway Patrolman Magazine, "During dynamometer tests, the car developed 148 horsepower at the rear wheels and reached a wheel speed if 108 mph against the 4-horsepower drag of the machine.  At this point, the test was terminated abruptly when the rubber tread spun off the tires of one of the rear wheels that was being tested.
A Star is Born!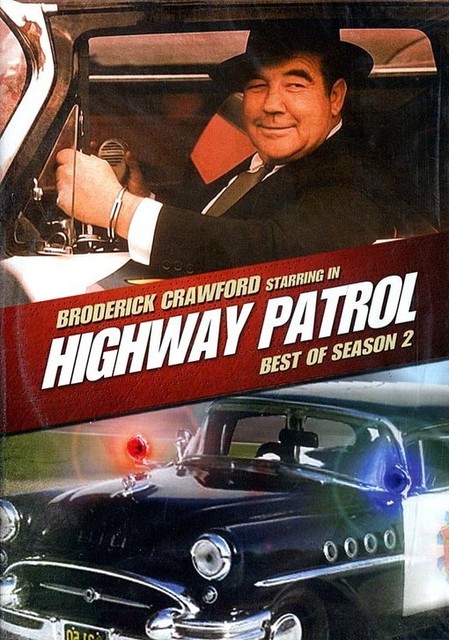 "Highway Patrol" was on the air for four seasons from 1955 to 1959.  It still airs in syndication.
 It is said, there are only a couple of the Century 68 on the road, one wonders if the car spotted in Saramento is one of the two?
This Episode "Lady Bandit's doesn't feature the Century's with the exception of the opening. 
Enjoy!!
CityFella
Sources: MotorTrend, Wikipeda