Last August, Arsenio De La Rosa had a stroke and doctors gave him only weeks to live. His kids were with him in Arizona, but his wife, Gloria, was an hour south in Mexico.
Because she is unable to enter the country, she applied for a temporary permit to come to the U.S. to say goodbye to her husband and be there for her kids in such a tough time. After an initial denial, she ended up getting a 30-day pass.
We take a look at those 30 days, a bittersweet reunion after being separated by immigration law for 9 years. A family brought together by tragedy, only to go back to living parallel lives.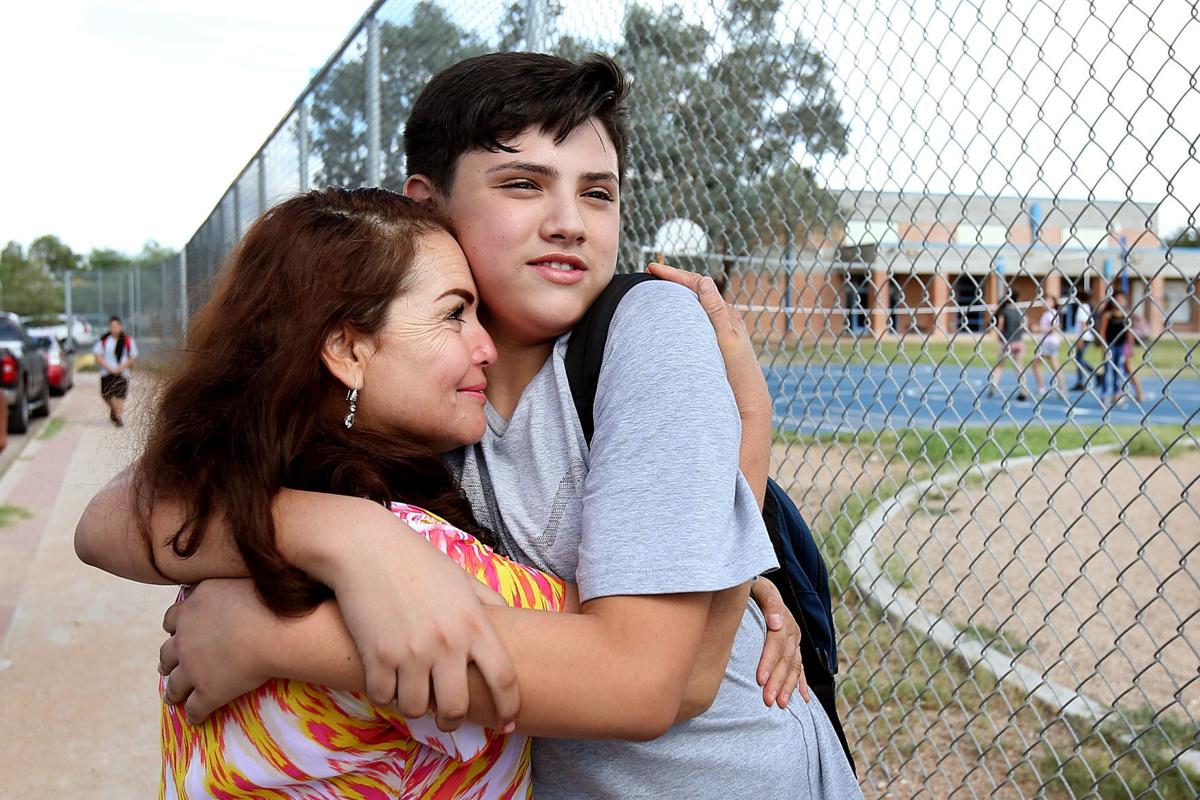 By Perla Trevizo and Fernada Echavarri/The Arizona Daily Star  
Gloria Arellano de la Rosa had told herself she wouldn't break down. If I cry, they'll cry, she thought.  And the last thing she wanted after spending the first month in nine years with her children was to make them cry.  "You know what's good and what's bad," she told three of her four kids as a customs officer and her immigration attorney looked on. "So be good."
After one last blessing, Gloria walked down the same pedestrian lane she had walked up a month earlier. She passed the street food stalls, the taxi drivers calling out for fares, and entered the busy streets of Nogales, Sonora.
She thought of her family and the time they spent together and the bittersweet reason that let that happen: The U.S. government let her  enter the country for 30 days after her elderly husband was told he had only a few weeks to live.
More than 4.5 million American children have at least one undocumented parent. Although there is no way to track how many have been separated because of deportation or bans, in places like Tucson's south side, where the de la Rosa kids grew up, these stories are common.
They illustrate the complexities of an immigration system that politicians on both sides say is broken, and the consequences of a 1996 law that compounded mistakes made by Gloria and her husband, including filing the wrong paperwork and leaving the country.
Before then, she likely would have paid a fine for living in this country illegally, then adjusted her immigration status and gone on to live with her family. Instead, Gloria and Arsenio de la Rosa had to choose between having their children grow up with a mother or giving them the chance to take advantage of the opportunities that come with living in America.
They chose the latter.
But for a moment in late August they didn't have to. They had 30 days to be a family.
Coming Home
As Gloria entered the modest three-bedroom Tucson home she hadn't seen in years, her daughter, Naomi, jumped on her — just as she did when Gloria used to take tamales to Naomi's third-grade class.   "Yo también te extraño," I miss you too. Gloria groaned from the weight of her almost 18-year-old daughter.
The de la Rosa siblings had expected their mother earlier that week, when Gloria first sought a humanitarian permit to return briefly to the United States. But Customs and Border Protection officials rejected her request, citing the prior permanent residency denial that led to her ban.
An intense campaign that amassed 16,000 signatures online, a news conference with Democratic Arizona Rep. Raúl Grijalva, additional paperwork and her lawyer's word that he would bring her back led to a change of heart. On Aug. 24 the U.S. government allowed her to come home to say goodbye.
During the 60-mile drive from the border to Tucson, her son Bill played on a loop the song "Estamos Bien" by trap and reggaeton singer Bad Bunny. "We are OK," he repeated.
Naomi spent most of the morning before her mother's arrival mopping and sweeping; The family caretaker wanted the house to be spotless.
Gloria had last visited in 2011, when Arsenio suffered a stroke and the government let her come for a few days — most of them spent at the hospital.
This time would be different. She would be in the U.S. longer, but with Arsenio's declining health they all knew it would be the last time they would be together.
The days after she arrived, Gloria cooked for a full house. Her kids wanted to show off their mom's meals to their friends.
For the first time in a long time, they didn't have to worry about what's for dinner, who's supposed to clear the table, whose turn is it to wash the dishes. After all these years, Gloria wanted to take care of them.
In the time she'd been gone, her four children each had taken on a grown-up role.
Jim, 26 and the oldest, had to leave the U.S. Marine Corps right at the point where he could have re-enlisted and become a sergeant. He needed to care for their father and be there for his youngest siblings.
Bill, 24, became the engine of the family, as Gloria puts it — he moves everyone, including her. He makes the family decisions, and even after he moved first to Maine and then to England for college, he calls in to make sure his siblings' grades are good and appointments are made. He always thinks ahead.
Naomi, 18, learned to clean, cook and care for her youngest sibling, Bobby — her baby, as she calls him. She's always balancing the role of the student with that of the caretaker.
Bobby, 13, grew up straddling two countries, missing his siblings and father when he was with his mom in Mexico and missing his mother when he was in Tucson. With time, he too had to take on more responsibilities, preparing his dad's breakfast each morning and giving him his medicine.
Gloria learned to parent over the phone. She sent food with friends or relatives, so her kids didn't have to cook, and she did their laundry when they visited so they could relax and act their ages. She also helped out with their father when he was well enough to travel across the border.
The last time Arsenio visited Nogales was for Thanksgiving last year. After that, his health deteriorated. The first day Gloria was back in Tucson, she visited her husband at a health center, where she held his frail hand and called him by his nickname, "Chenito," over and over. "I came to take care of you," she told him.
Strong for each other 
Since they were little, the de la Rosa siblings learned to be strong for one another. If they felt like crying, that was to be done in private. Not because they were embarrassed, but because they didn't want to make the others feel sad.
Not showing their emotions was a sign of strength. Their father did it. Their mother did it. And they learned to do it.
As his father's health worsened, Bill rehearsed what it would be like when Arsenio passed away and thought about who he needed to be for each sibling.
Before he left for England on Sept. 2, he knew he was likely saying goodbye to his father for the last time. Arsenio was hospitalized a few weeks before for a pressure ulcer and stroke.
As he always did, Bill leaned over and placed his forehead against his father's lips, just long enough to feel a gentle touch.
Two days later, Arsenio de la Rosa died. He was 85.
Nothing could prepare the family for how it would feel to lose their role model, the father and pilot who encouraged them to be their best. It didn't matter if they were a shoemaker, he would say, as long as they were the best shoemaker.
Jim, who is more reserved, was in shock after his father died. His face flushed, he didn't want to talk to anyone.
When Jim and Bill talk, it's usually about what needs to happen to get things done.
All of them have mastered the skill of separating the personal from the pragmatic, Bill said, "Because we have to. Because this situation begs that we do things like this."
Bobby feared this moment for a long time but remained hopeful. He trusted his dad's strength would pull him through and that finally they would all be together. But in the end it didn't, he said, holding back tears.
A picture of his then-26-year-old dad hangs in the living room as a constant reminder of their loss. But instead of talking to his mom, Bobby goes to his room and talks to friends, or cries in the bathroom — even when Gloria tells him it's OK to cry, it's OK to be sad.
One of the few times Naomi let her guard down and cried was when she said goodbye to her dad before the funeral — another was the time they couldn't spend Christmas together because Arsenio was in the hospital.
"Oh my God, I was hugging him so much," she said. "My mom was like, 'Oh, Naomi, ya, we got to go' and like, she was pulling on to me but I was, like, latched onto my dad and I was hugging him tight."
She had fixed her dad's coffee every morning: one teaspoon instant coffee, four spoonfuls of brown sugar, stirred into three parts water and one part milk, served in his chipped white cup. She served him a glass of Ensure at night.
Naomi thought of the movie "The Cobbler," where at the end a character says everyone lives their best day before they die. "My dad always wanted to see us together again, so then when he did, he died. … He had lived his best day."
Even if their time together had been short, Gloria was there to comfort them, to be a pillar they could lean on.
"He's in a much better place now," Gloria told them. "Wherever you are, he's watching over you."
The de la Rosa siblings didn't have to hold back on their emotions. They could let go a little. But they couldn't stop being who they've prepared themselves to be.
Bobby said he's taught himself not to dwell on difficult moments, and he's convinced everything is going to be better.
"I think I kind of accepted the fact that my Dad passed away and it's kind of like I need to move on or else I will be, like, sad and then I won't be able to think right," he said a week after his father died.
He did the same when he was told his mother was banned for a decade. "I realized like I had to, like, you know, accept the fact that she won't be coming back for a while. If I don't, I won't be great in school."
When Bill stood to talk about his dad before dozens of friends and relatives who have become the family's support network, his siblings were still on top of his mind. He needed to make things better for them — including Aresenio Jr., his father's oldest son from his first marriage.
"
Arsenio, Jim, Naomi, Bobby, papi is with you and in our hearts; he will always be with us," he addressed them, looking at each one in turn.
"I imagine him flying in the clouds, full speed ahead, and at his side the best co-pilot, Jesus Christ. "One day, perhaps not today, perhaps not tomorrow, we will think about our Arsenio de la Rosa Higgins and a smile will come before a tear. Rest in peace."
Day 2 Day
After the funeral, the family tried to enjoy the 16 days they had left before Gloria returned to Mexico, their grief coexisting with longed-for normalcy. Bobby leaning his head on his mother's shoulder; Mamá sitting and joking, doing housework, fielding requests for favorite dishes.    "Ma,' would you make us tamales?" Naomi asked.
"
I need a lot of things, mija," Gloria said. "Olives, masa, corn husks, lard, meat …"
"I can take you to get them," Naomi offered. She could even pitch in.
As her mom agreed, she smiled. "Navidad came early."
But even as things settle down into what could pass as routine, as if Gloria hasn't been gone for almost a decade — she has. And her children have built lives in the void she left.
As Gloria searched the kitchen cabinets, she found a stack of mostly unopened vitamin bottles she'd sent, labeled with each of her children's names.
"Do you think it's fair to come here and find all of this?" Gloria scolded Naomi. "I'm going to take them to Nogales to donate them before they expire. No more."
They didn't think she would ever know.
Gloria couldn't find a red pot that belonged to her mother-in-law; a shawl, a gift from an Indian couple she worked for; and a tablecloth she crocheted. It's not that they are worth much, she said, but they mean something to her.
"Forget it, Mom," Jim said when asked. "How can you think things are going to be where you left them nine years ago?"
When not in school, Bobby plays video games in his room. To him, it's his way of escaping through his friends, some of whom he's known since preschool.
"If I'm not happy, then I'll try to make them happy and them being happy makes me happy," said the eighth-grader. "They're basically like my family."
But all his mom and older brother Bill see is Bobby spending too much time indoors, not interacting with the outside world.
Gloria spotted a report card inside Bobby's room addressed to the parent or guardian of Bob de la Rosa. He hadn't shown it to her. "If he doesn't improve those C's," she said, "no more video games."  She hasn't met Bobby's teachers. Everyone judges in middle school and he doesn't want to deal with all the questions, he said.
"Because my mom has never really been around me and I think everyone knows that. So if they see her, it's going to be weird," Bobby said. He wants his mom and his teacher to meet, he said, but not when everyone is there. When she picks him up from school — something she had never done before — and asks how his day was, he answers in monosyllables.
The siblings are also used to doing things their own way.
While it's great to have someone do his laundry, Bill said Gloria doesn't know what socks or shirts belong to whom. "She hijacked my clothes," he joked.
He takes his coffee strong, with no sugar; Gloria prepared it weak, with sugar. He tries to eat low-fat food; Gloria always serves their meals with tortillas.
"It made me realize how independent I've become without her being here," he said.
But it was most disorienting for Naomi.  There was the joy of waking up to her mother's voice, "Ya levantate, mijita" — something that hasn't happened since third grade. But also the frustration of being told she can't go to the movies at 8:30 p.m. because she's a niña de casa, a girl who belongs at home.
One morning, Gloria planned a visit to Naomi's dorm at the University of Arizona, which is covered by her scholarship. She wanted to see how her only daughter lives.
As Naomi came down with her long black hair pulled up in a ponytail and a shirt that showed her belly button, Gloria asked for a hug and was quick to comment. "I get upset because she comes with those clothes and I'm seeing that there are girls who dress even worse."
"It's just a crop top," Naomi said. "You have to be authentic," Gloria told her. "Not just because others are dressing like that do I want you to go along."
"I am authentic," Naomi said and rolled her eyes.
Inside, Gloria inspected every drawer and insisted that Naomi be clean and neat. Under the bed, she found a doll she sent from Nogales and asked why it's not up on the wall.
"Because I don't like decorations," Naomi said. "I'm not like you and Jim."
By the end of the visit, Gloria had Bill hang it up.
It was more than her mom telling her what to do. Cleaning the house, taking care of herself and others, is part of who Naomi is. She's been doing it half her life. Having her mom back, "gives me a break," she said, "but I still want to do it. … I don't know why."
Counting Down 
In the midst of the small frictions, life started to feel familiar, but time was short. With Arsenio's passing there were decisions to be made, including who was going to take over guardianship of Bobby.
It was agreed Naomi and Jim should share it, so they could balance doctors appointments and parent-teacher conferences with work and college until Gloria returns. Her decade-long ban expires in October 2019 and Mo Goldman, the family's immigration attorney, doesn't expect problems.
"They're finally on that tail end of the 10-year bar, but of course now with the new administration, there's always new challenges," he said. It's also hard to predict how the consular officers are going to handle the case.
But that's for next year. In the meantime, Bobby needed a cell phone, Naomi needed a bank account, and there was a pending dentist appointment for both.
Time was running out, but Naomi preferred to go with the flow and cherish the moments like when she drove Gloria to Food City.
"I never saw myself driving, especially with my mom," she said, her eyes wide to match her smile. When Gloria asked where the maseca was to make the tamales, "I told her, 'right by the bread' and I was right because I know my Food City."
While Naomi chose to live in the moment, the days ticking by were unavoidable for Bobby and Gloria.
Every week, she counted the number of Fridays — the day she crossed — she had left.
"When I lay down I start to think, what if a document arrives that says I don't have to go back? 'You can forget about everything and remain with your children …'"
But those were only dreams, she said. Eventually reality would catch up.
"The 30th Day"
On her last day in the U.S., Sept. 24, Gloria made sure everyone had breakfast and went off to school on time. When they came back, she, Jim, Bobby and Naomi drove to Nogales, where she had to meet her attorney at 5 p.m.
Before she realized it, she had said her goodbyes, crossed the border and was back in Sonora. Inside her small apartment, decorated with pictures of her children — Bill and Naomi in their caps and gowns, Jim in his Marine uniform, Bobby posing with three U.S. congressmen — she wondered things big and small. What will they eat? Are they doing their homework? Are they staying on the right path?
On the other side of the Atlantic, Bill studies for his second master's degree at Oxford University. He wrestles with his decision to live far from home but tells himself he will be able to do more for his family in the long run.
He hopes to come back to the U.S. and go to law school. With his thick-rimmed glasses, button-down shirts and polished shoes, he looks and acts the politician he hopes one day to be.
He speculates that he's named after Bill Clinton — his father's favorite president. He jokes that Naomi's friends who had a crush on him growing up are future constituents, and that the kitchen table from where he sent out emails and launched the online campaign to bring his mother back was his "situation room."
Jim tries to figure out what's next. His life once revolved around the Marines and his Marine family, but he had to give that up. Then it became all about his dad and caring for him, worrying that something would happen when he left the house or went to sleep.
Now he needs to find a job — maybe in security, he thinks. He hopes to finish his associate's degree so he can transfer to the UA and get a job in law enforcement.
Naomi is back to balancing the mom and student life — but now she splits her time between the UA and home. At times she wants to text Bobby, who is always in the back of her mind, but she reminds herself he's in school.
She helps with food and laundry on the weekends and knows that all the responsibility will serve her well when she becomes a teacher. "I will know how to deal with Bobby and, like, take him to appointments and know how to talk to other grown-ups."
Bobby learns how to be without the sister he once described as his best, best, best friend. They don't talk as much anymore, he feels. They don't check up on each other as they used to.When he comes home from school, he expects to hear the TV and to see his father sitting on the blue couch. And when he's watching movies and eating chips, he thinks of Naomi and the times they did that together and is overcome by sadness.
Back in Nogales, Gloria feels the weight of time. The 30 days she spent with her children, the opportunity to say goodbye to her husband, were priceless. But she feels broken.  She has an empty space in her heart, just as she did nine years ago.
As long as she's away from her children, a piece of her is missing. With a year to go before her ban is over, all she can do is wait to get it back.