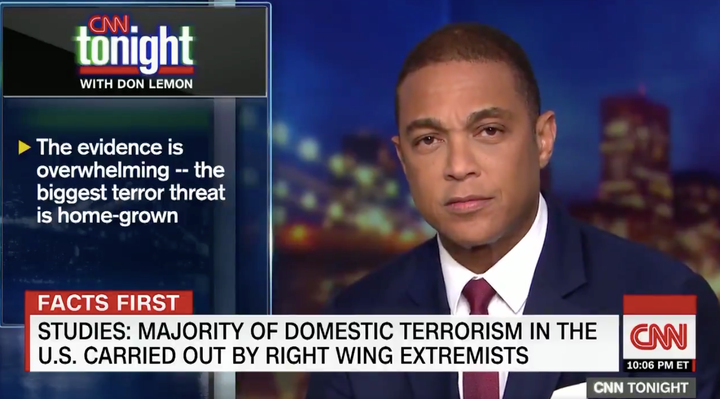 Perhaps there would be less outrage if the story was told by Wolf Blitzer or Jake Tapper.
There are many white men who are OUTRAGED!!!   Here you have a black man stirring the racist pot.    IF a white man said something about a Black man, they'd lose their jobs.    Megan Kelly lost her job over "Blackface' so here we have a black man calling white men terrorist, he should lose his job is only fair!
There are white men in this rapidly changing world who believe that they are under attack.  It had gone too far and it far more difficult to be a white man in America and this morning advertisers and CNN will  demand that Don Lemon lose his job.
THE OUTRAGE
In the course of a week, 14 bombs were mailed to prominent Democrats.  On Wednesday, a white man attempted to enter a black church in Jeffersontown, Kentucky. Fifteen minutes later, he drove to near by Kroger Supermarket and killed two black people.  As the gunman passed a white shopper in the parking lot he said, I won't shoot you. Whites don't shoot whites."   Saturday, a white man entered a synagogue and killed 11 worshipers and wounded six others including four Police Officers.
Cnn's Don Lemon said Trump would have people believe immigrants are to be feared, but statistics reveal the biggest threats are home-grown.   He went on to say, we have to stop demonizing people and realize that the biggest terror threat in this country is white men, most of them radicalized to the right, and we have to start doing something about them. So ,have to start doing something about them. There is no travel ban on them. There is no ban — you know, they had the Muslim ban. There is no white-guy ban. So what do we do about that?"
"the biggest terror threat in this country is white men."
This is what some people heard!   Other's heard he called for a "white guy ban"               Fox news said Lemon was ranting!   Others called him a racist!
You decide, Listen. 
There are many in this country who supported the Presidents ban on Muslims and individuals from the middle east based on a unsupported belief that, Muslims hate Americans and want to destroy America.    The facts are white men are the principle source of terrorism in the United States and no one is proposing a ban on "white men" this is what I believe Mr Lemon meant.
When its not Fake News
Since 9/11 attacks in 2001, far-right violent extremists have killed 106 people in 62 attacks in the United States, while radical Islamist violent extremists have killed 119 people in 23 attacks.
From  2008 to 2016, there were almost twice as many terrorist incidents carried out on U.S. soil by right-wing extremists — many of whom are white — than by Islamist extremists.  It showed there were 115 incidents involving right-wing extremists and that those that ended in death were more deadly than incidents carried out by other groups.
Far-right extremists have hatched far more terror plots than anyone else in recent years
An analysis of the Global Terrorism Database by researchers at the University of Maryland published in 2017 shows a "sharp increase"in the share of attacks by right-wing extremists, from 6% in the 2000s to 35% in the 2010s. The share of attacks by religious extremists also increased, from 9% to 53% between the two decades.
https://qz.com/1435885/data-shows-more-us-terror-attacks-by-right-wing-and-religious-extremists/
White supremacists in the United States killed more than twice as many people in 2017 as they did the year before, and were responsible for far more murders than domestic Islamic extremists, helping make 2017 the fifth deadliest year on record for extremist violence in America, a new report states.
https://www.adl.org/news/press-releases/adl-report-white-supremacist-murders-more-than-doubled-in-2017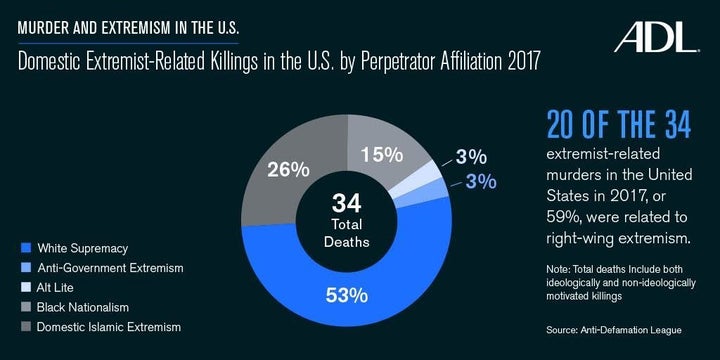 Politics of Fear
For decades,some members of the GOP have demonized immigrants from Mexico. They were accused of  straining our resources and crossing the border to have babies and to get on welfare.
Presidential Candidate Donald Trump took it further, he said the people coming from Mexico were bringing drugs, bringing crime and-they're rapist.   There isn't any subjective data that supports any of these claims.
A point of reference for some against Mexican immigration is the murder of Arizona Rancher Rob Krentz in 2010.   Krentz's property is near the Mexican border. The Krentz family was accustomed to undocumented migrants crossing their 35,000 acres.  Because of this, many assumed he was killed by one of those undocumented migrants. His widow was convinced his was killed by an illegal immigrant. After an extensive search, no one has been linked to his murder.  Today, many are convinced he was killed by a Mexican national.
Less than a year after the Death of Mr Krentz.  Arizona passed a law requiring anyone suspected of being in US illegally to produce papers to the police.
Race Baiting 2018 (Donald Trump's Evil Caravan)
Before I talk about our president current attempt to inject white fear in the midterms, I want to look back a few years.
But first thing's first! What is "Race Bating?:    The unfair use of statements about race to try to influence the actions or attitudes of a particular group of people
A look Back to 1986
In 1986, a convicted felon named Willie Horton — who was serving a life sentence for murder — was released from a Massachusetts prison on a weekend furlough program, during which time he escaped and raped a woman. Then-governor Michael Dukakis had supported the prison furlough program, and when he ran for President in 1988, his opponent, George H. W. Bush, used that to his advantage. The "Revolving Door" ad never mentions Horton by name, but the connection was clear and the ad received considerable news coverage.
Bush Played on the fears of whites who were terrified of blacks.
2018, President Trump,  has told his base a Caravan is coming, filled with thugs, bad people, including people from the middle east.   He has a few days to convince his base these horrific people filled with diseases  (so says Fox News) will be here at any moment.  In a world where facts don't matter.  These terrible people are walking and they only have 800 miles to reach our borders.  Tuesday, if you believe the president. Bringing lawless people who will kill the men and rape the women. (a small exaggeration)
https://twitter.com/realDonaldTrump/status/1057728445386539008
The footage is several years old and his story about Democrats allowing illegals in is patently false.  Donald Trump is doubling down on his attack on brown skinned people using fear to get them to the ballot box.
Luis Bracamontes was first deported to his native Mexico in 1997, during the Clinton administration, after he was busted selling drugs. But, according to U.S. Immigration officials, Bracamontes managed return to the United States by 2001, when he was deported a second time for being in the country illegally. That was during the first year of the Bush administration.
Bracamontes was back in America again by 2002. He married a U.S. citizen and remained in the country even as the Bush administration deported people at a record rate, topped only by the Obama administration.
When Bracamontes shot and killed the two Sacramento county deputies in 2014, he had been deported once under a Democratic administration and once under a Republican administration. He had been back in the United States for at least six years during the Bush administration and five years under the Obama administration.  He is currently on death row in San Quentin.
It's 2018
Perhaps, some white men would have been more comfortable with CNN's Jake Tapper or  Wolf Blitzer talking about this subject.   One would think, in 2018 we are beyond this. Apparently not.
By the reaction,s only black people should talk about black on black crime in cities like Chicago or Detroit.  Or Hispanics in El Paso or Albuquerque.     Don Lemon ins't racist, he didn't attack white men, he talked about the news and the double standard.
I can't remember a time when a white reporter was dismissed after reading statics about black people or any other persons of color.     I can remember when a reporter or personality was dismissed after saying  spic, called black women nappy headed hoes, fag and other disparaging words or terms on air.   Blackface, hasn't been acceptable since the 1930's neither are insulting ethnic impersonations.
 It's 2018, come on America, come on
CityFella