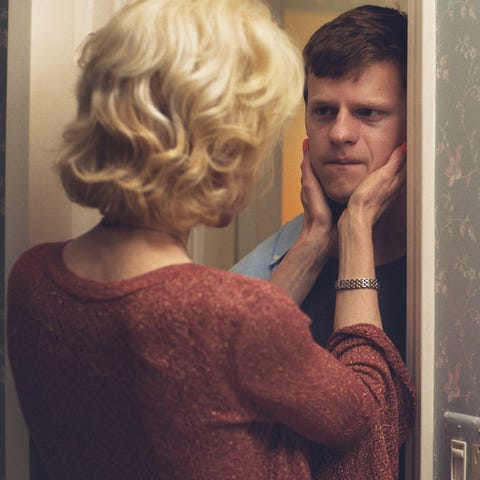 "I'm aiming an arrow directly into the heart of America." That was Joel Edgerton's promise to Boy Erased author Garrard Conley from the very beginning when Edgerton began writing and directing the film adaptation of Conley's vulnerable memoir about his experience with "conversion therapy."
By: Elena Hilton\Esquire.com
It was a risk for Conley to share his story in the first place, let alone allow other artists to interpret his life in the form of an Oscar-hopeful movie. But thankfully he took the leap, because the trauma he endured at Love in Action, an "ex-gay" Christian ministry that attempted to change people's sexual orientation, is something that America desperately needs to recognize.
Currently, 15 states and Washington, D.C. have laws to protect minors from "conversion therapy" practices, and the Trump-Pence administration's bigotry-laden rhetoric and policies are a stark reminder that the fight isn't over. "We're getting so close to the finish line that I'm becoming more radical and more of an activist each day," Conley says.
Conley's Southern, ultra-Christian upbringing—his father became a Baptist preacher in their small Arkansas town when Conley was a teenager—is similar to so many other LGBTQ adolescents who are still being told they're wrong for who they are. The hope is that this film, along with Conley's 2016 book, will open people's eyes to the real effects that bigotry has on lives.
Prior to Boy Erased's limited theatrical release (it opens in theaters this weekend), I sat down with Conley to talk about what it was like seeing his memoir translated into a Hollywood film and how he's used his experiences to become an activist for the LGBTQ community.
Joel Edgerton proved right away why he was the best person to adapt Boy Erased.
At first I was very nervous about the whole thing, partly because I hadn't met a lot of movie stars—I'm just not in that world, I'm a writer. Just going into the meeting with Joel was stressful, but then I was like, "He's a straight guy, what's he going to do the story? We've been burned before." But at our first meeting he asked to meet with other conversion therapy survivors in addition to me, and I loved the fact that he wanted to hear all of our stories.
Plus, I had just watched Loving, which he was in. It was a movie about the first interracial marriage and all the legal battles that went along with that, and he was using that publicity tour to talk about marriage equality now, much to the detriment to some of the family that was involved with the making of that film because they didn't actually want that. [Edgerton] was like "I don't care, I'm not going to work with a film that doesn't recognize bigotry across the board." So I already knew that he was a good ally, but he also asked if I wanted to write the script. I said I couldn't write it again for a different audience and I don't know how to "Hollywood-up" a story. So he wrote a script really rapidly, and throughout the process he made me feel better by always sending me the drafts of the script and asking if there was anything problematic or anything that didn't feel right, and he would change it anytime I said there was an issue.
Conley fought to keep the ending of the movie similar to his real-life experience.
I think there's a natural desire to have Russell Crowe's character [Crowe plays Conley's father] to come around and show what that kind of acceptance would look like. And I can see why that kind of editorial vision would exist, because it gives parents a path for rehabilitation. But I strongly argued for a closer truth, which is that it's still complicated, and my dad's not completely there yet. The film might lose a bit of money because it doesn't have the redemptive arc for the parents that the studio originally wanted, but I pushed pretty hard on making it complicated at the end because I knew other survivors hadn't had happy stories with their parents. So [Edgerton] changed that, and one of the producers was like, "Well, we might have just lost millions of dollars, but good job with your principles."
He was blown away by Lucas Hedges, who plays him in the movie.
Lucas is a dream. The first time we met, we were walking around DUMBO, and he said, "You know, I wasn't going to do this, but do you want to come back to my apartment and talk?" He still has a room in his father's [director Peter Hedges] house. So we went over there and he invited me into his childhood bedroom and said, "If you're going to show me everything, then I need to show you everything." And then he showed me his copy of my book, which was marked up on every page. I felt it was the greatest tribute someone who was going to play me could do. I was already pretty convinced, and then when Lucas started to share his identity on the spectrum with me—he wasn't quite aware of where he was, but he knew that he wasn't entirely straight—that was the last hurdle where I thought, "Okay, this guy can play it."
He'd explained to me a sense of shame that he'd felt, and he later talked about it in the New York magazine piece, and he wasn't really specific about it, but he did tell me he that he thought he was fluid in some way. So he had the shame aspect, and the actual identity, so that was going to play well on the screen. And he's phenomenal in it. [His performance] is understated in many ways, but it's very accurate. The way he's able to depict fear and shame on his face is actually really terrifying. He's my favorite thing in the movie. Just watching him is mesmerizing.
Writing the memoir was an emotionally draining, but necessary, experience.
I had to really look at it like a story, which is hard to do, because you have to cut through all the trauma and, in many ways, the false memories you've created to get over stuff and to go back to those places mentally which is incredibly difficult. And it's harmful for the people around you—my boyfriend at the time suffered through a lot of episodes where I was not okay. He was always like, "Why are you doing this to yourself, why are you writing this?" And I didn't always have a clear answer to that, it was just that I had to.
Any time you turn anything into a story, you lose the "life-iness" of it, because you've got to shape it into art, and that feels uncomfortable because it's all true, all these things happened, but you're shaping it for an audience. It feels like a bit of a sacrifice because I'm very precious with my memories and my internal account of things. And whenever you're told that you're crazy or corrupt in some way, you're a little suspicious about putting it out there into the world again. But I did it because, from the very beginning, with the book and this film, the project has been to make something compelling enough to drive the conversation forward. I'd seen the same old arguments and the same old depictions of conversion therapy over and over again, which is it's a joke, it's a farce, and it's not true. It's soul murder, and I wanted that story to be told.
The memoir was released before Trump's election, and Conley probably wouldn't have written the same version now.
It's a very anti-LGBT administration. It was so different, rhetorically, to humanize people like my parents or even the [conversion therapy] counselors when Obama was president than it is right now to humanize them, because it's almost asking too much empathy from people who feel like their lives are on the line. I don't know if I would have written the same book right now. I think I would have been angrier and I might not have been so forgiving, so it might actually not have worked as well to write it now.
There is kind of a weird irony in the fact that because all the stuff came out about Mike Pence supporting conversion therapy, it's actually made conversion therapy a headline and now it's easier to get people's attention. I wouldn't say I'm grateful for it, but it's an opportunity. It's unfortunate, but this is something the right has been invested in for a very long time. They'll throw [the LGBTQ community] under a bus at any moment just to score political points.
We're definitely at a turning point. It's either going to go, hopefully, in the way of, "Let's stop pretending respectability politics exist and let's be as radical as we need to be in order to get shit done," but it could easily go the other way.
He hopes people realize that conversion therapy and toxic masculinity affects everyone.
One of things I always say is conversion therapy doesn't have to be done in a facility. If you're taught to be a "certain type of man", to act a certain way, and you're taught by authority figures that being gay is evil, then that's conversion therapy too. Conversion therapy can function as a metaphor for the kinds of brainwashing that we've all been given. Once you're done looking at everyone's side of the story, you can begin to see a system in place that harms everyone.
I often think about how I feel ashamed to be a man in this culture, and I talked to a trans activist named Thomas Page McBee who wrote Amateur and Man Alive about those feelings, and he was like, "You need to consider the fact that you're harming yourself whenever you believe that masculinity is one thing and that it's just the toxic brand." It was just so eye-opening to hear that from someone like him who'd grown up conditioned to be a woman, then transitioned to a man, and had to deal with all that bullshit. I realized we need to look at the systems in place, and those systems can turn people into monsters.
Activists should recognize that there's not a one-size-fits-all solution.
Faith is such a strange thing. It can be an incredibly powerful tool to survive something and it can also be something that keeps you locked in a fundamentalist worldview for a very long time. It covers up the moments of doubt. Getting out of that system is incredibly difficult. There are a lot of activists who call for people to move out of their towns and go somewhere else, but they're often forgetting that people don't have money, they don't have the social capabilities to even do that without getting lost in the shuffle.
They also kind of ignore the psychological toil that comes from splitting from everything you've ever known. It's not easy, and I think in larger metropolitan areas there can be a tendency to forget what it's like to be on the ground in many of these towns across the country, and even if we don't want to, we have to educate people who have perpetuated this bigotry from the very beginning.
Conley's own relationship with the South and Christianity is still evolving.
I try to be a strong voice for the South being a complex place, because I do believe there are pockets of real, amazing, radical work that's being done in the South. Even in the more fundamentalist communities, there are people within that are fighting the good fight. That being said, I think the South and many churches have not reckoned with their past. There are affirming churches who do not talk about what they did in terms of conversion therapy and the lives that were lost as a result of the choices that they made, and I call bullshit on that.
They need to hold themselves accountable, just like they did in terms of how they treated other races or what they did with slavery in the past. They should continue to talk about that, because unless you do, you're not going to have any moral standing whatsoever. You're trying to say "come here, learn how to be a good person," but how are you going to do that if you don't address the horrible things that you've done to the [LGBTQ] community? And if you just say, "I did it out of love, but it was wrong, and I'm sorry," then that's fine, I'm okay with that. But you've got to say something.
In terms of my own personal faith, I've actually begun praying a lot more lately, which is an unusual and unexpected development. I don't necessarily believe in fate, but I do feel like I'm in a very intense position with a lot of responsibility in terms of how I represent the survivor groups, how I represent LGBT people through the culture at large, and how I can end conversion therapy, while not sacrificing our community to do so. Because that's incredibly confusing and scary to me, I've just started praying, and I don't know who I'm praying to, but I try to just ask for guidance in some way.