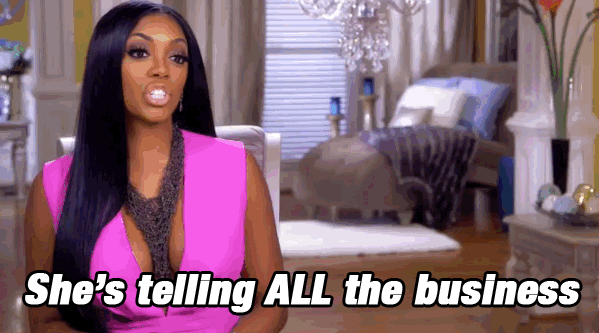 Kandi B was warned, but sugah pie honey bunch just couldn't help herself. When she first learned of Porsha's new man Dennis and his dating history. Todd told her to keep it to herself any random gossip never ends well.
Kandi B, quickly ignores Todd and has a question and answer moment with a chick Porsha beat up and Carmon . Where she learns a lot of stuff about Dennis. I think Carmon told her to keep the information local (between them) I'm not sure if Kandi is trying to be this seasons Sheree (the bone carrier) but the question is WHY is she so invested in Dennis and Porsha's relationship? She's doesn't know Dennis and she and Porsha aren't close BUT things are starting to improve between the two of them so them only conclusion is Kandi is just being Messy!
And so she continues …….She tells Marlo ,Cynthia and Nene. NENE advises Kandi not to tell, not to talk about it and then blabs to Porsha! ( of course Nene denies this) Porsha has hit the reset button on her friendship with Kandi.
Last nights episode began in Porsha and Dennis meeting Porsha's mom, Diane. Last week Porsha met Dennis's mom. This is all very interesting when you consider no one has proposed. While Dennis's mother wasn't feeling the relationship and talking about prenups and giving Porsha the side eye. Porsha's mom is all in, taking about Porsha's 37 year old eggs and saying that Porsha is glowing and looking good. Dennis tells Diane " I wanna get married one time.
WTF
Shamari maybe an open book but hubby Ronnie isnt there for it. At Cynthia's house she gave the ladies the 411 on their open marriage. the experiment that almost ended their marriage. First she tells his mother and then she tells the world. Ronnie is not happy with his wife sharing their news. The couple spends ten grand for their twin sons first birthday, including nearly a grand for the twins cake .
Nene and Gregg has hired a nutritionist. They learn that more cancers tumors have been found and the doctor recommends chemo. Nene and Gregg has heard many negative things about chemo therapy and is looking for alternatives.
Last night we meet Eva's mom Michelle. To be fair , she comes off as a bitch. Its clear Eva doesn't have Nene and Kandi cash, Eva working within a budget. She's trying on gowns that cost more than her Jeep.
They meet to pick out Eva's wedding dress. But mama is very critical from the gown choices to the guest list. From her attitude, its her wedding not her daughter's This breaks Eva, there are tears. The bitch doesn't look up as her daughter is crying. Eva may be better served by excluding mama from the planning for her own sanity.
Eva has been bit shady of late, and I love her shade. Whats not lovely is her back bone., she doesn't seem to have one. When called on it she runs, she spins. Kandi called her on it.
Cynitha is thinking about expanding her empire. She is considering opening a Wine Bar. She invites Nene, Porsha and Kandi. Kandi B, the resident millionare asks her does she know anything about wine? No. Does she have any experience running a bar? well…
Lets talk about what's eating Porsha? She knows and she's pissed. Kandi know it cames from Nene. Marlo and Porsha aren't tight. and Cynitha it too busy facetiming with her man. Nene says the news didnt come from her BUT Nene has a problem. Porsha says Nene told her. Porsha says this is all messy and Dennis doesn't like messy.

Tell me what you think?
CityFella
Last week, Shamari told her mother in law and everyone else she and her hubby Ronnie (The Legend) had an open relationship.  You know the ladies ran with it. 
Click on the link below for story
https://sacratomatovillepost.com/2018/11/26/the-real-housewives-of-atlanta-s11-ep4-pass-the-peach-throw-shade/