During its four year run from 1995-1998 on CBS "Cybill" received 12 Emmy Nominations. In 1996, Cybill won the Golden Globe for best Comedy Series.  Cybill Shepard won the 1996 Golden Globe for best actress in a Comedy.  Co-star Christine Baranski won an Emmy for best supporting actress in a comedy.
From Wiki: The series got respectable (though never spectacular) ratings throughout most of its run, but was abruptly canceled by CBS at the end of the 1997-98 season after a noticeable ratings decline. The show was actually pulled from the CBS schedule after the April 8, 1998 episode had aired; the remaining new episodes that had already been produced were aired over the summer. Shepherd much later alleged that the cancellation occurred because the network was uncomfortable with Cybill's feminist leanings and frank depiction of female sexuality. The cancellation was not expected by the show's staff, as the series ends with a cliffhanger and the words "To Be Continued…" on the screen. At the time of its cancellation, the show's ratings were higher than Nash Bridges (1996-2001) and Chicago Hope (1994-2000); those shows continued to air on CBS.
Last week on Michelle Collins show on Sirius XM
Cybill Shepard said her show "Cybill" was cancelled because she rejected CBS CEO Les Moonves .   She said Moonves arranged a dinner date with her after a few seasons into the show.  "His assistant and my assistant made a dinner date and we went to it and he was, well, he was telling me his wife (Moonves was married to Nancy Moonves at the time)  didn't turn him on, some mistress didn't turn him on," Shepherd told Collins.
"And I'm watching him drink alcohol and…he says, 'well, you know, why don't you let me take you home?' I said, 'No, I've got a ride' and I had my car outside with a good friend of mine who is an off-duty LAPD officer."
_______________________________________________________________________
CBS TO Moonves $120 million dollar severance package? Forget about it!
Click on Link Below for full story
https://sacratomatovillepost.com/2018/12/18/he-lied-destroyed-evidence-cbs-says-no-mr-moonves-you-may-not-collect-120-million/
____________________________________________________________________________________________
Initially, she believed the show was cancelled because the network was uncomfortable with Cybill's feminist leanings and frank depiction of female sexuality. 
After she rejected Moonves, conflicts on the show heated up. Shortly after" that dinner, Shepherd said Moonves began sending notes to her and the other "Cybill" producers.
"Don't have Cybill talk while she's eating," instructed one. Another dictated which words could and could not be used in a menopause-themed episode, telling them they couldn't say "menses, menstruation or period … I had to fight to say 'period.'"
The show was abruptly cancelled with completed episodes that was shown later in the season a very unusable practice.  Sheppard believed the series would have continued for several more seasons had she not spurned his advances.  "It would have run another five years,"  "We had the best writers in the world, and directors and actors, everybody was brilliant."
In July, a dozen women came forward accusing Moonves of sexual misconduct. Their accounts were detailed in a piece written by Ronan Farrow for The New Yorker.   Moonves was removed from his position as Chairman and CEO of CBS last September  after six additional women made similar claims. Cybill Shepard is the best known individual to come forward.
CBS Woman's Problem
Most of the actresses aren't well known to the general public.   Illeana Dougles was a
young actress when she met Les Moonves.   She was one of the six actress interviewed by
Ronan Farrow of the New Yorker.  During her appearance on "The View," last October. Douglas described how CBS cast her in the pilot of a show called "Queens," and after a promising introductory meeting, she received a call saying Les was "a little concerned about (her) attitude," asking her to meet him in his office.
"I go to his office … I have my little clipboard of notes, and all I wanted to do was tell him what a team player I was going to be, to be in the show and how excited I was," she recalled. "He started asking me a lot of personal questions and I was stumbling and fumbling and not really knowing what to say and that led to him jumping on top of me and putting his tongue down my throat and pinning me down on the coach."
"Once he saw I wasn't participating, he stopped and I just wanted to get out of the room … He said, 'We're gonna keep this between you and me, right? We're not gonna tell anyone about this,'" Douglas continued.
After she escaped to her car and "broke down crying," she described how her manager called her asking how the meeting had gone. "I said, 'Why?' And she said, 'Because Les just called me … He said you guys had a lot of fun.' "
Douglas was fired from the series shortly after their encounter, which she said Moonves claimed to be "due to poor performance during rehearsal.""I think what he's referring to is my poor performance when we were alone together in his office," she said."
Excerpts From the LA Times "CBS board knew about Leslie Moonves"
CBS board members learned several months ago that the Los Angeles Police Department ad investigated an alleged sexual assault by CBS Chairman and Chief Executive Leslie Moonves, according to two people familiar with the matter who were not authorized to speak publicly.   Although no charges were filed, Moonves disclosed the existence of a police investigation to a committee of the board, which then hired an outside law firm to investigate the matter, the knowledgeable people said.
The police investigation began in November after an 81-year-old woman told detectives that Moonves sexually assaulted her three decades ago when they both worked at then-television powerhouse Lorimar Productions, the studio behind such shows as "Dallas" and "Knots Landing." The woman claimed the TV executive, during a 1986 meeting in his office, demanded oral copulation. She told police about another incident, in 1988, when he allegedly exposed himself and assaulted her, sources said.
Los Angeles County prosecutors said they declined to file charges in the case, saying the alleged incidents occurred more than 30 years ago and were thus beyond the statute of limitations. Prosecutors opted not to pursue the case in February. It is not clear precisely when CBS board members learned of the police inquiry, but they were aware that the district attorney had decided not to pursue the matter, one of the sources said.
Click Link Below for Full Story
https://www.latimes.com/business/hollywood/la-fi-ct-cbs-moonves-board-investigation-20180802-story.html
____________________________________________________________________________________________
Excerpts from NY Times: The year of Reckoning at CBS
In the past 13 months, CBS has undergone a companywide reckoning in the wake of the #MeToo movement that has stretched from its morning show to its prime-time lineup, its news division to its executive suite. Three powerful men at the company — Leslie Moonves, its chief executive; Charlie Rose, its morning show anchor; and Jeff Fager, the executive producer of "60 Minutes" — have all lost their jobs because of workplace conduct.
On Thursday, The New York Times reported that Eliza Dushku, an actress on its hit show "Bull," reached a $9.5 million settlement with CBS in January. She claimed she had been written off the series because she confronted Michael Weatherly, the show's star, about harassing her.
The CBS board is reviewing the findings of an investigation by outside law firms into the allegations against Mr. Moonves and about the company's wider culture.
"60 Minutes," the Sunday newsmagazine series in its 51st season, is the crown jewel of CBS News.
But the program has a long track record of sexual harassment and misconduct. The Times revealed last week that CBS was still paying a woman who had accused the show's founder, Don Hewitt, of sexual abuse. CBS pays her an annual stipend of $75,000 a year, and has offered her further payments in exchange for her silence. To date, CBS has paid her more than $5 million. Mr. Hewitt died in 2009.
Jeff Fager, who succeeded Mr. Hewitt as the show's executive producer, was fired in September after he threatened a CBS News reporter who was looking into whether he had engaged in sexually inappropriate behavior with colleagues. According to the draft report, the investigators said Mr. Fager had been justifiably fired and concluded that he had engaged in inappropriate behavior.
Click Link Below for Full Story
---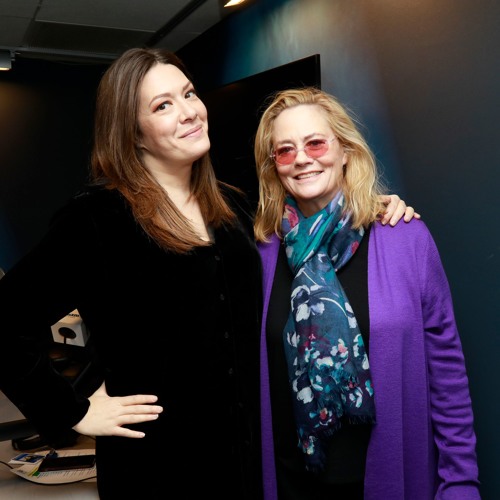 Michelle Collins and Cybill Shepard @Sirius Studios