With all that's going around in the world and maybe even in your personal life, it can be difficult to stay optimistic. Still, we must somehow try to find ways to be optimistic no matter what life throws at you.
It is easy to fall victim to negative thought and to allow negativity to consume you. Training yourself to be optimistic is a way to bring happiness to both yourself and others.
---
---
Optimism even has numerous health and life benefits. For instance, some believe that optimism can help entrepreneurs succeed in their work. Similarly, in our daily lives, an optimistic outlook could help us relentlessly pursue and ultimately achieve our wildest dreams and goals. Optimism also promotes happiness, something we all strive for.
A little taste of optimism can go a long way. A few inspirational words can help bring out that optimism and remind us of all of the positive things in life.
Words have magical powers because they can move us, make us feel good and positive, and incite us to take action. That is why quotes are so well-loved by people, who sometimes want words of affirmation or just that extra push.
A good, positive quote can make you feel like anything and everything is possible. That is why, we have gathered these quotes here to give you that extra boost of optimism you need.
Without further ado, let's check out these 30 optimistic quotes that will inspire you to be more positive.
---
1. Embrace the uncertainty.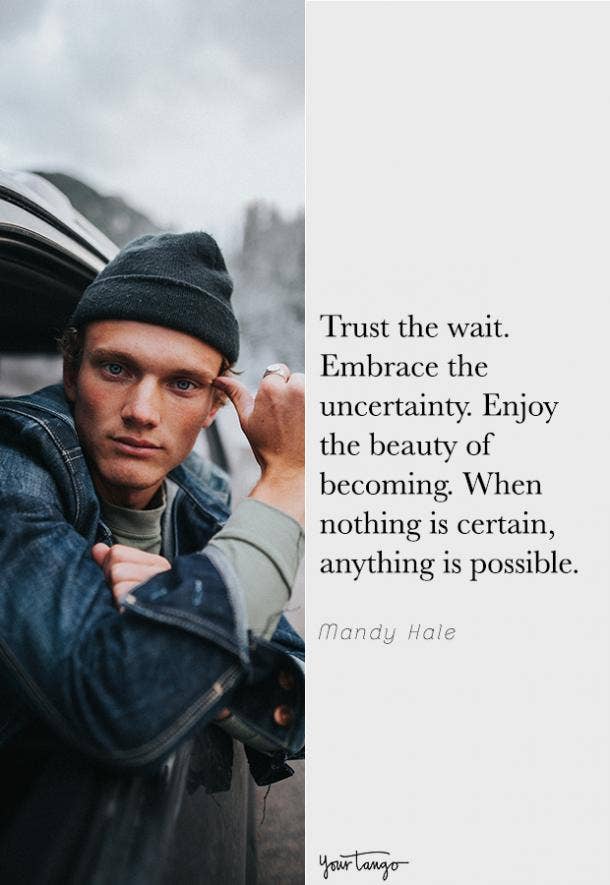 "Trust the wait. Embrace the uncertainty. Enjoy the beauty of becoming. When nothing is certain, anything is possible." — Mandy Hale
---
2. Choose kindness.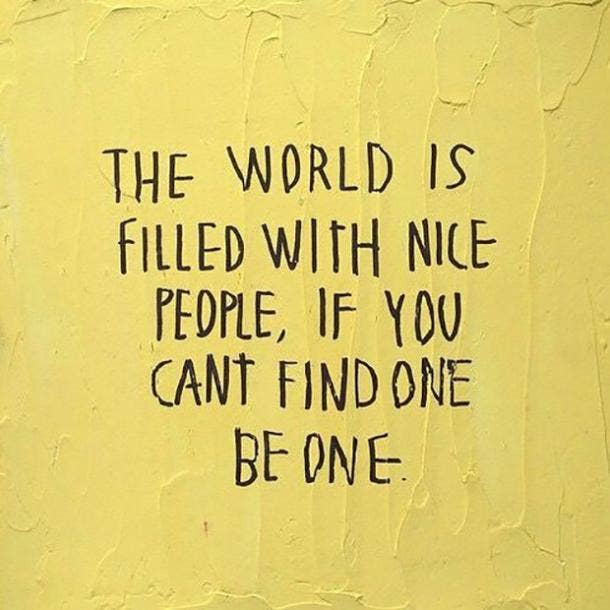 "The world is filled with nice people. If you can't find one be one." — Nishan Panwar
---
3. Hard times don't last forever.

"Be strong because things will get better. It may be stormy now, but it never rains forever." — Unknown
---
4. The possibilities are endless.
"Just because the past didn't turn out like you wanted it to, doesn't mean your future can't be better than you ever imagined." — Unknown
---
5. Embrace your imperfections.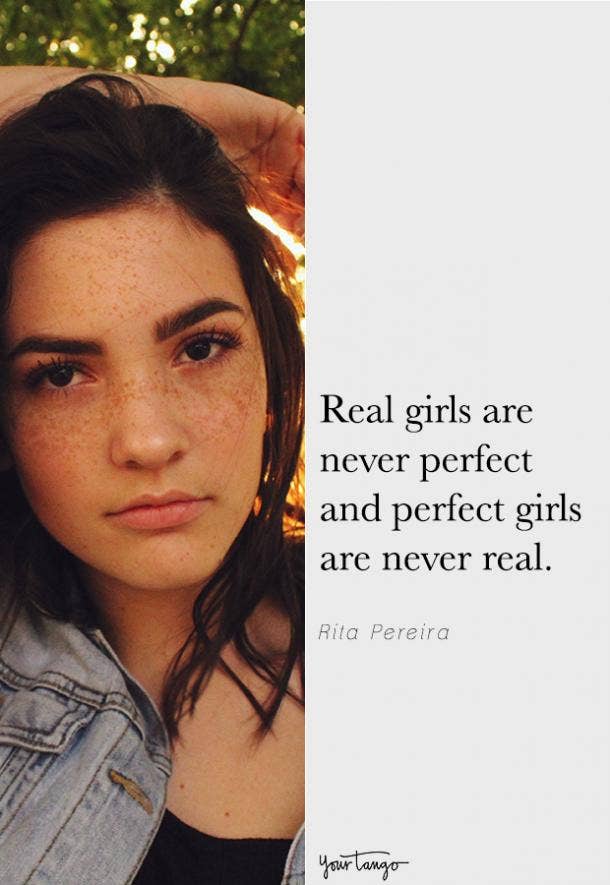 "Real are never perfect and perfect are never real." — Rita Pereira
---
6. Patience is a virtue for a reason.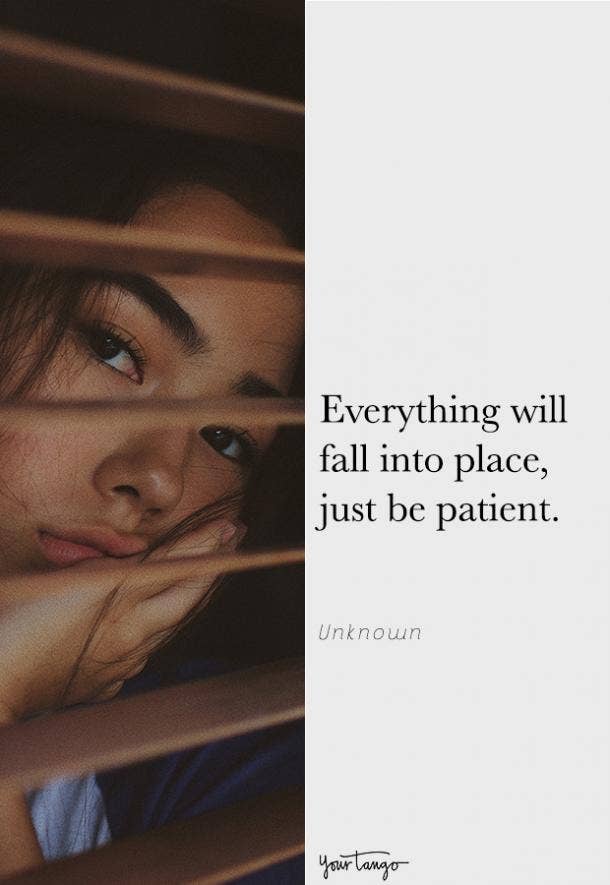 "Everything will fall into place, just be patient." — Unknown
---
7. Not everything is meant for us.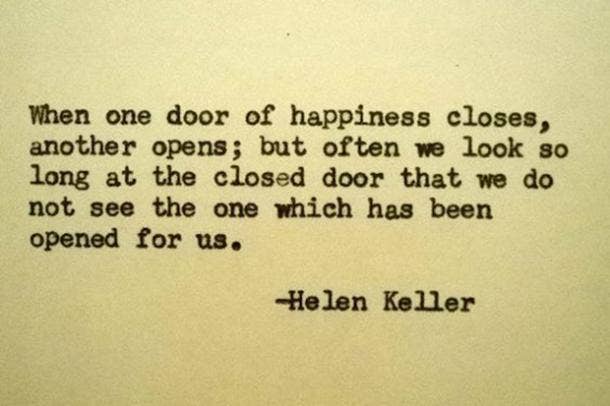 "When one door of happiness closes, another opens; but often we look so long at the closed door that we do not see the one which has been opened for us." — Helen Keller
---
8. Optimism attracts happiness.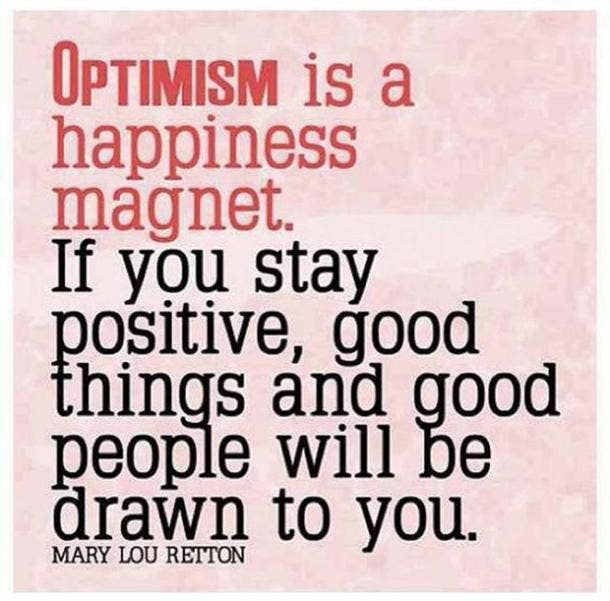 "Optimism is a happiness magnet. If you stay positive, good things and good people will be drawn to you." — Mary Lou Retton
---
9.  Distance yourself from negativity.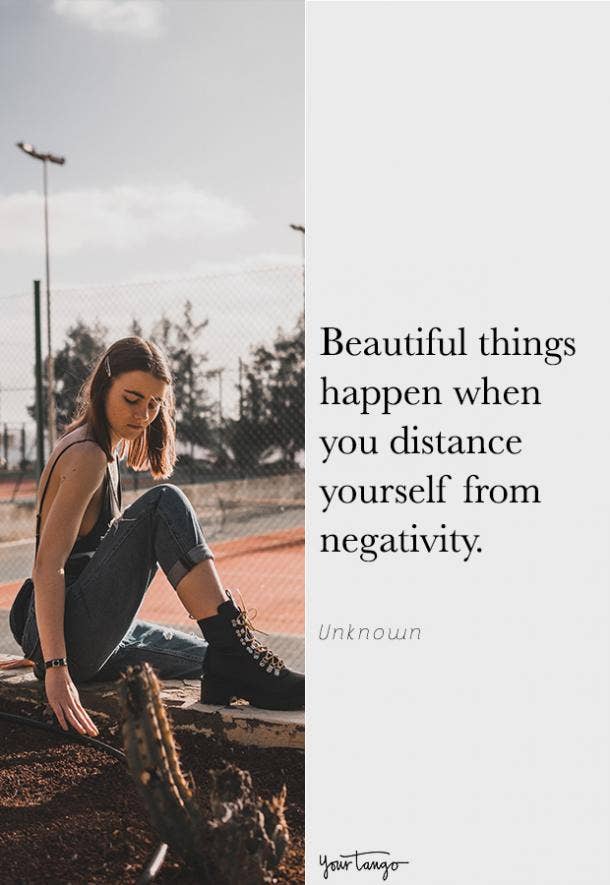 "Beautiful things happen when you distance yourself from negativity." — Unknown
---
10. Let your dreams guide you.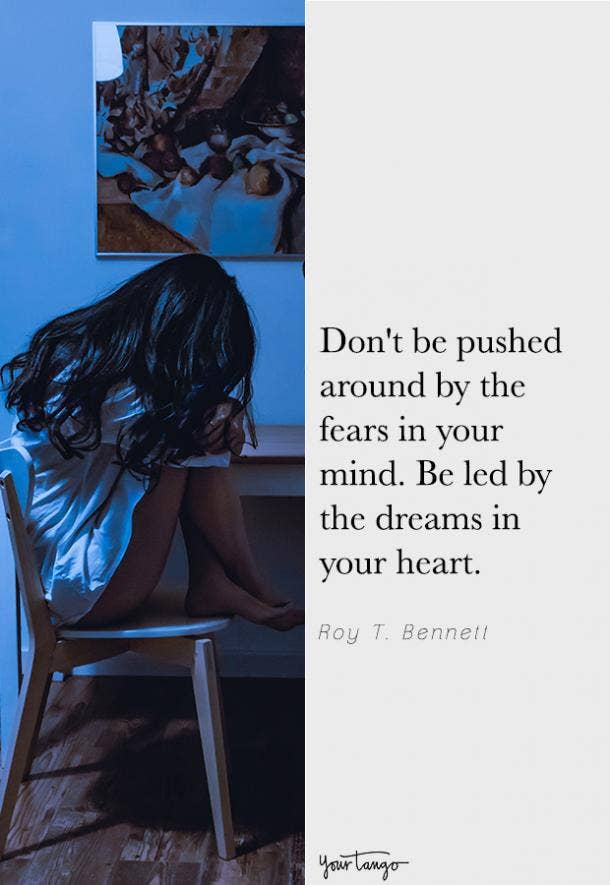 "Don't be pushed around by the fears in your mind. Be led by the dreams in your heart." — Roy T. Bennett
---
11. You will make it.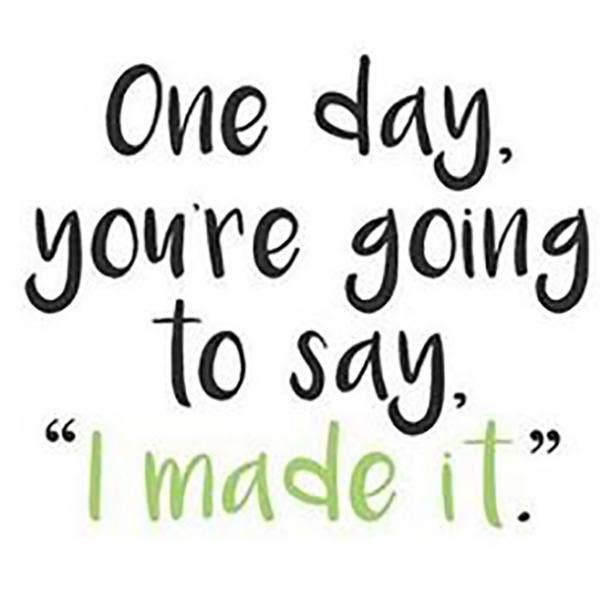 "One day, you're going to say, 'I made it.'" — Uknown
---
12. Appreciate what you have.
"Each morning you wake be thankful, grateful and appreciate who you are, you have life, you're blessed and you're beautiful." — Unknown
---
13. Don't be afraid to be a dreamer.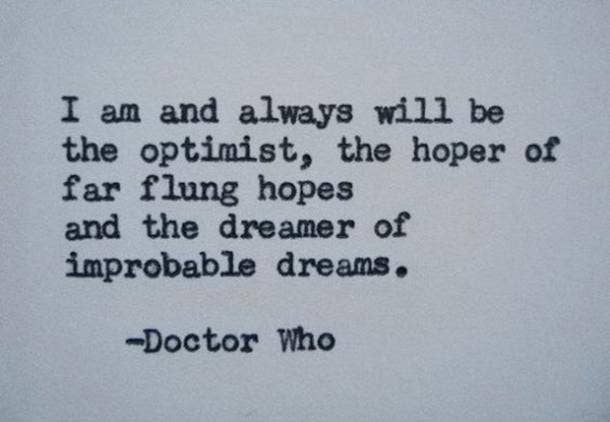 "I am and always will be the optimist, the hoper of far flung hopes and the dreamer of improbable dreams." — Doctor Who
---
14. Happiness is the goal.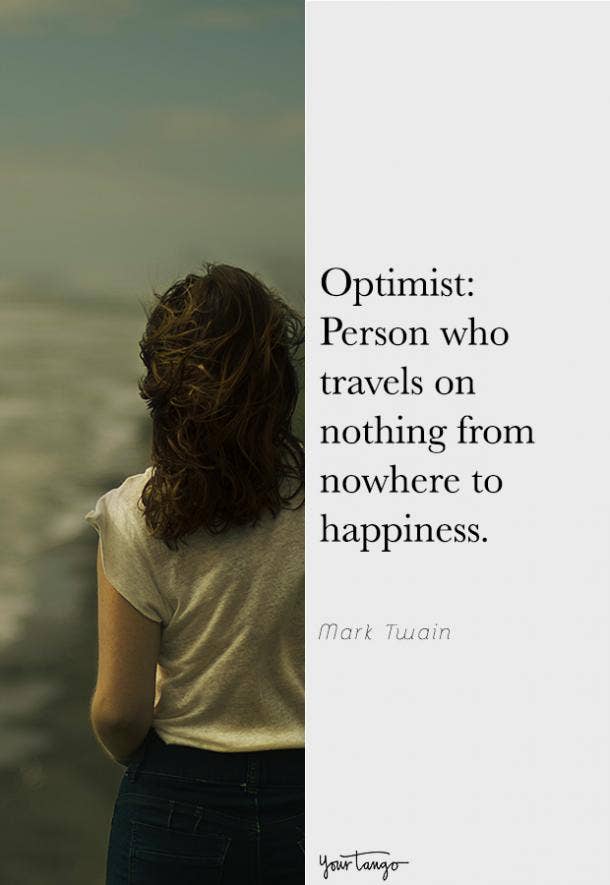 "Optimist: Person who travels on nothing from nowhere to happiness." — Mark Twain
---
15. Always look on the bright side.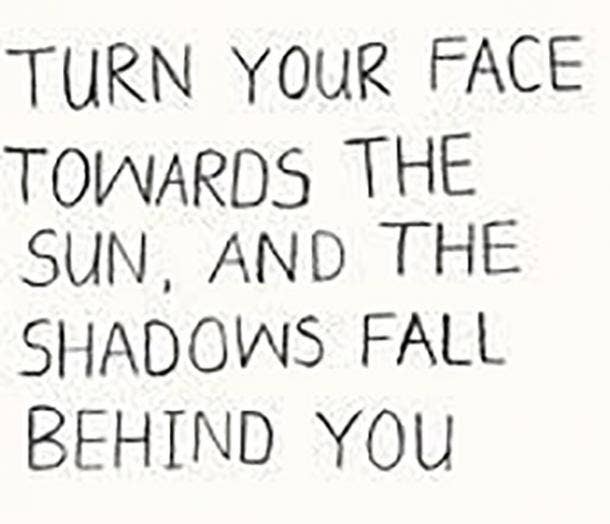 "Turn your face towards the sun, and the shadow fall behind you." — Unknown
---
16. Everything is a lesson.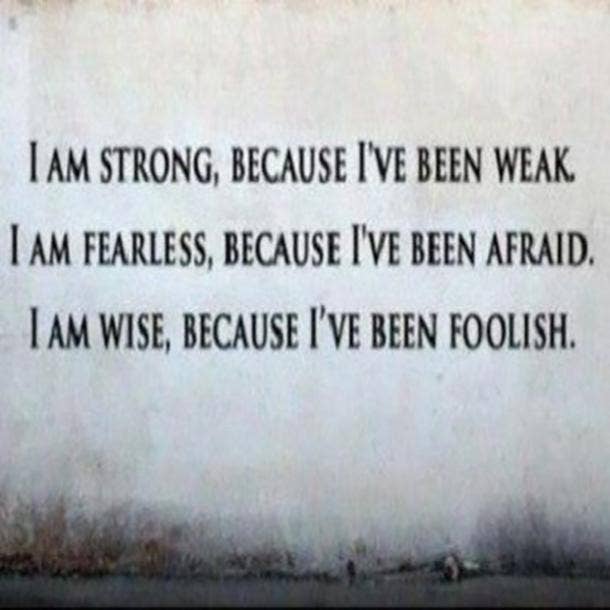 "I am strong, because I've been weak. I am fearless, because I've been afraid. I am wise, because I've been foolish." — Unknown
---
17. There is a bright side to everything. Find it.
"No one ever injured their eyesight by looking at the bright side." — Unknown
---
18. It's just one day.

"Don't make a bad day make you feel like you have a bad life." — Unknown
---
19. If you can't find door, just make one.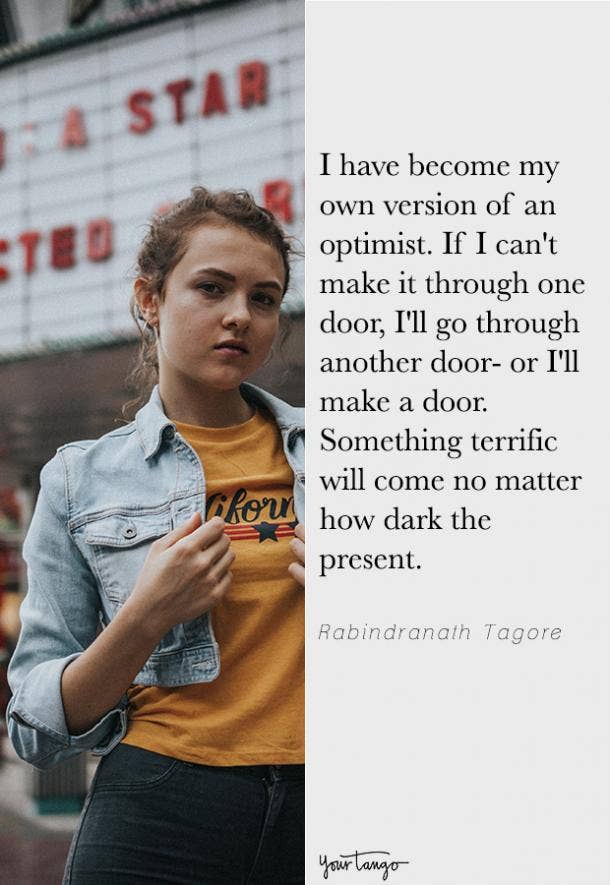 "I have become my own version of an optimist. If I can't make it through one door, I'll go through another door- or I'll make a door. Something terrific will come no matter how dark the present." — Rabindranath Tagore
---
20. Become the best version of yourself.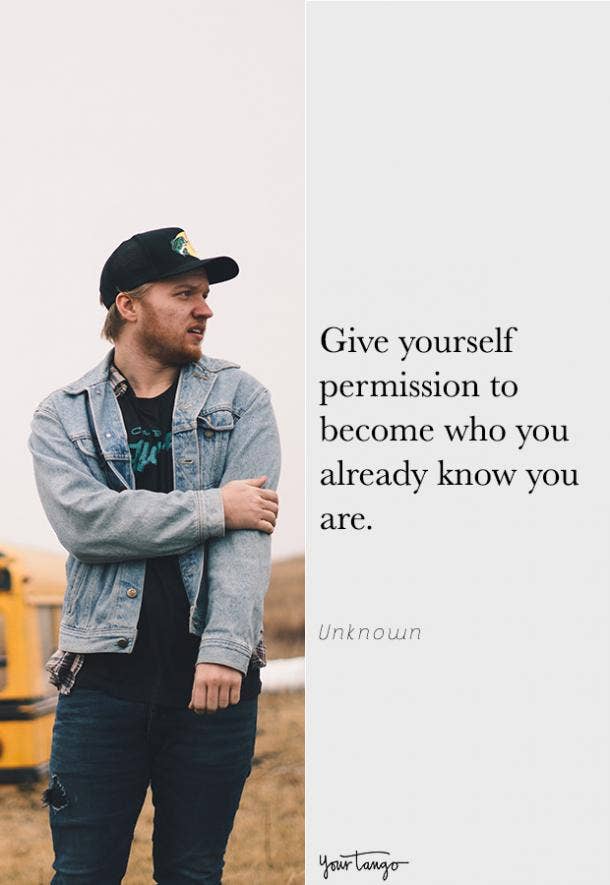 "Give yourself permission to become who you already know you are." — Unknown
---
21. Your inner light is more powerful than any darkness on the outside world.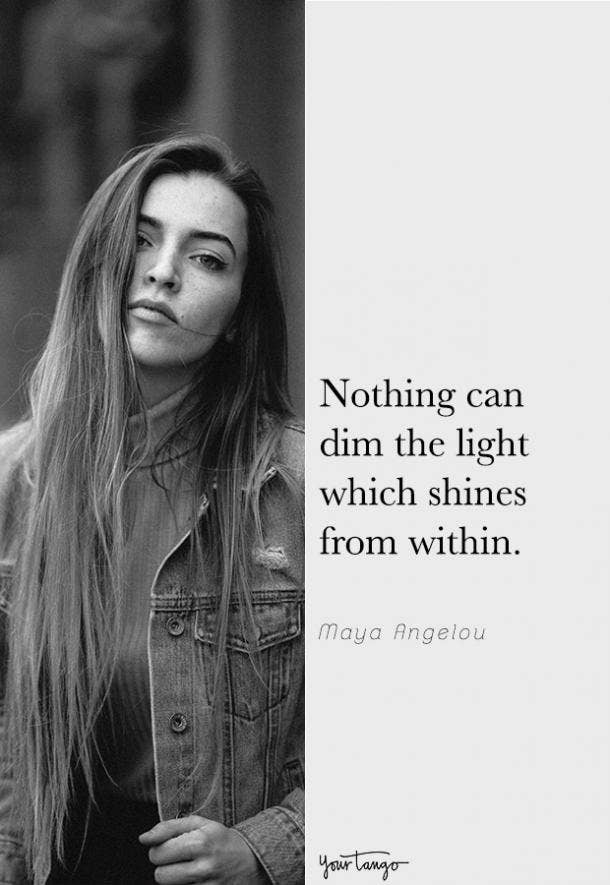 "Nothing can dim the light which shines from within." — Maya Angelou
---
22. Our cracks reveal how strong we are.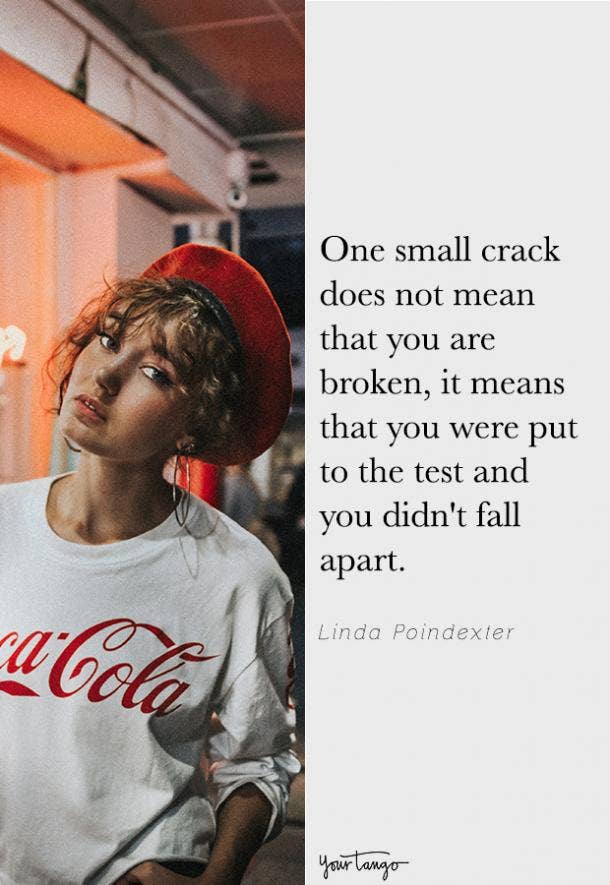 "One small crack does not mean that you are broken, it means that you were put to the test and you didn't fall apart." —​ Linda Poindexter
---
23. You always end up where you need to be.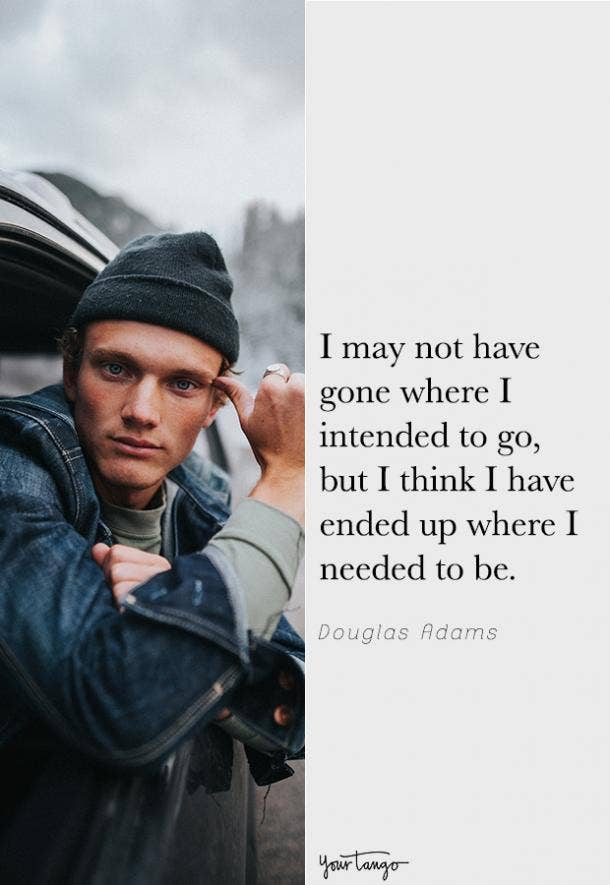 "I may not have gone where I intended to go, but I think I have ended up where I needed to be." — Douglas Adams
---
24. The world is full of opportunities.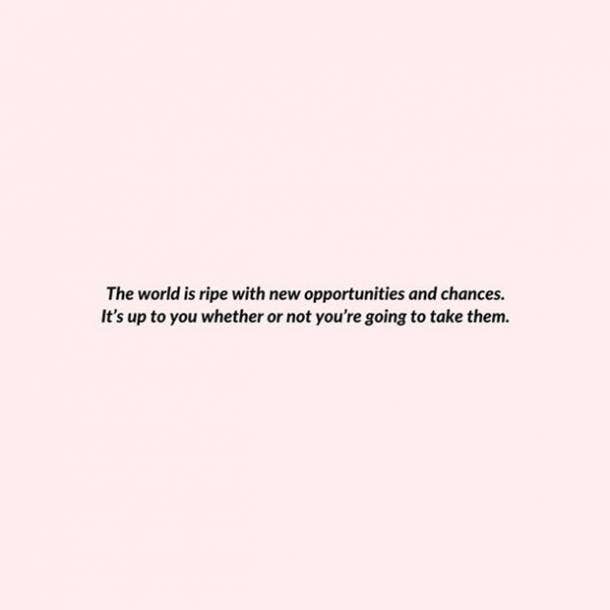 "The world is ripe with new opportunities and chances. It's up to you whether or not you're going to take them." — Unknown
---
25. Always choose light.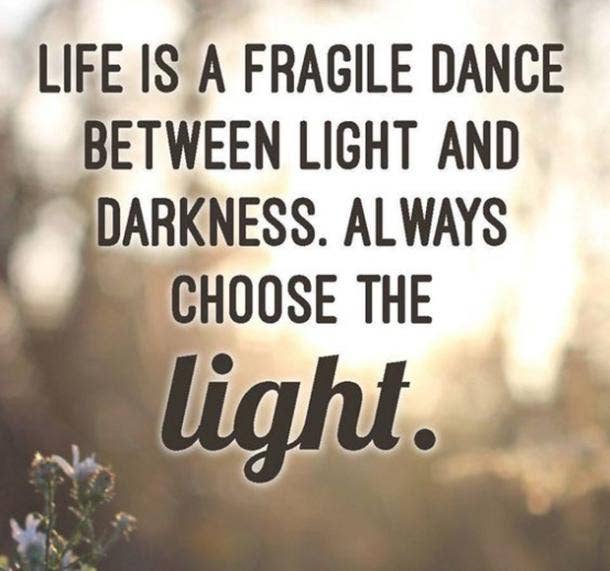 "Life is a fragile dance between light and darkness. Always choose the light." — Unknown
---
26. Life is all about learning.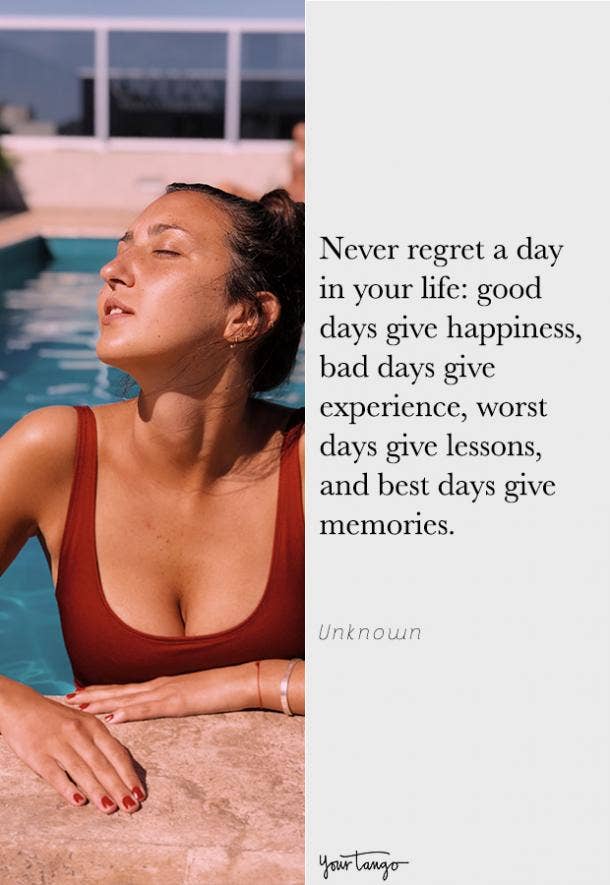 "Never regret a day in your life: good days give happiness, bad days give experience, worst days give lessons, and best days give memories." — Unknown
---
27. The bigger our obstacles, the sweeter our victories.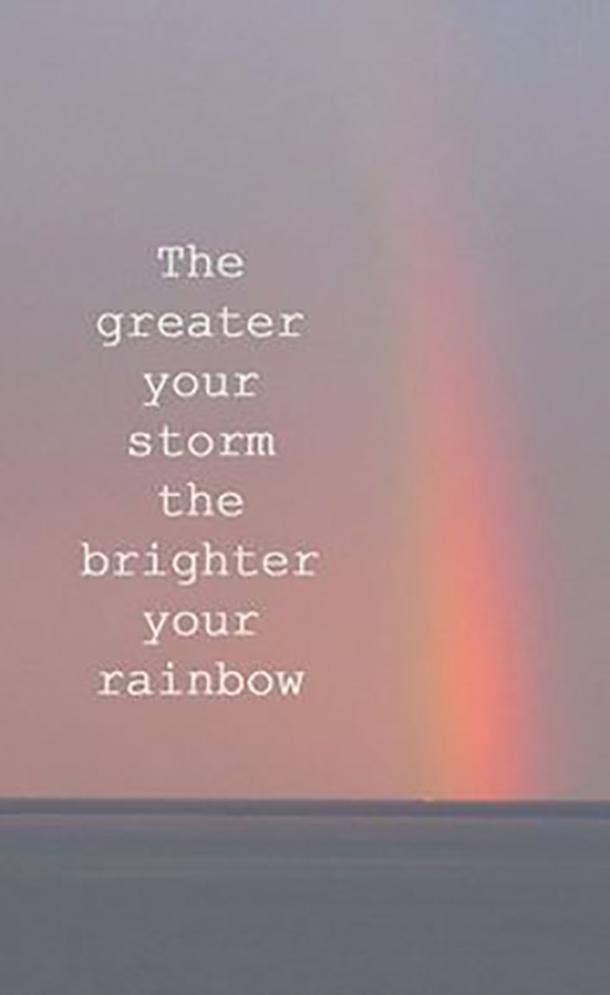 "The greater your storm the brighter your rainbow." — Unknown
---
28. Tomorrow will be a better day.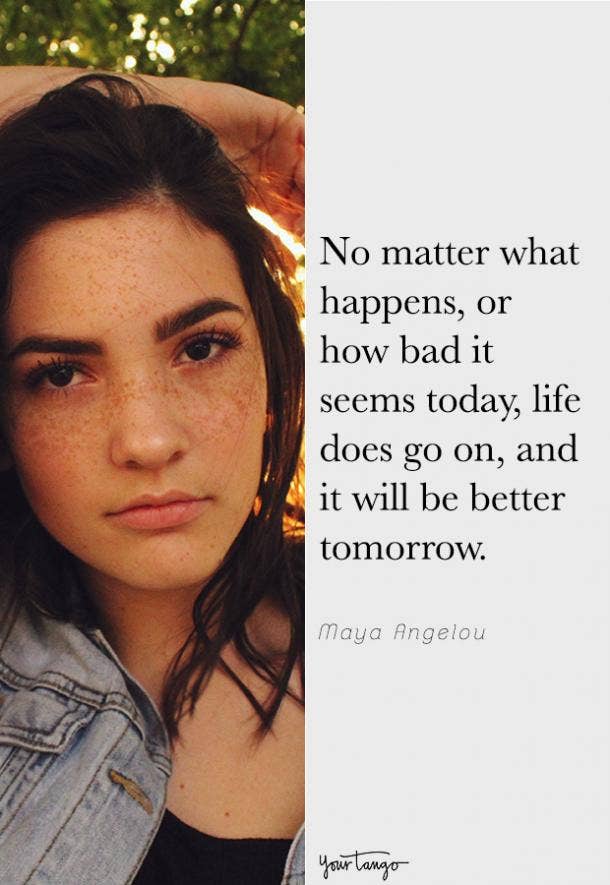 "No matter what happens, or how bad it seems today, life does go on, and it will be better tomorrow." — Maya Angelou
---
29. Optimism isn't easy but it's worth it.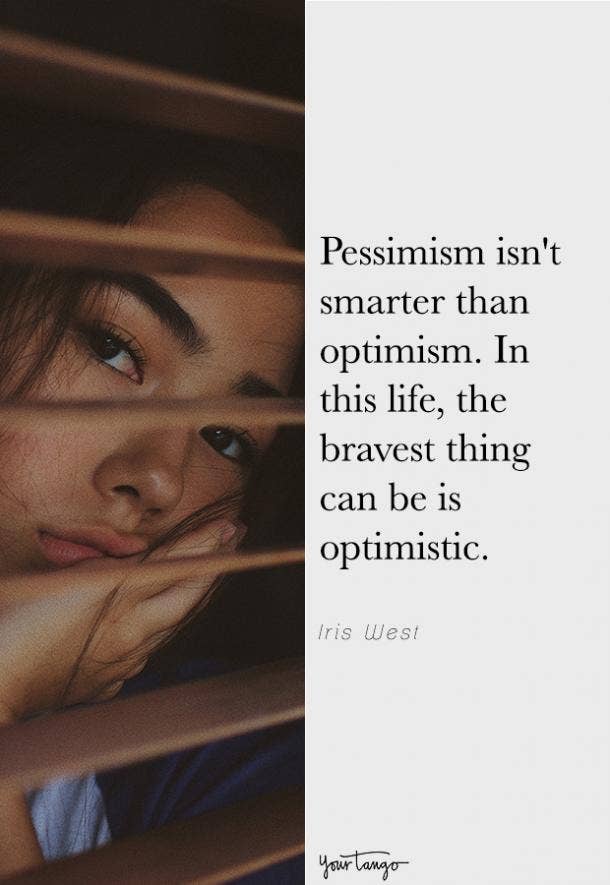 "Pessimism isn't smarter than optimism. In this life, the bravest thing can be is optimistic." — Iris West
---
30. Speak optimism into existence.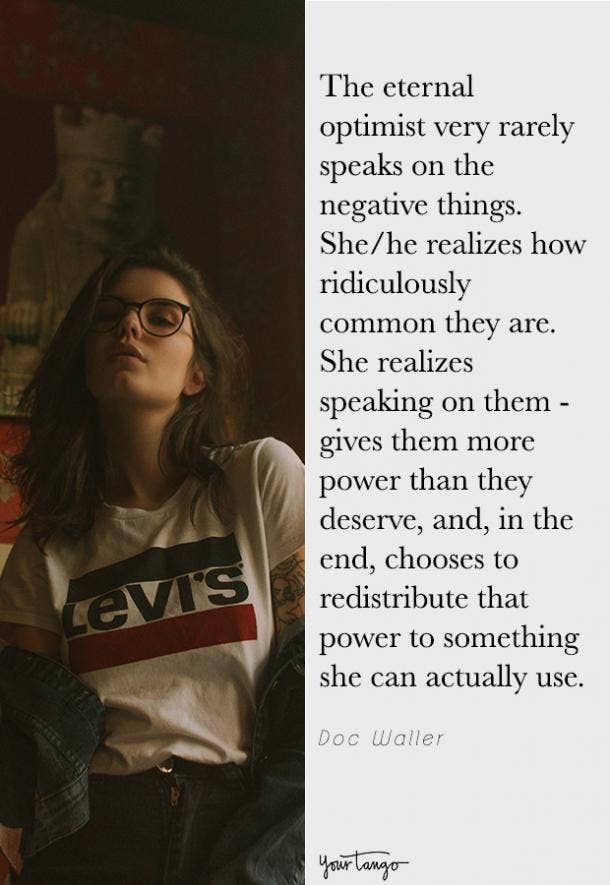 "The eternal optimist very rarely speaks on the negative things. She/he realizes how ridiculously common they are. She realizes speaking on them – gives them more power than they deserve, and, in the end, chooses to redistribute that power to something she can actually use." — Doc Waller