Even the experts at Moët & Chandon say so.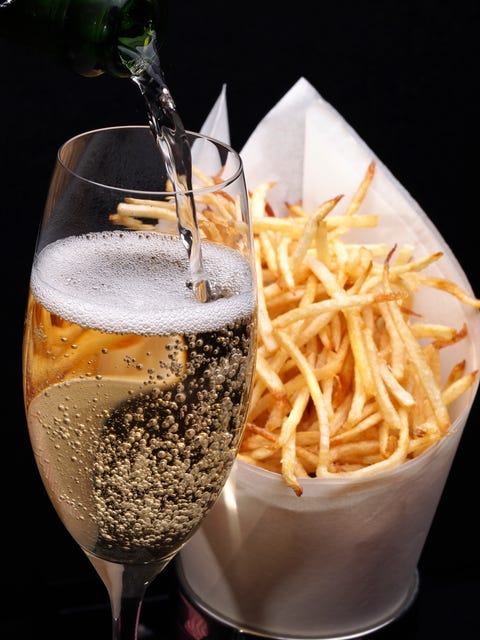 .
By: Lyndsay Matthews/ marie claire
When it comes to fancy foods, high-low pairings can lead to some surprisingly delightful combinations. For example, if you've never eaten caviar and potato chips together, you're missing out. So we were excited to hear that Marie-Christine Osselin, Moët & Chandon's wine quality and communication manager, told The Drinks Business that she thinks french fries are one of the best foods to pair with a glass of champagne.
According to Osselin, the saltiness and crunchiness of french fries are the perfect complement to champagne's fine bubbles and zesty acidity.
But don't go pairing your next glass with an order of cheese fries. "Champagne is a wine that asks for simple ingredients, no more than three," she said.
In fact, one of the most famous appetizers at New Orleans' Sylvain is the order of Champagne and French Fries. The "perfect combination" of Delamotte Brut and hand-cut fries—as it is described on the menu—goes for either $50 or $90 for a small or large serving.
Sylvain's owner, Sean McCusker, got the idea at a Veuve Cliquot event where one of the champagne company's "head guys" told him that "pomme frites" were his favorite food to eat with champagne, according to Eater New Orleans.
"The next afternoon, a friend and I hit Les Halleswhere Anthony Bourdain was the chef and was making what I thought were the best fries in NYC," McCusker told Eater. "We ordered a plate and a bottle of champagne. We each grabbed a fry, stuck it in our mouths and followed it with a gulp of champagne and it was a revelation."
Food & Wine's longtime wine editor Ray Isle also agrees.
"I've been saying this for years, as have many, many sommeliers," Isle told Food & Wine this week. "Basically, salt and fat plus high acid and bubbles equals a great combo."
Isle even takes it a step farther.
"Fries, potato chips—hell—fried pork rinds would work too," Isle said. "But I don't think you're going to get the folks at Moët to suggest pairing their champagne with fried pork rinds—that's too down-home for them, for sure."