Fans of reality competition shows like "The Amazing Race" or Project Runway know its more exciting when there are more competitors.  The first night of lower tier candidates were fighting for another day.   Last night's debates had less energy but more intensity then the first.
Some of the senior candidates lost their footing in this large and diverse group of candidates.  There is no break out star last night.  No one spoke Spanish.   Marianne Williamson was the Love Candidate of the night.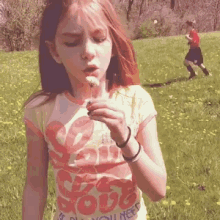 After all, "All you need is love"  Not sure how she made to the first tier. When asked about the first issue they'd tackle if elected president, Marianne Williamson said she'd call New Zealand's prime minister to say "the United States of America is going to be the best place in the world for a child to grow up"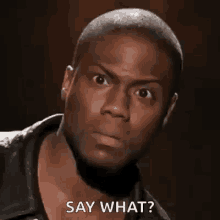 "
As predicted, Joe Biden was the Target.  Donald Trump has a larger presence in last nights debate.   The first night 15.5 million people tuned in.
 Last night a RECORD 18.1 million viewers tuned in, the most ever for a Democratic debate.
Winners and Losers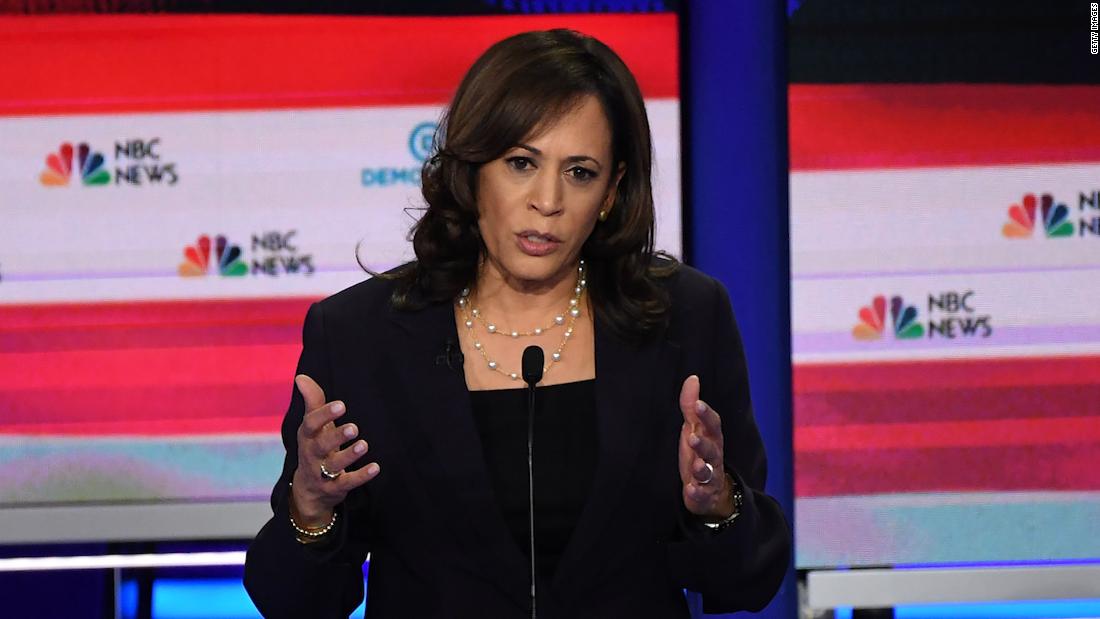 Senator Elizabeth Warren was Best in class in the Wednesday night debates.  But it was California Senator Kamala Harris gave the strongest performance by an East Oakland Mile.  With all the noise on the stage, the senator was calm and extremely knowledgeable.  When everyone seemed to be shouting on the stage, she shut it down by saying "The American public wanted to hear how the candidates were going to put food on  their table, not witness a food fight!  
If there was a contest for the most approachable candidate, it would be Mayor Pete Buttigieg.  He left the campaign trail last week after a South Bend Police officer shot and killed Eric Logan a 54 year old black man. The event has led to protests in the city.    The Mayor has a contentious relationship with some of the black people in his city.
Last night, moderator Chuck Todd asked why is the police force is 6 percent black in a city that is 26 black.   What has that not improved over your two terms as mayor?
Buttigieg didn't spend 5 minutes looking for a camera ready response.  He said , "Because I couldn't get it done"  The were other questions from other questions from the floor where he took responsibility.    
Buttigieg and Harris looked (dare I say it) Presidential.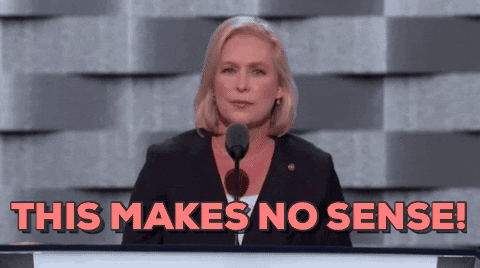 New York Senator Kristin Gillibrand gets the coveted "Bill de Blasio" award for having a lot to say…But! Do you remember any of it?
"Retired Colorado Governor John Hickenlooper"
They've left the light on for him.
You get a thousand and you get a thousand!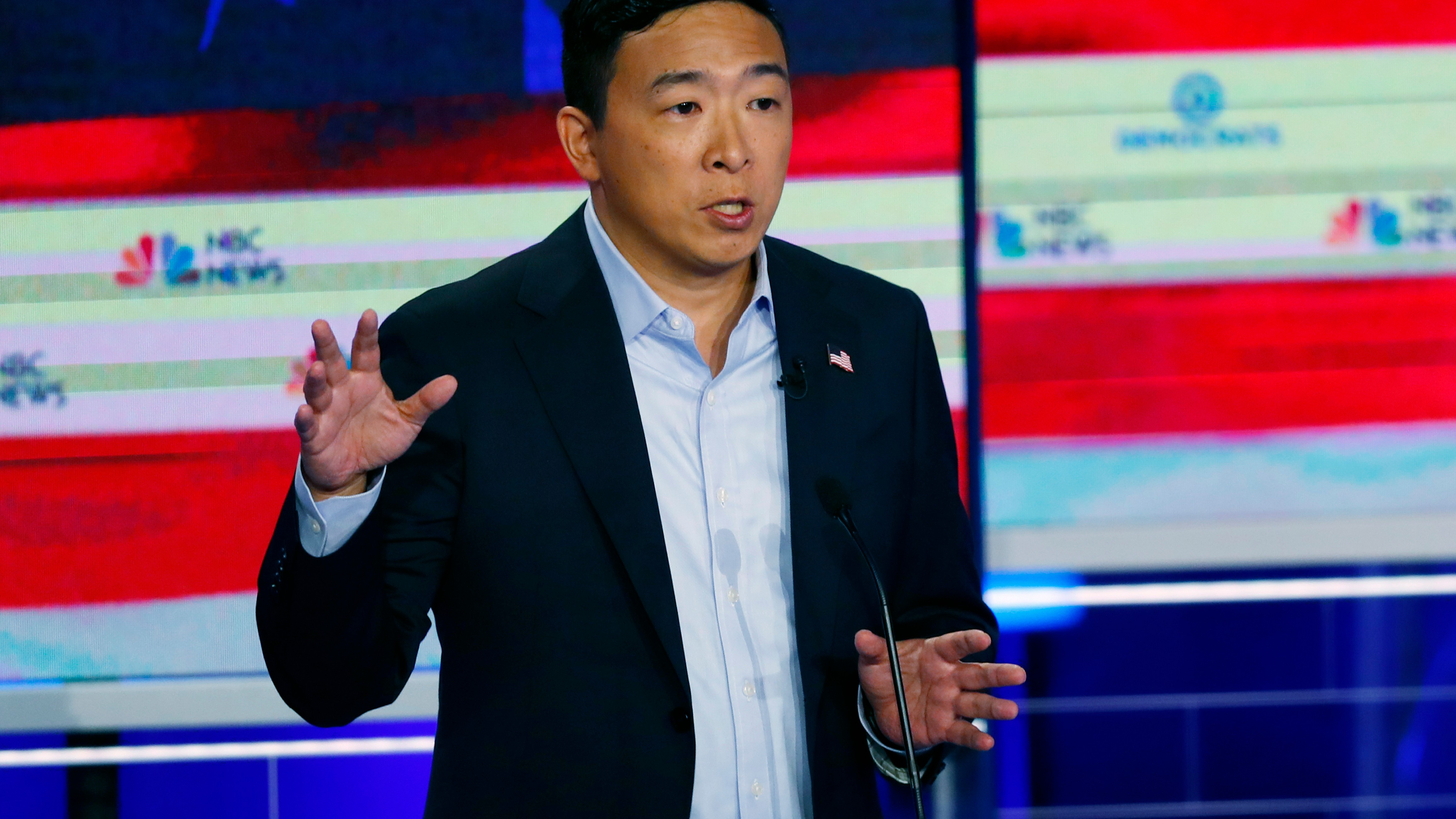 Tieless candidate, Andrew Yang was sporting a California Chill.  I'm a little nervous talking about him.  I was swarmed by his fan base on twitter after giving him a brief complement . Its very possible I may have to move.     Under his  "Freedom Dividend" the New Yorker would give every American a thousand dollars a month.  Nice Shirt (don't hurt me!)
The Listen Linda Award 
Candidates who not only listened to the moderators questions. But Answered them directly without going into hyperspace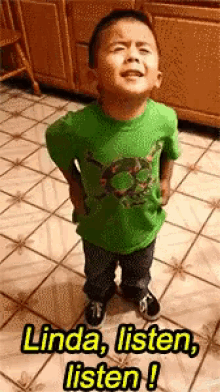 Pete Buttigieg, Kamala Harris and Andrew Yang
Senator Bernie Sanders of Vermont
"I suspect people all over the country who are watching this debate are saying, these are good people, they have great ideas," said Sanders. "But how come nothing really changes? How come for the last 45 years wages have been stagnant for the middle class? How come we have the highest rate of childhood poverty? How come 45 million people still have student debt? How come three people own more wealth than the bottom half of America?"    The answer, Sanders said, is that "nothing will change unless we have the guts to take on Wall Street, the insurance industry, the pharmaceutical industry, the military-industrial complex, and the fossil fuel industry."   "If we don't have the guts to take them on, we'll continue to have plans, we'll continue to have talk, and the rich will get richer, and everybody else will be struggling," the Vermont senator concluded.
This was an excellent closing statements one of the two best of the evening. And if were delivered, by Buttigieg, Swalwell or even Williamson, it may have been a slam dunk.  But the message came from man who has been in politics for nearly forty years. In the Senate for two terms.  An experienced politician who couldn't affect change in 40 years…………..
Former Vice President Joe Biden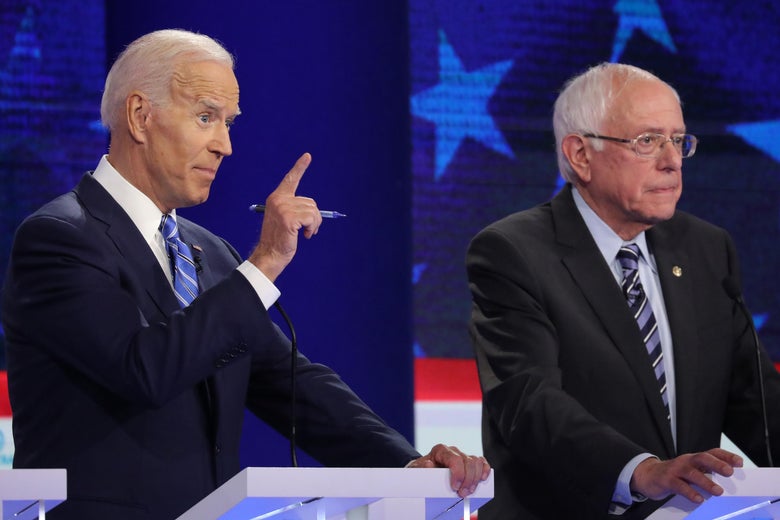 These two men will be around for awhile. It is very difficult with a limited amount of time on a debate stage to answer the moderators questions ,respond to a large group of candidates and stay on point with your message.  However if any one can its Biden, Harris, Sanders and Warren.
Joe Biden reminded me of the story of the Tortoise and the Hare.  With his polling numbers so far ahead of the pack, he coasted last night.   Charming, charismatic, he didn't seem prepared. Then Kamala Harris punched him hard leaving him gasping for air.  His responses seemed canned.
But this is only a stumble. Joe will have to study harder.  Next weeks polling numbers will indicate, he will have newer and refreshed rivals. Castro, Harris, Warren and possibly Booker. The question will it be the expense of his numbers?
Details at 11-Stay Tuned
CityFella