Airline Travel SUCKS!   Long lines, uncomfortable seats.  Caged Chickens are treated more humanely.  All this stress sometimes leads to  passengers turning on passengers. Train Travel is slow and expensive.
In the last few years, busing has seen a resurgence in the United States, Canada and Europe.  New Bus companies offering express intercity travel These new companies, unlike Greyhound, do not have brick and mortar station. Passengers buy tickets online, much like an airline ticket and presents a boarding pass at a designated site. No two hour advance arrival times or long drives to an airport.
From the East Coast and the South Bus Companies, Bolt, Megabus, OurBus and others, move millions of passengers from City to City.  Some of these companies are slowly adding routes to the west coast.
MegaBus Megasite in Midtown Manhattan, New York
This slideshow requires JavaScript.
From this site in Manhattan , less than a mile from the Empire State Building. passengers can travel to Boston, Philadelphia, Nashville, Chicago, Nashville, Charlotte and thirty other cities.
I have traveled on Megabus, from New Orleans to Austin Texas and from New York City to Providence, Rhode Island. Megabus was on time, the buses were very clean. I was able to work on the bus, if I had one complaint, it was the slow Wi Fi
Not your Dad's Bus…
Wider seats with more leg room than the average airline seat.
Free Wi Fi, Some Bus Companies offer Free Movies, online books, and most are Express Routes with one stop.
Fold down tables for Lap Tops
Express Bus Travel from $1.00*
While bus travel is very popular in Europe, Canada,the East and South Coast in the United States.  With large metro areas often four or five hundred miles apart, Busing on the West Coast isn't as popular.  Megabus operations began in California and Nevada in 2007 and ended service on the West Coast a year later, due to poor ridership.
Megabus re-entered California in 2012, adding Sacramento with two routes. Sacramento to San Francisco and Sacramento to Reno/Sparks. The Reno/Sparks route ended January 2018. The Sacramento/San Francisco route is very popular, offering a lower cost, express alternative to Greyhound and Amtrak. The Megabus site in Sacramento is at the 65th University Light Rail Station.
The San Francisco location is at the CalTrain station at 4th and King
one block from ATT Park. From this location you can connect to an express Megabus to Los Angeles. The average one way charge from Sacramento is $9.00* vs $14.00* on Greyhound and $33.00 on Amtrak. *Lower prices are available with advance purchase.
Coming to the the US?
In Britain, Megabus offers a service called Megabus Gold offering sleepers on long routes. (Sadly, there are no plans to bring Gold to the US)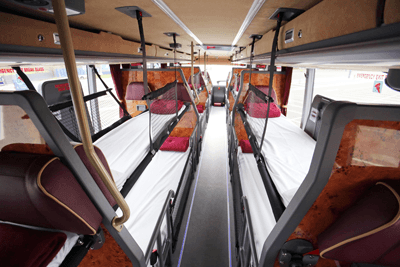 Founded in 2011 ,FlixBus is a mammoth bus company based in Germany.  Flixbus purchased many bus companies including Megabus Europe. Today, its by far the largest bus company in Europe, with routes in Denmark, Italy, Switzerland, and Croatia. As of 2016, the network includes approximately 120,000 daily connections to 1,700+ destinations in 28 countries.
Last year Flixbus expanded to the US. Unlike the other Bus Companies, Flixbus hub is Los Angeles. The Company's primary target seems to be Greyhound. Its returning service to some cities abandoned by Greyhound. With fares beginning at $2.99, travel from Sacramento to the Bay and LA is very affordable.

Facing competition on all fronts has Greyhound has changed their buses and have renovated many of it's stations.  Today, their buses, offer Wifi and an Entertainment Suites. Pricing is competitive with the competition and the company is offering more express routes nationwide.
The Sacramento Greyhound terminal is one of the busiest on the west coast.
Which company offers the best service out of Sacramento
Greyhound offers the most routes out of Sacramento. It's Prevost buses have the most leg room. However there are no fold down tables to work for those commuters traveling back and forth to the Bay. The Wi-Fi is fair. However the entertainment suite is excellent. Greyhound biggest negative is image.  Their Sacramento station on Richards Blvd seemed clean and safe. The advantages of an actual brick and mortar station is protection from the elements .  Finally Greyhound, unlike Megabus and Flixbus, doesn't charge a service charge.
Megabus is efficient and excellent choice for students and those wishing to work. The staff is very effective getting the buses loaded and on time. Megabus Wi-Fi is slightly better than Greyhounds, a full bus with students equal slow streaming and impossible downloading. The downside of Megabus in Sacramento is there is one route. To travel to Los Angeles and beyond requires careful coordination and the purchase of an additional ticket.
Flexbus advantage is price.   The company has two stops in Sacramento (29th/K and 6th /W) from Sacramento, the company has routes to many cities in Central and Southern California, Nevada and the Phoenix Area., with three daily express buses to Los Angeles.  The companies buses to the Bay Area weren't modern or very comfortable. The company has either bought or leasing  buses from Amador Stage Lines.  None of the buses offered the amenities on its website.  Wi-Fi wasn't available in either direction and buses were extremely late.and the  drivers I encountered seemed confused with the boarding/passenger lists.
1. (Tie) Greyhound and Megabus.
3. Flixbus