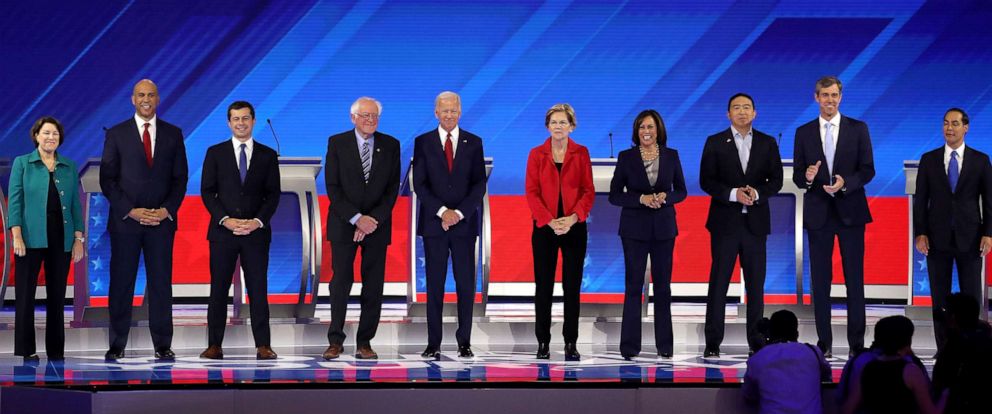 Candidates from L to R : Amy Klobuchar, Cory Booker, Pete Buttigieg, Bernie Sanders,     Joe Biden, Elizabeth Warren, Kamala Harris, Andrew Yang, Beto O'Rourke, Julian Castro      Thursday night debate@ Texas Southern University, Houston Texas
There are still over twenty Democratic candidates vying to be the next President of the United States.
The top ten participated in last night's debate.
What a difference a Debate makes……not
This is the third debate and most of the candidates continue to waste valuable media time re-introducing themselves.  There were no reveals last night. There isn't likely to be a shift in poll numbers next week and while they fight among themselves about health care. Kamala Harris once again, had to remind the candidates what the objective is,        defeating Donald Trump.   She accurately told her fellow Democrats  "This discussion (about health care) is giving Americans a headache."
Charismatic Kamala, hasn't found her footing.  She has moments of brilliance.  Her position on trade and China was excellent  Her analogy comparing Donald Trump to the wizard in "The Wizard of Oz " when you pulled back the curtain you discovered he was really a small dude was funny.  She owned the crowd and then she tripped and fell. Apologizing to George Stephanopoulos  saying " I didn't mean you" (are short) Can you say cringe worthy?
Since were talking cringe worthy,, Andrew Yang participation is the health care debate.  Took a sharp left when he said "I am Asian, so I know a lot of doctors, and they tell me that they spend a lot of time on paperwork, avoiding being sued and navigating the insurance bureaucracy.
Get Joe!
#1 needed a good night and had one!  Joe Biden was the only clear winner last night.  He challenged Warren and Sanders,Medicare for all health care plan.  This is the centerpiece of Bernie's candidacy.   Bernie nearly lost control, so much so, that the front five rows needed rain protection.   At one point he seemed to suggest Biden was responsible for people getting cancer.  Biden's reliance on story telling is growing old .  When he seemed to lose his way, he defaulted to a story. Joe Biden is a very likable man, who's personal tragedies are heartbreaking problems, is we've heard them all before.
He has nothing to lose………
Julian Castro , is a scrappy politician, his performance on the very first debate was excellent.  They said he was the one to watch.  For 48 hours, he was on "The View" and all over Cable news. then nothing.  The Former mayor of San Antonio has been throwing hard punches at Biden. Last night, many thought he was hitting too hard and below the belt, however turn on cable news right now.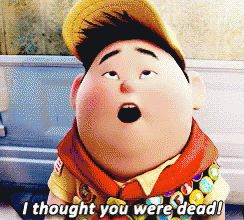 Beto O'Rourke
All of Beto's debate performances has been below flat.  Last night, his intensity, his passion about gun control and the people of El Paso, could not be ignored, and the audience at Texas Southern University felt him and went wild. Most of the other Democrats including Joe Biden and Elizabeth Warren praised him.  His supporters should be proud of this O'Rourke.    His  He'll yeah we are going to take your AR-47 "   Played well for his base and for those in the audience, will be too close for those who support the second amendment.
Missing in action was Elizabeth Warren, she sat this one out .
With the exception of his anger toward Joe Biden, Bernie Sanders, was Bernie Sanders.
Andrew Yang, who was mildly interesting during the last debate, gave us stereotypes and Oprah like giveaway.  He's planning to give 12K to ten families.  You get 12K,  You get 12K, and You and you and you!
Senator Cory Booker was there. 
Mayor Pete Buttigieg,the youngest candidate looked the most Presidential last night. He like most of the candidates last night re-introduced himself again..   Mayor Pete, like Harris reminded the other candidates why they were there.  His grasp of foreign policy was impressive.
We may be saying goodbye to Amy Klobuchar a credible candidate, who hasn't been able to gain traction.
ABC'S moderation last night, was text book on how not to moderate a debate. The inmates ran the asylum last night.
See you soon…….
Cityfella