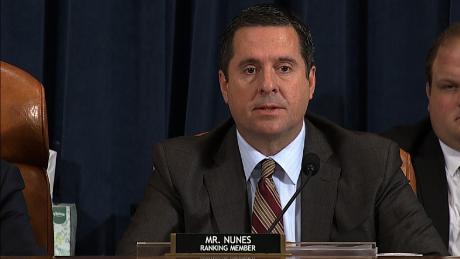 House Intelligence Committee Ranking Member Devin Nunes embarrassed his constituents from Fresno yesterday. The highest ranking Republican had nothing yesterday. Several minutes of nothing and just when he thought he had something it was nothing.
He spent valuable minutes telling viewers and the Prez , they should dismiss what they've heard especially from the mainstream press "puppets of the Democratic party" BECAUSE! What we heard and saw were three diplomats, (never Trumpers' diplomat edition) who disliked the President's Ukraine Policy, discussing second and third hand conversation about the objections.
Then he was checked by Lieutenant Colonel Vindman after calling him "Mr Vindman'
The something, the representative from Fresno needed, was relative information to disprove the witnesses.  The best he could come up with was look over here!
Second hand information helped impeach President Clinton.  Only Linda Tripp heard and recorded the stories and told her good friend Monica to keep the dress.
Late night had a field day with Fresno's worst.