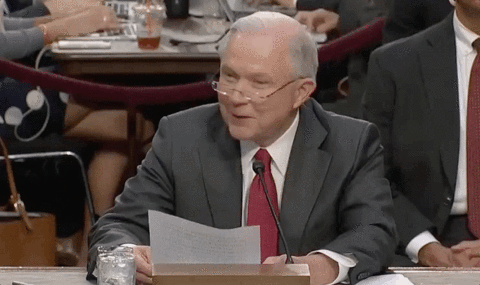 Jefferson Beauregard Sessions III believed in Donald John Trump.He was fiercely loyal to the Reality Show Star, Developer.  For more than ten years he served as the Senator of the Great State of Alabama.  PRESIDENT TRUMP nominated Sessions for the position of US Attorney General.
During the Confirmation hearings, Sessions was asked under oath if he had any contact with Russian officials during the 2016 presidential campaign AND was he aware of any contacts between Trump campaign members and Russian officials? His response was no.
A few months later,the vile evil media revealed, Sessions met with Russian Ambassador Sergey Kislyak twice in 2016.
Jeff Sessions recused himself from any and all investigation into Russian interference in the 2016 United States elections.
Well, we know what happened then!  After five hours, a team of  fourth graders started crying because President couldn't grasp the word recused, he thought they meant rescue. When they attempted to correct him, he screamed "Fake Kids"
From that moment on. he attacked, humiliated the Attorney General .
Fast forward to December 2019 . President Trump becomes the third President in the History of the United State to be impeached.
.
October 2019, Lev Parnus and his business partner Igor Fruman were arrested last October at Dullus International in Washington. Charged with planning to direct funds from a foreign government "to U.S. politicians while trying to influence U.S.-Ukraine relations"  It is believed the two naturalized American citizens from Florida were trying to leave the US.   The two are associates of Rudy Giuliani.  Old Rudy, wanted them to help him get dirt on the Bidens.
"Lev Parnas" 
Like Jeff Sessions, Lev Parnas was a huge fan of Donald Trump. So was his wife and 5 year old son.
President Trump said Lev Parnas was fake news, didn't know him?
That could piss of even your biggest fan!
'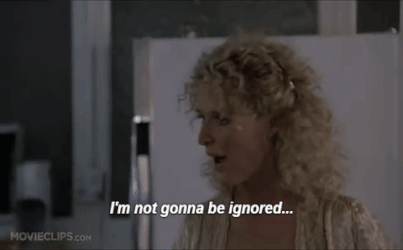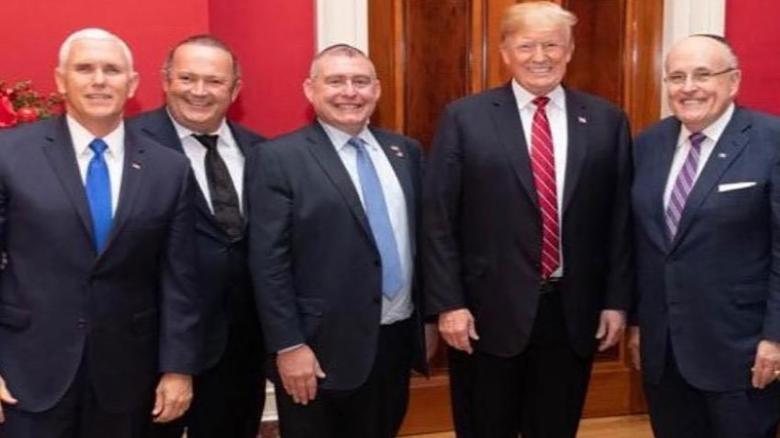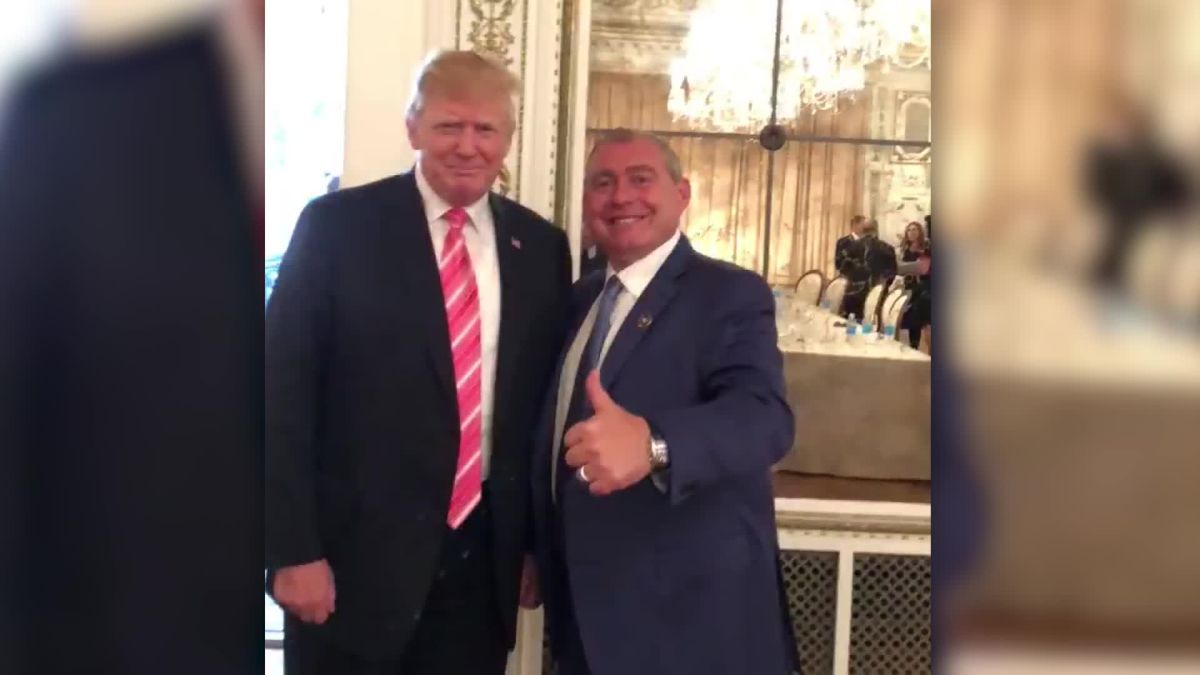 "I thought they were going to shut me up, make me look like the scapegoat, and try to blame me for stuff that I [haven't] done. But with God's help and a great legal team that I have beside me, we were able to get the information out," he said, warning Trump about denying he knew him. "I welcome him to say that even more. Every time he says that I'll show him another picture. He's lying." 
 Devin Nunes, the former Chair of the House Intelligence Committee denied knowing Lev. (House Democrats' impeachment report showed numerous contacts between the two men) But Lev had enough receipts to jog Nunes memory.  Yesterday, Nunes told Fox News, he  now remembers a phone call with Lev. Which was very odd and random."I said great, just talk to my staff and boom, boom, boom. Which is normal, standard operating procedure," 
At Guiliani's direction, Lev Parnas delivered quid pro quo offers to Ukrainian leaders in which he offered access to or the support of the Trump administration in return for announcing such an investigation.  Lev Parnas said he had the authority to make offers of support from the administration, which included Vice President Mike Pence attending Volodymyr Zelensky's inauguration.  Lev, took his orders from Rudy Giuliani he said the two spoke every day.
Lev Parnas is a liar!
Lev Parnas is under a multi-count indictment and will say anything to anybody who will listen in hopes of staying out of prison! (various republicans) 
(Wednesday)House impeachment investigators released a new set of evidence that was obtained from Lev Parnas, an indicted former associate of President Donald Trump's personal attorney, Rudy Giuliani — including voicemails, photos, and text messages between Parnas and high-level figures within Trump's orbit.  The material includes voicemail messages Parnas received from Giuliani and Victoria Toensing, a prominent Trump-aligned lawyer, both of whom have been identified as players in an effort to force the removal of the then-U.S. ambassador to Ukraine, Marie Yovanovitch, during the spring.
Lev Parnas, an indicted associate of Rudy Giuliani, told MSNBC's Rachel Maddow that he is "100 percent" certain Pence canceled his trip to Ukrainian President Volodymyr Zelensky's inauguration because Ukraine did not announce investigations into Biden and his son Hunter. He said he was directed by Giuliani to deliver a "very harsh message" to a senior Zelensky aide warning that the U.S. would withhold all aid to Ukraine unless it met Giuliani's demands.
Quoting the House testimony of Gordon Sondland, the US ambassador to the European Union, Parnas said, "everybody was in the loop."  He alleged on Wednesday that Vice President Mike Pence, Attorney General Bill Barr, and Rep. Devin Nunes, R-Calif., were involved in the Ukraine scheme at the center of President Donald Trump's impeachment.
Parnas also claimed former national security adviser John Bolton, who has said he will testify if subpoenaed by the Senate, Attorney General William Barr and Rep. Devin Nunes, R-Calif., were involved or aware of what was happening.  Parnas wants to testify.
What does all this has to do with Jeff Sessions? 
During Watergate, in addition to burglar and other criminals. John Mitchell the US Attorney General was sent to jail. So did the Chief of Staff, several Aids to the President. Former members  of the CIA and FBI were sent to jail on behalf of the President who resigned and was Pardoned.
I believe, Jeff Sessions, to get back into a favorable light with the President would have broken the law.  He would join Michael Cohen, Michael Flynn, and Roger Stone, Trump loyalists.
The one hundred dollar question is Rudy Giuliani  
With the wagons slowly circling Giuliani, one wonders, to save himself will he blow up the presidency?
Sessions, successor William Barr is under a dark cloud.  If there is testimony, particularly by John Bolton.  To date, 37 people has been indicted, convicted or guilty pleas.  34 of these are from the Mueller Russian investigation.  Many are top advisers to President Trump.including Russian spies and hackers with ties to the Kremlin.
Will there be witnesses in Senate trial?
There are several factors at play?
If Mitch McConnell has it his way, there would be no witnesses . However, three Gop Senators disagree with McConnell, four is needed to change course.
__________________________________________________________
Last week a Morning Consult/Politico poll found that 57 percent of registered voters — including most Democrats and independents — think the Senate should call additional witnesses to testify in Trump's trial, compared to 24 percent who think it should not. Republican voters were split on the question.
71% of Democrats, 56% of independents and 40% of Republicans say Senate should call additional witnesses to testify.
___________________________________________________________________________
A few hours ago .The Government Accountability Office (GAO) issued a legal opinion on Thursday saying that President Trump's administration broke the law by withholding defense aid to Ukraine the issue at the heart of the president's impeachment trail.
___________________________________________________________________________
 4 Republicans can decide it there will be witness in the Senate Impeachment hearings
For 2020, there are 22 Republican Seats and 12 Democratic Seats up for reelection.
Safe and likely is Utah's popular Mitt Romney. Alaska's Lisa Murkowski, Maine's Susan Collins who unfavorables are only second to McConnell is leaning towards having witnesses however, she may gain some Democratic Voters who were unhappy when she supported Brett Kavanaugh .
Changing Demographic may play a factor for some Republicans, like Colorado's Cory Gardner who is running this fall. A long shot is Texas Senator Ted Cruz who's state is now officially purple even if Trump is reelected Trump will be out of office. Other defection may come from purple states.
Mitch McConnell Senate Majority Leader is in trouble his approval rating in Kentucky is 37% his unfavorable is 50%. Trump won Kentucky by 30%  He is currently trailing his Democratic opponent Amy Mcgrath. McConnell also has a GOP challenger C. Westley Morgan.   Arizona's Martha McSally primary challenge is a rapidly changing demographic. Arizona is no longer a Red State. McSally is currently occupying the seat of the late John McCain
Jeff Sessions 2.0?
Last night, Jeff Sessions told Fox News Laura Ingraham ,moderate Republican senators should "toughen up" and not waver in deciding whether or not to defend President Trump in the Senate impeachment trial.
Sessions, who served many years in the U.S. Senate representing Alabama and is now seeking to regain his old seat currently held by Sen. Doug Jones, told Laura Ingraham that moderates should realize the Democrats have no real impeachment case and are instead abusing their own congressional powers.
"It's time for them to toughen up," he said, after Ingraham mentioned Sens. Mitt Romney of Utah, Susan Collins of Maine and Lisa Murkowski of Alaska.
"There is not an impeachment case. This is a terrible, terrible abuse of the awesome impeachment power, and the first time this has ever happened in our history, and it should not be done, and so the Republicans need to think clearly. They need to call it what it is, an abuse of the process."
Sessions added that, should the Senate decide to permit calling witnesses, Hunter Biden should be near the top of Republicans' list.
"Absolutely," he said of the 49-year-old son of former Vice President Joe Biden.
"If we go to witnesses, he is absolutely relevant to the president's concern that something may have been covered up when the prosecutor in Ukraine that was investigating this company (Burisma Holdings) was removed.
He added that Democrats should also be allowed to call witnesses if the Republican Senate majority decides to call their own.
Turning to the race to regain his Senate seat this November — in which he faces a primary against a handful of Republicans including the Gulf Coast's Rep. Bradley Byrne and former Auburn University football coach Tommy Tuberville — Sessions said it does not matter which way Jones votes on impeachment.
CityFella
.