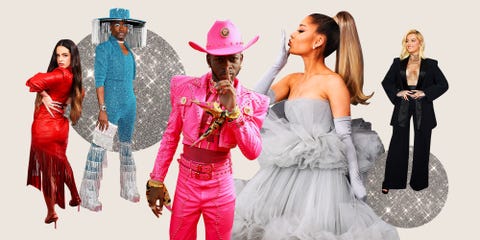 By: Tom Fitzgerald and Lorenzo Marquez/Cosmopolitan.com
The Grammys are a night of contradictions, style-wise. Like any music industry event or awards show, the stars are expected to pull out all the stops and really express their artistry, their boldness, and sometimes just their willingness to party or be rebellious. But also, a pop or music star at the Grammys is going to want to present a style image that's true to themselves, stands out from the pack, and hits those high-fashion notes that lands them on lists like, well… this one. 🙂
Watching the attendees try to straddle that line between chic and badass is sometimes the best, most fun part of the night. A few folks manage to nail it, a good number of them wind up playing things way too safe, and as always, plenty of them go straight for the cray-cray.
Let's get into the best-dressed and the not-so-best-dressed looks of the night, shall we?
---
Glam Glowup of the Night: Lizzo in Versace
A vision of glamour in white and silver, showing a level of polish in her style we've only ever seen snippets of before, and sweeping away the extra to reveal the gorgeous siren underneath. It felt like a game-changer moment for her; an introduction to the next phase in her career.
Best "Keeping It Real" Realness: Billie Eilish in Gucci
We've got to hand it to her. We wouldn't have thought it would be easy to stick to her unique set of style preferences and come out red-carpet ready, but Gucci came through for her. She got the shape and the style she likes to wear, with the glam factor bumped up and an absolutely killer mani to finish it off.
The Absolute Queen of Extra: Ariana Grande in Giambattista Valli and Schiaparelli
Ariana Grande arrived in a huge-skirted Giambattista Valli number, serving up high-princess fantasy with a smokey ombre undertone. But that wasn't enough for your girl.
After a brief retreat, she came back out onto the red carpet in a similarly e-n-o-r-m-o-u-s gray Schiaparelli ballgown. Because why should a girl restrict herself to one stunning lewk per night?
The "There Can Be Only One" Award: Lil Nas X in Versace
Serving us the shocking pink cowboy/fetish/rap mélange of style that only he can pull off, let alone make look good. One thing's for sure: this stunner tells us the world is better with Lil Nas X in it.
Hottest Couple: Joe Jonas in Ermenegildo Zegna and Sophie Turner in Louis Vuitton
Mr. Suave and his wife, Legs. He is giving us luxury loungewear and she is werking that skirt like only a glamazon can. They kind of look like hot spies, right?
Best Coat Game: The Men of BTS
These guys clearly know the secret to good winter style: Get yourself some outerwear that's crisp, chic, and foine. The rest of the look will fall in line (which is why the rest of their looks are largely unremarkable…sry, BTS army).
Smartest Accessorizing: Maggie Rogers in Chanel
Maggie's vintage, 2013 Chanel dress had a low-key Boho Glam vibe and a seriously cute star motif that suited her perfectly. But the accompanying water bottle holder promoted both sustainability and the importance of staying hydrated on a big night. There's a lesson in there for all of us.
Head-Turner of the Night: Jameela Jamil in Georges Chakra
In a brilliant blue metallic with a slightly futuristic vibe and a case of skirtus interruptus (look, if you can come up with a better term for when a skirt pauses for a bit before continuing, we're willing to hear it), the star of The Good Place landed a dress that looks great and a little weird at the same time. Perfect for a night like tonight.
Okay-ish Variation on a Theme: Gwen Stefani in Dolce & Gabbana
This is a nice way of saying we feel like she's worn some version of this outfit a million times before. On the other hand, we can't say it's not working for her. The lady knows what she likes.
Comfiest Glam: Bebe Rexha in Christian Cowan
This take on a tuxedo managed to be sexy, sparkly, and stylish. And she still got to wear pretty comfy-looking pants all night. All around win-win!
Most Committed: Rosalía in Alexander Wang
That is a whole lot of leather, a whole lot of belts, and a whole lot of fringe to deal with at once. And while we can't imagine it didn't all get annoying super-quick, we sincerely salute the effort.
Greatest Reveal: Billy Porter in Baja East
It would be hard to look at Billy Porter in this jaw-dropping turquoise-colored, crystal-encrusted jumpsuit with silver fringe and consider him an introvert. But his amazing hat, with its automated fringe curtain that opens and closes with the touch of a button probably made him the envy of leave-me-alone types everywhere.
Just the Most: Priyanka Chopra in Ralph & Russo
Priyanka gets major points for boldness, but there's just too much dress going on here and the result makes the lady look a little bit like a lamp…with some very obvious boobs.
Drama Queen: FKA Twigs in Ed Marler
It's sexy, it's dark, it's…a fairy tale fantasy with lingerie undertones. It's Little Red Riding Hood crossed with Savage x Fenty. And despite the craziness of that description, it's absolutely captivating on her. Only she could pull this one off.
Best (Flower) Power Suit: Brandi Carlile in Wolk Morais
This fun, wide-lapeled jacquard suit was fun, funky, cute and a little bit country all at the same time. Round of applause!
Best Bargain-Hunter: Lana Del Rey in Something from the Mall
Lana got this sparkly but, unfortunately, extremely underwhelming gown on a trip to the mall. And while we can appreciate her low-key self-sufficiency and thriftiness, we sure wish she'd let a stylist put something more w-o-w together for her instead.
Best Posh-Spice Cosplay: Dua Lipa in Vivienne Westwood
We found this sleek and minimalist Westwood number just a bit yawn for the Grammys, but as '90s throwback looks go, it was surprisingly well-suited to her!