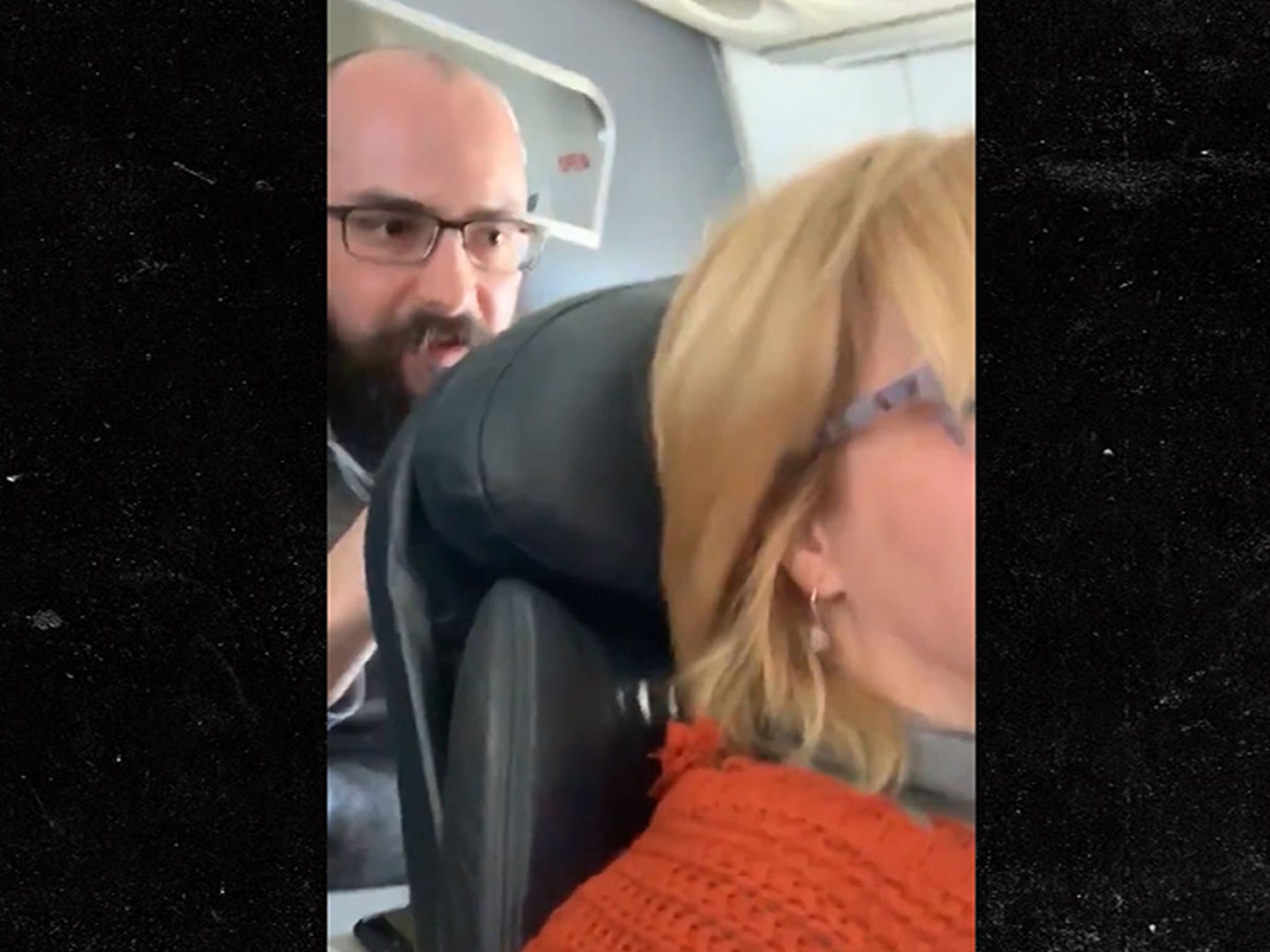 Millions of people have seen a passenger punching the seat back of Wendi Williams seat on an American Airlines flight from New Orleans to Charlotte last month. In her video we see him punching the back of her seat. From what we know, as soon as she sat down she reclined her seat . The 6.2 250 pound passenger behind her, asked ( she said with an attitude) if she could put her seat back up while he ate, which she said she did. Ten minutes later without warning, she reclined her seat again, causing a drink to spill on him.
While her video clearly shows his overreaction, it doesn't show the actions that lead up to his anger. She said she tried to get the attention of a flight attendant and failed. The flight attendants were not paying attention, so I started videoing him. That was the only thing that I could think of to get him to stop."
Ms Williams was not happy when the flight attendant, who she says (rolled her eyes) and offered the man she accused of hitting her seat some complimentary rum.
Ms Williams, Tweeted her displeasure. The flight attendant handed me a stern form letter, titled "Passenger Disturbance Notice." "Notice: YOUR BEHAVIOR MAY BE IN VIOLATION OF FEDERAL LAW," "You should immediately cease if you wish to avoid prosecution and your removal from this aircraft at the next point of arrival."
"It was shocking. "I think the more calm I remained, (the flight attendant) got angrier and more aggravated. So she said, 'I'm not talking to you anymore. I'm done with you,' or 'I'm done with this,' something to that effect, and then handed me this passenger disturbance notice."After that, the flight attendant told her, "'I will have you escorted off the plane if you say anything else. Delete the video,' "And I was scared to death."
Ms Williams,a school teacher from Virginia Beach has extended her 15 minutes, Appearing on Cable News and talk shows. She is contemplating a law suit and she wants the flight attendant fired!   The debate rages on social media with slightly more than half siding with her.
Airline passengers are entitled to
"fly rights,"
outlined by the US Department of Transportation, when they buy a plane ticket. Those ensure airlines will do things like provide passengers with water when delayed on the tarmac or, if overbooked, ask passengers for volunteers before others are bumped off involuntarily.
But comfort and personal space are not among those rights.
CityFella's Bad Behavior
For those of you who regularly followed the blog, know I'm a BIG man. I'm 6.4 and over 350 pounds. In a typical year, I travel 20,000 miles. Back in the day, the airlines boasted about their wide seats and leg room. Their champagne flight and extensive menu. It was a time of large wide bodied aircraft and professional service. People dressed for travel.
Can you Imagine?
Today's Reality
Today the planes are smaller and crowded. Six hours in this bucket from California to Hawaii. Need to stretch your legs-where.
Today most of the time when I fly, I'm anxiety ridden.  I'm usually in pain, its the width or the seats and leg pain.  I worry about what I will find. I'm usually the last person to board and the last to deplane. Why wait and stand as passengers load and unload their bags. Since I'm always in the aisle seat, when I finally arrive my seat mates have settled in.
Being a big man, I know which airlines offer the most space. If its a new airline, I check airline seat guru,com before buying a ticket. The app is fairly accurate when it space on nearly every airline on the planet, which is very important on a long international flight.
A lot of you write and say, of course your uncomfortable, your 350 pounds! and your right, but what would I do with my legs? After losing the weight, I'm still 6,4
Note to those who believe reclining is a right! If this man is sitting behind you . You ain't reclining!
A few years ago I few Allegiant Airline from Stockton to Las Vegas. The relatively new airline had old Douglas planes in their fleet.. For twenty eight dollars, my expectations were pretty low from the Ultra Discount Carrier where they charge you extra, for two packs of gum.
Entering the plane was low rent, a few rows were duck taped to prevent passengers from sitting in them, but we are talking about a short flight, I've survived worst . Once, I sat down, its was heaven. The seats were wide, the leg room was abundant AND I didn't need a seat belt extender. Where am I? I thought to myself. I had stepped back into the seventies. As we landed in Vegas, I said to myself, "I wanna go again." Today, Allegiant has done away with the old planes. Today most of its fleet consist of the AirBus 320 which is a little larger than the 737. Like the other airlines they have squeezed every bit of available space for profitability.
There is a lot more violence at thirty thousand feet then ever before. I blame the airlines and the governments that allow passengers to be packed on these airlines.
Rude and Crude
Anxiety is the order of the day. Some of the passengers are rude and self centered. On a recent flight from San Diego. A last minute passenger began to relocate bags from the overhead above his seat to other bins. No one said a word! I did! When he touched my bag and I told him to LEAVE it where it IS! The passenger wisely left it where it was .
If I'm sitting behind you, reclining isn't an option. There are no laws on the books that says the person behind you must allow you to recline. On one flight, I realized I had packed my phone in the overhead bin. The minute, I got up, the jerk in front of me reclined his seat, blocking my access to my seat,  Starling a man to his left. I asked him to excuse me, so I could sit down and the fool ignored me and after three minutes I took my tiny paws and squeezed the top of his head
My Tiny Paws
He screamed bloody murder. Everyone was called including the Temptations, a steward ,stewardess and one of the pilots? The passenger was very dramatic and wanted me to be arrested. But he was one voice against other passengers who saw him recline his seat to prevent me from sitting.
One tiny mean man……
It was a horrendous day. It was a super deal from Boston to Sacramento $143.00 . However it meant four legs and nine hours total. It was the third and longest leg from Philly to Phoenix. Aisle seat, in the seat in front of me was a thin man about 5.8 one hundred and fifty pound tops.
After an hour in the air, he attempted to recline his seat. I could have put him in my bag the overhead compartment, but I didn't have the energy. A
t one point he started bouncing on the seat ,on my knees until the seat reclined. At one point, he bounced out of his seat and said your knees are digging into my back! I looked at him and said, you see this (meaning me) this is the best your going to do. There is an empty seat next to you and there is no one behind it. He said, I don't want to sit there, I paid for THIS SEAT.
So the teeny tiny man started waving his hand to get a flight attendants attention and complained. She walked him to the front of the aircraft and back to his seat and pointed to the empty seat to his right. He declined, and pushed the button to recline his seat on my knees again, I told him and everyone in earshot he was not going to bounce on my knees anymore. But he was foolish, and I reclined my seat pushing myself back in the seat and kicked him in the back. dislodging his glasses. Unfortunately for me a stewardess saw me, however she did nothing.
This is not who I am, I'm not a violent person. But I'm on edge when I fly. The extra economy seats are bullshit. two maybe three inches of leg room AND the seats a re still narrow.
Rediscover The Bus
After narrowing the seats, some airlines like Southwest may make your purchase an additional ticket if you body is wider than seat. Its called Passengers of Size. If you are a large traveler or traveling with a large person. Check their POS policy before purchasing your ticket.
Occasionally, I will use my miles an upgrade to first class where I don't need a seat belt extender and the seats are wonderful . On some flights I successfully get upgrades.
I find passengers on airline more aggressive than subway riders in New York City.
In many parts of the country Bus Travel has returned in a big way. There are new bus intercity bus companies. Unlike Greyhound, there are no brick and mortar stations. There are simply bus stops. Tickets are purchased online via your PC or a phone app.
Like the airlines the best deals are bought in advance. Tickets selling as low as $2.00.
Unlike the Airlines, I do not have to arrive hours in advance. Ive found the buses clean and the routes non stop. If I'm traveling between cities on the east coast Mega Bus is a pleasant option. Leg room, seat width not an issue. I sleep on the bus, and I'm less stressed and I'm not squeezing, kicking or threatening anyone.
CITYFELLA