Empathy : the ability to understand and share the feelings of another.
There are millions of people across the world who are outraged after watching the video of the brutal murder of George Floyd by four members of the Minneapolis Police Department.  There are protests in cities that do not have a large black population cities like Denver, Phoenix, Austin and other cities across the nation.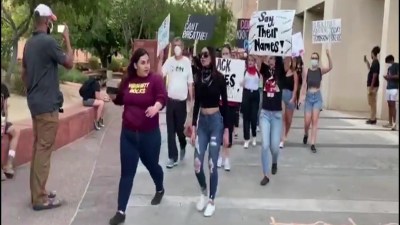 George Floyd crime was attempting to pass a fake $20 dollar bill.

Hurt: 
to inflict with physical pain
2.to do substantial or material harm 
3. to cause emotional pain or anguish 
4. to be detrimental 
Another day, another unarmed black man killed because he was black. A painful sadness and the reality your life and people who look like you has little value.
Minneapolis Mayor Jacob Frey
says he believes officer Derek Chauvin should be charged in Monday's death of George Floyd. Chauvin and three other officers were fired Tuesday.  If most people, particularly people of color, had done what a police officer did late Monday, they'd already be behind bars. That's why today I'm calling on Hennepin County Attorney Mike Freeman to charge the arresting officer in this case.
"When you hear someone calling for help, you are supposed to help. This officer failed in the most basic human sense. What happened on Chicago and 38th this last night is simply awful. It was traumatic and it serves as a clear reminder of just how far we have to go."
Being black in America," Frey said, should not be "a death sentence."
Derek Chauvin, Tou,Thau, Thomas Lane,  J Alexander Kueng
Prosecution: the institution and conducting of legal proceedings against someone in respect of a criminal charge
The Police Officers Federation of Minneapolis said in a statement the officers were cooperating in the investigation.   "Now is not the time rush to (judgment) and immediately condemn our officers," the statement said. "Officers' actions and training protocol will be carefully examined after the officers have provided their statements."
Hennepin County Attorney Mike Freeman says that the process needs to be done right and that if given time, he promised justice will be delivered.
When asked if he'd comment on the evidence in the investigation, namely the bystander's video, Freeman said it's a violation of his ethics. "I will say this, that this video is graphic, and horrific and terrible, and no person should do that," he said.
Freeman said that it's his job to determine if the officer violated a criminal statute.
"And there is other evidence that does not support a criminal charge. We need to weigh through all of that evidence to come through with a meaningful determination, and we are doing the best of our ability, " he said.
Riot: a violent disturbance of the peace by a crowd.
Sadness, Anger, Rage
The Murder of George Floyd
Officers who murdered Floyd are not jailed.
District Attorney, says be patient needs to weigh evidence.