The citizens of Venezuela are just learning about the influence their former and very dead President, Hugo Chavez had over the 2020 Presidential Election. To think, from the grave he had the power to change US politics before Donald Trump was ever elected.
Hugo Chavez left this this planet in 2013 or could he held up at some Hilton outside Caracus? (Under the name Dee Dee)
Sixty five year old Sidney Powell has been practising law, for more than 40 years. She resently defended Michael (I said it, but I take it back, maybe.) Flynn.
Thursday……A Star! Sunday, a Firing of Biblical Perporsions!!!!
She has been buring up the convervative airways for the last couple of weeks.
Last thursday she said, a server hosting evidence of voting irregularities was located in Germany AND voting software used by Georgia and other states was created at the direction of late Venezuelan President Hugo Chaven and that votes for Trump were switched to Biden.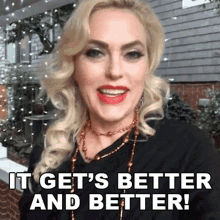 She said, the company, Dominion Voting Systems Corporation a company that sells electronic voting hardware and software. The Denver based company has voting equipment used in several states is accused of changing 8 millions of ballots from Trump to Biden. In a November 14th tweet, the President said 2.7 million votes were changed.
Sidney Powell ,told the media she has serveral witnesses and thousands of pages of evidence. Fox's, Tucker Carlson said last week he asked Powell for evidence to support her claims. She didnt send any……
How Dare He…..
"When we kept pressing, she got angry and told us to stop contacting her," Carlson said on his program 'Tucker Carlson Tonight'' "When we checked with others around the Trump campaign, people in positions of authority, they also told us Powell had never given them any evidence to prove anything she claimed at the press conference."
Tucker Carlson, was critcised by viewers and Trump supporters on social media for asking Powell for evidence. He was called a traitor and branded as another example of "Fake News". On Saturday, Powell joined in, retweeting criticism of Carlson. Her client, Michael Flynn had words for Carlson on Twitter. '@TuckerCarlson you are not being genuine in how you represented yourself to @SidneyPowell1 Why are you acting like a "Bell Ringer" and not a real journalist.'
A Hot Saturday Night! (It was Biblical)
A fued with Tucker Carlson, a rapid growing fan base on Twitter. Love from Trump supporters, vowing the election WAS fixed. Attorney, Powell was in demand. ON Newsmax she said, she was going to BLOW UP GEORGIA!
Well, not the state. Sidney Powell vowed to deliver a "biblical" voter fraud case later this week. Involving Georgia's Republican Govenor Brian Kemp and the state's Republican Secretary of State Brad Raffensperger as she has evidence they are on take. A pay for play involving the Dominion Voting Systems."And Mr. Kemp and the secretary of state need to go with it because they're in on the Dominion scam with their last-minute purchase or reward of a contract to Dominion of $100 million," said Powell, alleging that Georgia law enforcement should investigate the claim. "We've got tons of evidence; it's so much, it's hard to pull it all together,"
Perhaps TOO hot on Saturday Night………
The Trump campaign has several made for TV conspiracy theories out there to enrage supporters. However, these theories never make their way into the court room. "They think", "they believe", "they have heard".. (without proof) and the courts have said, git out of here!
However, outside of some vague shadowy Democrats no names has been mentioned. Perhaps Ms Powell got carried away. Misspoke! Added a name or two after a large sip of Chardonnay. It's possible, the Trump Campaign, represented by Sidney Powell could be subject to a lawsuit or three. Dominion Voting Systems, Govenor Kemp and Secretary of State Raffensperger.
Tucker Carlson and the Fake Media may be the least of their problems.
Some believe, that Trump didn't like her coverage, especially on Tucker Carlson. In a statement Sunday aftertoon, the Trump Pence Campaign……..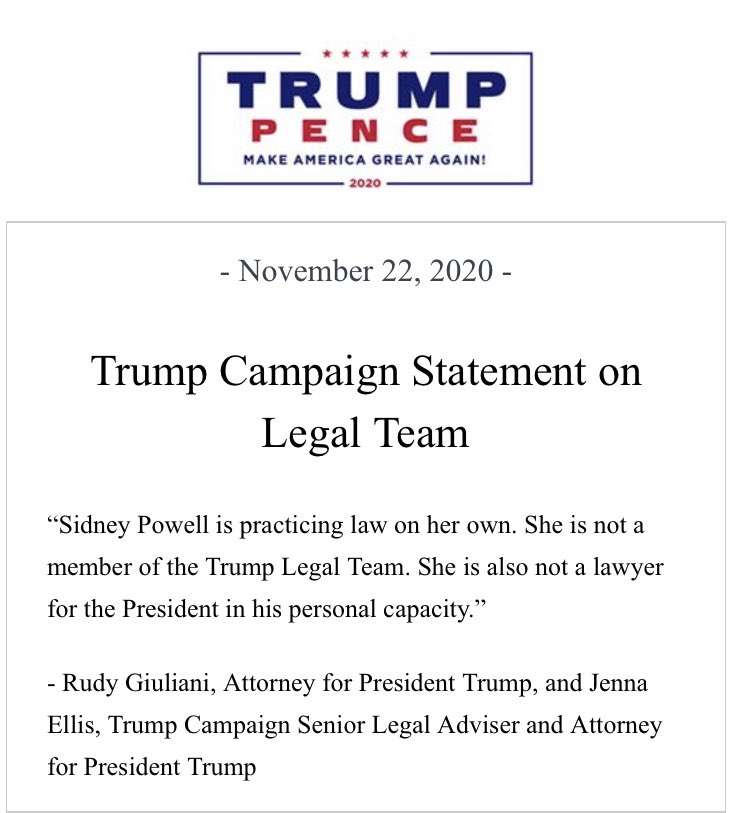 CityFella