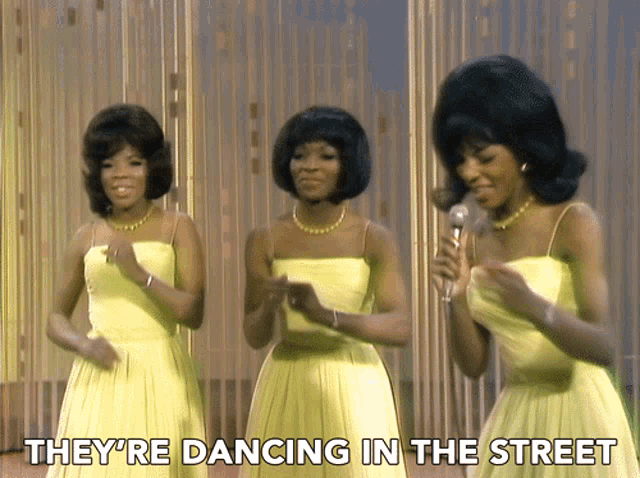 Okay! I'm finally ready to dance in the street.
Listen, Trump Truma is real and I have to thank ,right wing conservative media for freeing me from my freedom! They have collectively untied me and un-handcuffed me from that Truma tree.
Fox News, host Laura Ingraham said, "Unless the legal situation changes in a dramatic and unlikely manner, Joe Biden will be inaugurated on January 20." Tucker Carlson said, the 2020 election was not fair", but admitted Trump had lost it.
Rush Limbaugh, was beyond pissed!!!! "They promised blockbuster stuff, and then nothing happened," "You call a gigantic press conference like that, one that lasts an hour," Limbaugh said, "and you announce massive bombshells, then you better have some bombshells, there better be something at that press conference other than what we got."
Even at Newsmax, Trumps favorite new network. Media CEO Christopher Ruddy said he supported Trump legally challenging the ballot counts in decisive battleground states, he also said he believed that Trump should concede once the states certify their votes.
Saving face, Trump isn't going quietly. Even though the President Elect ( I love saying that) Joe Biden has the megaphone. Trump recently tweeted,98.9 of the Newsmaxx viewers say he shouldn't concede.
While conservative media, hasn't joined the mainstream chorus of "Trump is a liar, they ARE quietly saying without facts, Joe Biden is likely to be the next president.
President Trump is currently avoiding the media, no news conferences. He doesn't want to respond to questions about the Covid 19, the election and the absence of proof of voter fraud. How does he respond to his inability to prove the election was rigged and that his team has failed in nearly thirty states, including many Red States? Its easier to play golf.
Reversing over six million votes in less than 60 Days
In succession, Trumps team failed last week in Michigan, Nevada and Pennsylvania.
Trump said, he will leave the White House,when the electoral college votes for Democratic president-elect Joe Biden, is the closest the outgoing president has come to conceding defeat.
Back door entry to the Court
Trump is talking to red state legislatures beginning with Michigan and Pennsylvania. His plan would require a federal court to invalidate Pennsylvania's certification of its election results, and then get the state's General Assembly to agree to send Trump electors to the Electoral College.
That strategy is to cobble together enough successful legal challenges to Biden's victory in enough states to undo that victory, or, if necessary, get enough Republican-controlled state legislatures to overrule the popular vote wins for Biden and send Trump electors to the Electoral College. As part of that strategy, Trump campaign lawyers have repeatedly made allegations of widespread voting fraud. But they have not provided any evidence of such fraud. (CNBC)
Republicans in Wisconsin and Pennsylvania have sued to stop Certification.
Joe and the two party system
Thank God, Joe Biden is the "President Elect"! After January 20th, I will return to my regularly scheduled programming.
I've long believed the country would be better served by more than two political parties. The system is rigged, for the last sixty years the two parties have effectively blocked other pollical parties. They have convinced most Americans if we don't choose Skippy or Jiff our vote is wasted. For several years, I've been searching for alternatives to our current two party system.
I find little difference between the Republicans and Democrats, two parties who's principle goal is power and status. In countries where there are several political parties, those have to work harder to stay in power.
"We teach people how to treat us"
Imagine, a Progressive Democratic party and a Moderate Republican Party in addition to the Democrats and the Republicans. To maintain power, they would have to earn your vote. Today, Polticians, once in office do not have to work for our vote. We often re-elect incompetence, because the name is familar. We complain about the do nothing Congress and a pass nothing Senate,and yet we re-elect them.
For years, citizen Donald Trump, routinely donated to both parties, he chose the party that better suited his needs for that election period. More often than not, Congress cant agree on a bill, and a Senate that refuse to hear a bill that affects the lives of millions of Americans, who are merely collateral damage.
We don't have to look far to see examples of governmental inaction.
For several months, Americans have been suffering, due to the pandemic. The images of thousands of Americans waiting in line for food dominate the airways, which doesn't seem to be an issue for American politicians. For months, nothing has happened, as they continue to argue over period's and comma's .
Hunger can weaken the immune system. As the number of unemployed increases and the wait for food grows longer. No one in government has attempted to pass an emergency food assistance package. A clean bill without attachment. A simple bill for food relief package today, and both houses can continue to work towards a stimulus package tomorrow? To simple?
While Joe Biden's age concerned me, his experience comforted me. I believe Joe Biden, was best candidate for this very divided nation. That's how he earned my vote. His ability to work the other side of the aisle is well documented. His term in office will be an impossible climb, but he has been here before. Bush left the economy near the brink of disaster. Obama, Biden brought it back. His mountain is steep, Covid, the economy and smoke coming from his side of the aisle. A Democratic civil war is possible by the end of next year are just a few of his challenges.
Trump Trama
I'm not completely free of Trump Trama, but the feeling of hopelessness is gone. I worry about his next irrational move to prove to his base he is a strong leader! Vice President Mike Pence, Secretary of State Mike Pompeo, acting Defense Secretary Christopher Miller, and Joint Chiefs of Staff Chairman Gen. Mark A. Milley, recently persuaded Trump from attacking Iran's main nuclear site. What Korea? China? Secret's to Putin? (Yes, I have it bad?-Calling Dr Phil!)
There are new enemies, new scores to be settled. Will he ignore or punish McConnell? Georgia, for turning blue? Will he attempt to punish one or all of the twenty one Republicans senators, who Carl Bernstein says, hates him.
He pardoned Michael Flynn, I suspect he will pardon Roger Stone and others. He will test the courts and attempt to pardon himself.
There is some comfort in knowing without his Megaphone, his distorted reach to his base is limited to a tweet. We know his MO, using the courts against his opponents and if that means invalidating 80 million votes and destroying a Democracy at least he wont have a "L" in his column. His desperation Will intensify as January 20th gets closer. He's unpredictable, he might ask, the Attorney General to arrest Democrats in Clark, Wayne, and Philadelphia counties.
A few months ago, I thought he was invincible. How could he get away with what he has "gotten away with"? Today, my faith in America and our Democracy has been renewed. It's going to take a while to heal, but heal we shall……
Despite my fears, I'm going to celebrate Joe Biden's Victory and dance in the streets of Sacramento
CityFella