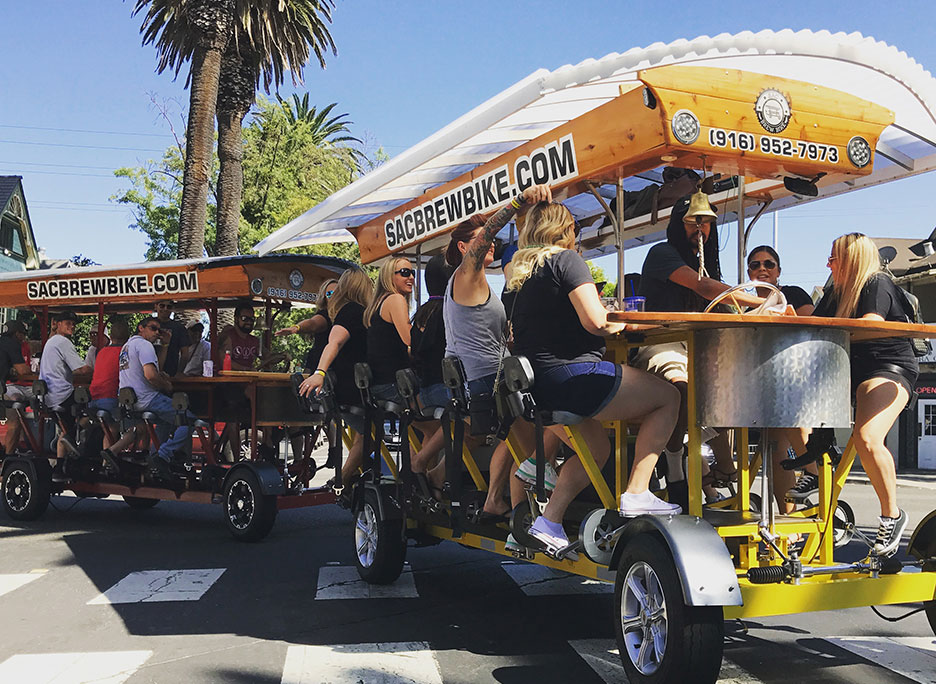 Like most people in the world, I'm looking forward returning to normalcy. I want to have breakfast at Carol's in West Sacramento. Dinner at "The Porch" in midtown. I wanna walk down a busy L street with people drinking and pedaling on those brew bikes carts. I miss the crowds of bicyclist and all things uniquely wonderful about Sacramento.
Last spring when restaurants reopened in Sac. The restaurants were overwhelmed, owners and staff weren't prepared. Impatient customers removed tables. ignored distancing and many took off their masks. Some patrons drove from the Bay Area where restrictions were still in place.
A friend suggested we have brunch at a popular restaurant on Capitol. It was pandemonium. I was struck in the head by a chair that was taken from one table by patrons who wanted to push four tables together. The person who hit me didn't apologize, but a lady who was sitting in the new construction site did, " Were sorry, we all wanted to sit together- we haven't seen our grandchildren in months".
I was overwhelmed by the crowd, the noise, in a world where thousands were dying in Europe and there was no vaccine. I stood up and told my friend, " I cant be in here" she asked "what do you want to do?" I didn't know. She said, what if I have them box the food? I heard her,but didn't answer, I needed to be out of the restaurant.
I walked across the street and leaned on a mail box. It was difficult to breath. In my head, I remember asking myself. What is going on? I love crowded restaurants and I abandon my friend. I texted her and apologized.
I've never seen you like that before? are you okay? I'm sorry was all I had. We sat on the steps of someone's home nearby. I'm not ready, that might have been an panic attack, I'm not sure. "Your eyes were wide as if you were about to cry", she said.
For nearly a year, my life has been work, Safeway, Facebook, Instagram, Marco Polo, texts and online shopping. Travel has been limited, most of the Airlines had a policy of leaving the center seat vacant and the airports were empty.
Covid isn't working in the United States because the States are not united. If you travel into Kansas City, there are no or limited restrictions, no masked were required in any of the restaurant's I visited in Kansas City Missouri and no staff member were required to wear one. Across the River in Kansas City, Kansas. The entire state was under quarantine, masks were required everywhere. This was the same when I traveled to Washington DC. DC was under quarantine, but cross the river………..
Returning back from DC, my flight was packed, nearly every square inch of the plane was packed. Every passenger was required to wear a face mask, the crew would remind passengers should the mask slipped below your nose.
Next month, I have to travel to East Texas. I'm considering driving.
Nearly 100, millions people have been injected with a vaccine. Some view it as a sign that things are over. More than 16 states have reopened with no restrictions. In a couple of days, I will be injected. I view it as a victory, however not as an end to the virus. Your not going to find me in a crowded mall, gym, beach, etc.
There are still quite a few people in this hospital and new cases everyday. There are some health professionals who believe, like Europe, the US could see a surge of new cases.
My old, new normal involves masks, washing and avoiding large crowds. I will make small adjustments as the number of new cases shrink. I like shopping online and having food, and other things delivered. I'm not in panic mode, just being conservative.
I understand the desire to return to normal. Its a desire echoed the world over. I am looking forward to the day, I can dine in a noisy crowded restaurant, I am missing my other home New York, and celebrating events big and small. But not today. Its gonna take a minute before the world to return normal. A year has passed. A year, I thought the world was going to end, but I have survived and I've adjusted to a new world order. So I know I can wait, a little longer.
CityFella
I