From the moment I first saw the Tesla Model S, I was in love, I didn't know it was an electric car, I just knew it was sexy, at 70 grand, it was out of my league.
In a few short years, Tesla has become a Prestigious brand, rivaling Mercedes Benz,Land Rover and BMV. Tesla retains a market capitalization in excess of $559 billion as of this writing, greater than the next three automakers combined (Toyota, Volkswagen, Daimler). The first quarter of 2021 was Tesla's most lucrative yet, with a reported $438 million in profit.
Despite Tesla's recent profitability, the company produces far fewer vehicles than its competitors. Japan-based Toyota, with market capitalization of $211 billion, sold 9.5 million vehicles in 2020, followed by Germany's Volkswagen ($148 billion, 9.3 million vehicles), Daimler ($94 billion, 2.8 million vehicles), and US-based General Motors ($80 million, 2.5 million vehicles). Thus, Tesla's four largest competitors accounted for over 24 million vehicles in 2020, which is more than 48 times the 500,000 vehicles Tesla sold.
Tesla's are sexy and at the end of the day, sometimes its about the pretty girl. I have driven hundreds of miles behind the wheel of the Tesla's (Model S and Model 3) and the Chevy Bolt. This sexy girl is faster, handles better and is very unique. The software is superior, as is the amount of charging stations. The sexy girl is complicated and takes a while to get to know her. In 90% of the vehicles in the world, changing the air flow is simply requires one or two fingers. In the Model 3, these simple adjustments are unnecessarily complicated this and most other controls is controlled via the touchscreen.
The Tesla is a pretty girl and although she has been the ONLY pretty girl at the party for some time. We overlooked her flaws, the fit of her clothes, and paint not matching, and the odd noises because, she was the prettest girl on the street.
I've spent a lot of time behind the wheel of the Tesla's "Model S" and Model 3″ with finicky door handles that don't pop out on the Model S or the occasional squeak on a low mileage Model 3, something that doesn't happen on a 47,000 mile Chevy Bolt. Unlike the Bolt, not one Tesla is recommended by Consumer Reports.
Every Tesla's have driven put a smile on my face. Despite their faults, all of the people I know, who own a Tesla say they would buy another. I'm a person who keeps a vehicle 10 years or longer and early rattles would be disconcerting. To its credit, many fixes to the Tesla are performed online. However, should you need to take your Tesla in for repair, there is only one in Metro Sacramento area, long repair times are and long waits for parts are not uncommon.
There are new cars coming to the marketplace, these cars are built by automakers who have mastered fit and finish issues. At the moment ,Tesla batteries, range, and electronics are superior to the competition. However, fit and finish is inferior to most of the established competition. Rattles as you hit a bump or as you cross a railroad track is not uncommon on many of the Tesla's .
In 2017, General Motors beat Tesla to the market producing the first EV under forty thousand dollars. The Bolt had a range of 218 miles,(today 259 miles). A good car but absolutely fugly parked next to a Model 3. There are more than three hundred thousand Bolts on American Roads, second to the Model 3.
The Bolt was a BIG hit! In its first year, it won several awards, The North American Car of the Year, Time Magazine Best Inventions, Automobile Magazine, and Motor Trend's 2017 car of the year.
In the last few years, I've sent Elan Musk tweets, asking him to hook me up with a Model 3. In fact I've been asking everybody, complete strangers to buy me a Tesla. That's when Tesla was the only sexy electric on the road. Today, there are others so Elan is off the hook.
Tesla has been around for nearly 10 years. Today, there are new girls on the streets. The new Polestar, Volkswagen ID 4, the Mustang Mach E. Early reviews are mixed, however none are experiencing major fit and finish issues.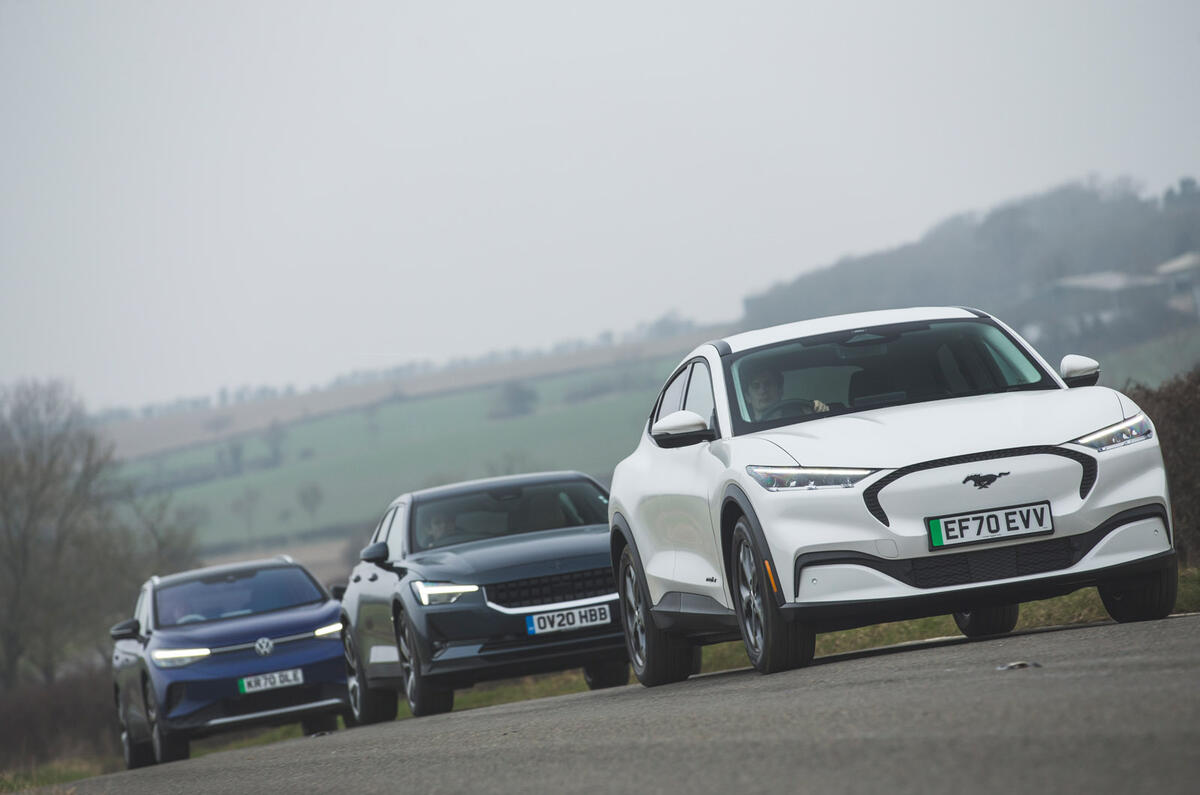 Waiting in the wings this fall, is an electric BMW, Hummer, Lucid, Genesis, Mercedes, Nissan, Rivian, Audi and Volvo.
Including these little cuties, the Ionic 5, and the Kia EV6 have a few new tricks. They have a range of 300 miles and Hyundai says they can charge from 10-80% in 18 minutes using a 350kw charger. (which is super fast)
Tesla is facing competition coming from all sides especially from the Volkswagen Group (Audi, Porsche, VW) and Hyundai Group (Kia, Genesis, Hyundai, Ionic and Kia) the winner will be the auto maker that has a full line of vehicles.
Tesla's is a technological force, however Tesla's focus, should be on the fit and finish of their vehicles. After 9 years the Model S, continues to have electrical, fit and finish, and suspension issues. This is true with the Model X and there are fit and finish with their Four short years ago, it was GM and Tesla, today there are eight additional automakers who are building competitive electric vehicles.
July 2019: Over half a dozen current and former Tesla employees claim that aggressive production goals have forced workers to take shortcuts when manufacturing its cars in a new report from CNBC. They also accuse Tesla of creating harsh working conditions, especially for employees working in the "GA4" production tent where assembly is not fully automated.
Employees claim that electrical tape was used to patch cracks on plastic brackets containing electrical components, and that cars would sometimes pass through the production line while missing bolts, nuts, or lugs. The employees even provided CNBC with photographic evidence to support their claims. They also claim that Tesla encouraged its employees to work in harsh conditions that were exceptionally hot and dry during the day and cold and wet during the night. (https://www.theverge.com/2019/7/16)
Tesla is has changed the world, building cars like no other. If I were buying my first electric car, it would not be a Tesla. It would be the Chevrolet Bolt.
Yes, the Model 3, is fast and handles better. At $32,000 it is eight thousand dollars lower than the Tesla and unlike the Tesla, it is affordable and reliable and unlike Tesla, the owner has more options should something goes wrong. Spending, fifty thousand dollars for a vehicle with fit and finish issues isn't acceptable.
CityFella