Lisa! Lisa! Lisa!
Lisa finally takes Jen's call and they meet for lunch. At the lunch she is filled with the fakery. Jen tells Lisa she's innocent. Lisa pauses and rewinds, she's thinking of the last time they were together when Jen attacked her. Jen, tells Lisa, she never knew Lisa's feeling was hurt. Jen wants a pass based her arrest but Lisa isn't letting Jen off the hook "When you came at me that hard, I felt very broken by you," sJen says she understands, but she comes back and tells Lisa, This is the lowest point of my life and you go silent? Heather was the first person to contact her. Not Lisa, the friend that she used to talk to several hours a day. Lisa says that she showed up today "and I've been there for you for the last nine months. More than anybody else has been there for you.
Lisa and Whitney
I still haven't figure out what is this thing with Lisa, she hate Whitney. The only thing I can come up with, is she is keeping her #1 enemy close. They meet for yoga on a paddle board. Hold on to yourselves.
"There's no reason Whitney and I should have any problems," Lisa says. "And I put a lot of effort into trying to make this friendship work. But we take two steps forward and she brings us three paces back. And at this point, I'm like, 'Well, maybe we can go to a Zen place and actually work this out.'"
Whitney, tells Lisa she talked to Cameron And, she adds, "The thing that scares me is the rumors that Mary and Robert are predators. … It's online." Whitney says that Mary and her husband, Robert Sr., use "the fear of God is their power to get what they want." Lisa says she finds that "interesting … because when she was in Mary's room, she said something to the effect with Jen, where she's like, 'See what happens when you mess with my church? You go to jail.'"
Heather and Tyler and the Church
Heather meets with her brother Tyler. It the first time since she left the church. He has left the church and says he needed her, but she loved her family and didn't want to be responsible for other members leaving the church.
Baby we need to Downsize
Were at the Shah chalet during the last day of Ramadan. Coach Shah wants to move to a smaller home due to impending debts. They estimate defending Jen will cost upwards of a million dollars. Jen says, she employs her family at the cost of 50K a month.
A King Size Fight in the International Peace Garden in three parts
Rookie Jennie Nguyen is determine to bring peace to the housewives. Forget that Meredith has told all the women do not invite her to any event that Jen Shah is invited.
Part One (Tense with a side of racism)
I want the ladies to understand who I am by getting to know my culture," "In the Vietnamese culture, when we have conflict, we sit down in a non-threatening environment and kind of talk it out and listen to each other." : Jennie Nguyen
The first to arrived is Meredith, Whitney, Heather and Lisa. Meredith asks if that's Jen? and repeats her objections, however this is a Bravo sanctioned event, so shut up and sit down?
Jennie says she planned this event at the Peace Gardens because "I don't want any drama. And if we have any drama. "So you invite the one person who starts all the drama,"
Jen and Meredith share an awkward air kiss.
(you can just hear the non verbal communication' "I hate you bitch, that does double for me slut!)
Mary shows up late, talking to herself as she walks through the peaceful garden(they have already started serving the food) a tense situation is now times four with Mary's appearance.
"Awkward Hug two (Jen and Mary)
They show Mary a picture of Jennie in a blonde wig. Mary says, she looks good with her slanted eyes. Does Mary know what she said was racist? and that Jennie wants to accidentally push her off the Mormon Tabernacle during a rousing sing a long? (Stay Tuned)
Part Two (Fakery with a large side of BULLSHIT)
Heather tells Mary, she's SURPRISED, they are getting along after the fight in Vail. Whitney gives them a look that screams BULLSHIT!
In her confessional Heather says Mary doesn't hold on to any grudges,. "Like, she will pull her stiletto blade from her boot, slice your vital organ, put it back and then be, like, 'What's for dinner?' She's a silent killer."
Meanwhile, Lisa declares "Everybody's Friends
Whitney looks over to Jen and says…."Hey, are we in reality or am I tripping on 'shrooms right now? Is everyone really being this fake?"
Well this sets Mary off. Whitney is the only one being fake. she says. Whitney brought it back and kept it real, she clearly remembers nothing was cool when they were all in Vail. "And I think it's really fascinating that we're all sitting here like it never happened."
Mary Remembers Things Differently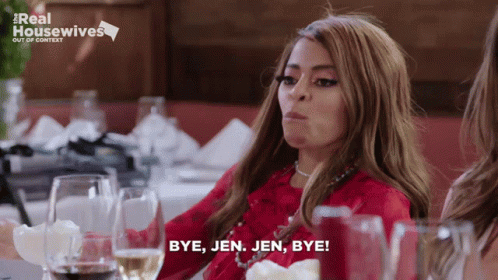 You remember, Mary loves and respects Jen and was broken up when she was arrested.
Mary said, she never talked about Jen. The five other ladies ALL heard something different. Who can forget when Mary said about Jen.. See what happens when you mess with my church? You go to jail.'" Then there is always video. I'm not sure why Mary needs to save face,as there is no love between the two. Clearly there was a Freudian slip when Mary tells Jen… "I pray to God you're guilty," "… you're innocent."
Jennie, the host, the rookie, is one of the few people not afraid of Mary and called her on her hypocrisy. You talked about her as much as we did! Don't lie, Mary! Don't lie! … You're lying!" Shocked , Mary wants an apology ."Talk to me with respect." She says, "You don't care about me?" Jennie replies, "No, I don't." Mary says, "OK, I don't need to be here.""There's the gate," Jennie says.
PART THREE-All OUT WAR!
I wont be called a liar! Mary says. Meredith, who was there in Vail and knows Mary is lying her Church ass off, says she has had enough of this bullshit.
"Oooh, I wanted to backhand her," Mary says of Jennie in a confessional. Meanwhile, Meredith is saying. Jennie "knows nothing about me. … Don't you dare call me a liar!"
Then Mary in a COMMAND PERFORMANCE…….walking up to Jen saying, "Come on, baby girl. You know me," Mary says. "I'ma always keep it real with you. … I told myself I'm willing to be a friend with you." And "I'm praying that … you come out OK." (What the Fuck!)
Jen is confused by the goings on and says she innocent and Heather tries to comfort her and says, "The world may seem to be against you, but it's not. And you have people in your corner." Meanwhile, fresh from her COMMAND PERFORMANCE, Mary says, "Well, I wouldn't say that, Heather.
MEANWHILE, there is fresh bullshit at the table. MEREDITH! is now jumping on Lisa, Whitney, Jennie and Heather for not being better friends to Jen. "I'm not going to sit there and rip someone behind their back and play their friend to their face, WHEN SHE HATES JEN!
A few minutes later Meredith justifies her actions BECAUSE the women who say they're Jen's friends, but that none of that applies to her because she's not Jen's friend. (huh/)
In her confessional, Lisa says Meredith's behavior is "super hurtful" that they've been friends for "over 10 years," and that Meredith comes to the defense of her own family and Mary, "but when it comes to me, it's like, 'Hey, fend for yourself.
Lisa's Turn
Lisa tells Meredith, "don't fucking play dumb! Meredith has gone into another zone and is screaming about everything as she is leaving, how Jen traumatized her and why Jennie should have never invited her.
And Then Meredith, changed channels. ….. On this new channel, Meredith, thanked Jennie (huh?) Said, It was lovely. But I told you not to do this to begin with,"
Then she turns to Lisa, and says, "You have been screaming for a half hour. I can't anymore."
Heather laughs, "Mom and Dad are fighting," she says, "What do we do?"
Lisa asks Meredith why she made no attempt to stop Mary from attacking her. "I need you here," Lisa says, breaking into tears. "Can you please stay for me?" Meredith hugs her and says she'll stay. Meredith and Lisa return to the table. Jen and Mary return to the table. Meredith hugs her and says she'll stay. Meredith and Lisa return to the table. Jen and Mary return to the table.
I am loving everything about this season, I thought it would slow down after Jen's return but it has picked up speed. This is Salt Lakes Season.
See ya next week
Cityfella