Fresh From TMZ
A spokesperson for Meta tells us Kanye's recent posts violated Instagram's policies on hate speech, harassment and bullying. As a result, we're told his account has been suspended for 24 hours — where he won't be able to post, comment, send DM's, among other things.
Kanye West is being put in Instagram timeout after going after Kim, Pete, Pete's writing partner and a racist attack on Trevor Noah.
The spokesperson tells us they'll take additional steps if further violations happen.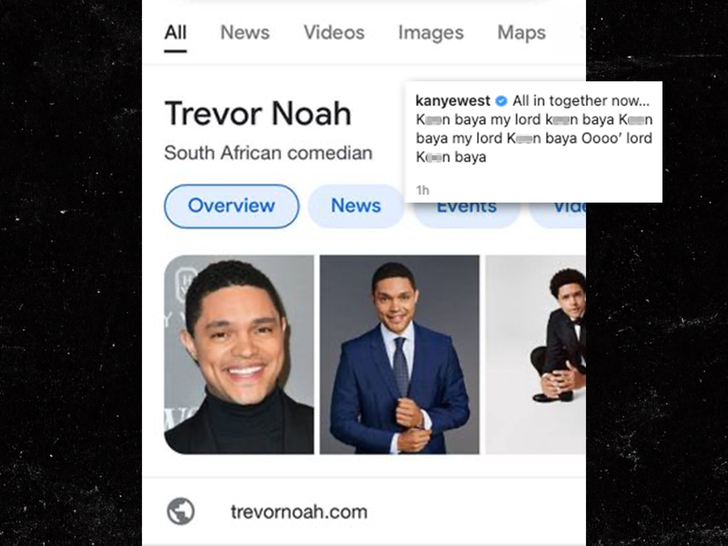 If you look on Kanye's page, at least one post has been deleted already, where Yeezy repeatedly hurled racial slurs at Trevor Noah.
As you know … Kanye's been lashing out at more than just Trevor on social media, he's also posted and deleted a bunch of dirty laundry about estranged wife Kim Kardashian and her new boyfriend Pete Davidson, plus D, L. Hughley.
In all honesty, it's surprising it's taken this long … but supposedly the previous attacks — some of which could've been perceived as threats just weren't enough.
Yeezy wouldn't be the first big name to get the boot from Mark Zuckerberg's app … remember, Kanye's good friend got the heave-ho in the wake of the Jan. 6 riots.
He is stalking her. You can think it's cute. If it was my daughter, I'd do something about it. I don't think it's funny. I think that you can't write a beat so good that you get to do these things. And society laughs it off because they say, 'Well, she's showing her ass all the time and he's this and he's that.'" "Difference between him and a restraining order is about 20 hits and a couple of hundred million dollars," and that there's no point to bringing Kim's new boyfriend Pete Davidson into the conversation, as Ye has. As he explained, if you're "threatening the dude that's fucking your woman, all he gonna do is fuck her harder." D. L. Hughley March 5th, 2022
Last night on his show,Trevor Noah, said the Kim/Kanye is a story "more people should pay attention to," adding that "over time, Kanye has become more and more belligerent in how he tries to get Kim back." When it started, it was, some would say 'romantic,' Then he brought up several more recent examples he described as troublesome, n like West's music video for "Eazy" in which a claymation likeness of Pete Davidson was buried alive.
"I do understand that art can be therapy — I honestly do understand that. But I also understand that therapy can be therapy," Noah continued, insinuating that West should seek help.
"What's weird about the situation is Kanye West has told us that he struggles with his mental health, so I get it. You want to have art as therapy, but here's what's weird. What Kanye doesn't understand is that what we're seeing is… it makes you uncomfortable."
His rage seems to be growing by the day. His ex is trapped between the doors of wealth and celebrity. Should she goes public, it could damage her image, To the naked eye she could be in danger.
CityFella